Are you looking for a place in Barcelona to celebrate an original and different children's birthday? Every time children's parties are more original and different. We are looking for some activity so that the party is original although birthday parties are also successful in the parks of Barcelona. As we know that it is a topic that you like since we receive many messages asking us for advice, here we leave you some ideas of places or original activities to celebrate a different birthday party.
We have prepared for you the first installment of a compilation with the best places to celebrate birthdays if you have children from 0 to 14 years old.
WHERE TO CELEBRATE A CHILDREN'S BIRTHDAY IN BARCELONA
PARTIES FOR FOOTBALL LOVERS
A PERFECT PARTY FOR FOOTBALL PLAYERS- GOLAGOL
If you are looking for a space to celebrate a soccer birthday, Golagol is your place. In Golagol they have different indoor soccer courts perfect for organizing birthday parties for boys and girls who want a different birthday. Golagol has been our latest discovery at children's birthday parties. An industrial warehouse in L'hospitalet de Llobregat (next to Barcelona) where they have several soccer fields and where they organize parties where the plan is to have a blast organizing a match between the friends of the birthday boy. A fun and very easy party to set up: here you have all the information about birthdays in Golagol
For boys and girls who like:

football and sports

Area:

L'Hospitalet de Llobregat

More info: Gol a Gol
PARTY IN BOUNCE
THE LARGEST STOCK OF STRETCHED BEDS
If you are looking for a plan to celebrate a different and original birthday party, the Bounce option is sure to succeed. At Bounce you can organize perfect children's birthdays. If you are a group of more than 10 children, they reserve you a private room with an exclusive monitor. Depending on the age of the children, the area and activities they can carry out are selected so that they are adapted to them. The monitor takes the children, explains how the space works and what precautionary measures they should take and then ensures that the little ones have a great time jumping and doing different activities.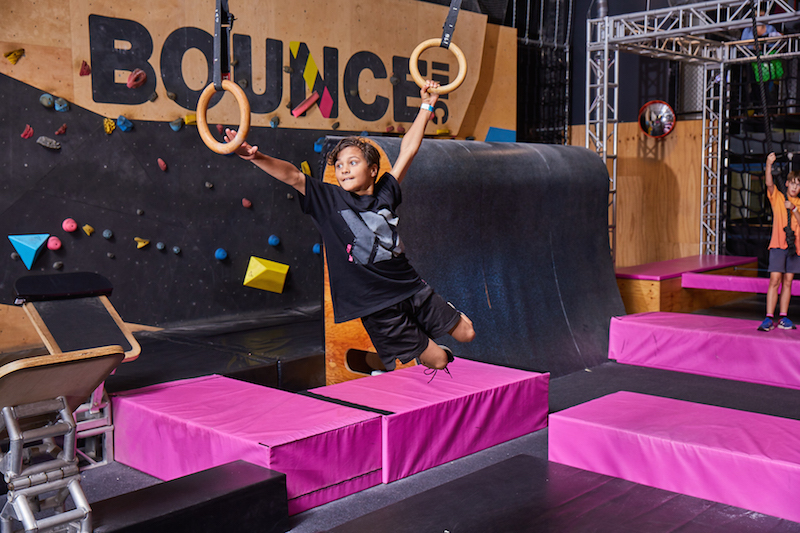 If you want to know all the types of children's birthdays in Bounce
For children who like:

an active birthday, jumps, different activities …

Area:

Cornellà de Llobregat

More info:

Bounce
THE BEST BIRTHDAY ROOM FINDER:
PARTYO
Do you have to organize a birthday party, a communion or a baptism? You are in luck. Because if until recently you had to start searching and making calls without stopping to find out prices and what spaces were available, now you can do it all online, look for them, and know availability and book from a single site. In Partyo you can find more than 400 spaces to choose from: Chiquiparks, nurseries, toy libraries, adventure parks, laser tag centers, virtual reality and even unique spaces.
Select the one you like the most and / or fits your budget, make the down payment and… you already have it reserved for you! You have seven days of cancellation with a full refund of down payment and, on the day of the party, you will have to pay the difference.
Here you can read our article: Partyo, book your private birthday party
Web: Partyo
A CINEMA BIRTHDAY
PARTY IN VIDEO INSTAN
Is there a special date coming up and you want to celebrate it in an original and different way? In Video Instan you can have a movie party, and never better said. It is the first video store that opened in Spain in 1980 and they have a movie theater with 32 seats that they rent for exclusive parties. The movie theater is equipped with a state-of-the-art jvc projector and screen as well as Dolby Atmos sound. It is a perfect plan for a different and original birthday party. You can choose from its catalog of 46,000 films to enjoy that special day with your friends. And since the room is exclusively for you, you can dance, sing and whatever it takes. Popcorn and a snack in their cozy cafeteria are included in the birthday pack. A type of party that is succeeding and that you will not find anywhere else in Barcelona. You dare? Here you can see the article in which we told you their story and all the services they offer: Video Instan cine en familia
BIRTHDAY PARTY IN A SCAPE ROOM
ROOM SCAPE FOR KIDS AVENTURICO (EX-LOSTROOM)
Scape Rooms have become very fashionable. It consists of entering a room and using the clues that provide you to get out of the room in the shortest time possible. It is an activity that was initially created for adults but is now also very successful with children. If you are looking for a different birthday for children over 8 years old, the Scape Room is an alternative that they are sure to like.
We tell you about the parties they organize in Aventurico, here you will see how the birthday parties for children work in a Scape Room and you also have during March if you say that you come from part you have a 5.- € on all their products … 🙂 you want more info, on its website you can find.
For children who like:

team games, track games, for birthdays of children over eight years old or teenagers.

Area:

Example / Sant Martí

More info:

Scape Room Aventurico
AQUATIC PARTIES IN SWIMBO
PARTIES IN THE POOL
SWIMBO offers a different and unusual party modality. You can coordinate with them the organization of a water party in the pool of their center. The activity can range from a mermaid class in which girls or boys learn to swim with mermaid tails, to an open bathing activity for parents and children. Consult with them the format that best suits you. If you do not know Swimbo, in this post we will tell you all the swimming classes and activities and parties organized at Swimbo.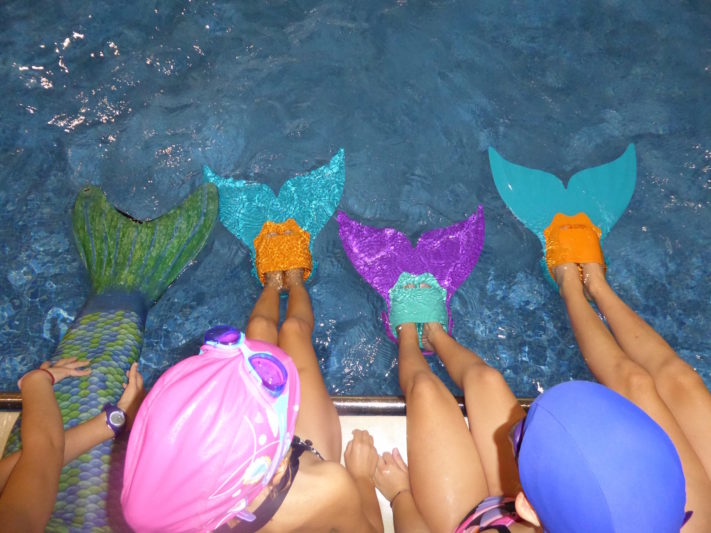 For kids who like it:

lovers of water and swimming pools, those who want to learn to swim with mermaid tails, birthday for toddlers

Area:

Sarriá- Sant Gervasi

More info:

Swimbo Barcelona
BIRTHDAY PARTY AT GRANJA AVENTURA PARK
ADVENTURE ON THE FARM WITH ACTIVITIES
You already know that we are very fans of Granja Aventura Park and we always recommend that you visit their facilities and participate in the number of activities they organize, here you have the article in which we talk about Granja Aventura Park. Well, if your little one is a fan of animals, he likes zip lines and you think he would have a great time celebrating at Granja Aventura Park, here you can see the birthday party we organize and get ideas. The party includes access to the zip line circuit area and the animal farm, but they also have a cheerleader service who accompany the children for an hour and a half while they organize activities such as treasure hunt, face painting and crafts.
For children who like:

a birthday surrounded by nature, surrounded by animals, and with children's workshops.

Area:

Viladecavalls (½ hour drive from Barcelona)

More info:

Granja Aventura Park
BIRTHDAY PARTY AT PETIT PARTY
OUTDOOR PARTIES
Petit Kinder is the perfect place for children's birthday parties as it has a spectacular garden, a unique space of 300m2, which is totally private. Children can run, discover the different play corners or do activities guided by animators. In addition, it has a covered gallery ideal for organizing birthday breakfasts or snacks. In this post we talked about the different options for children's parties organized at Petit Party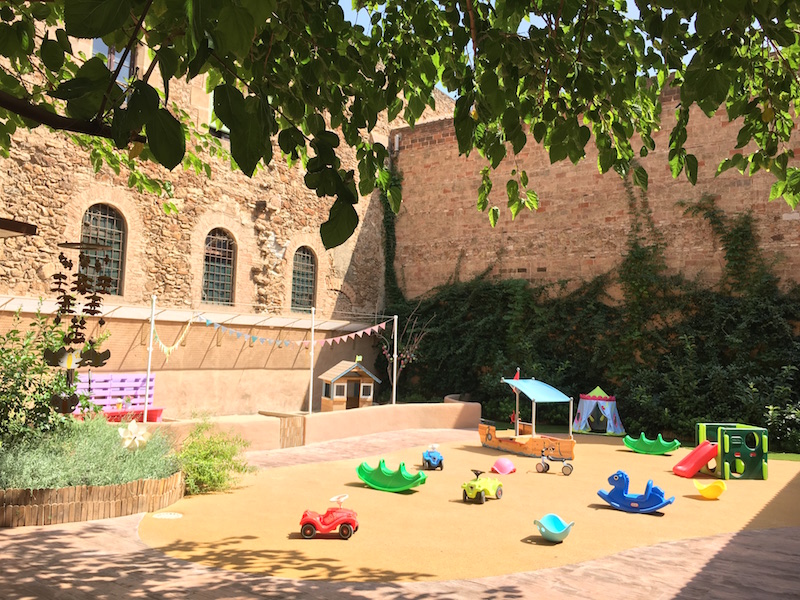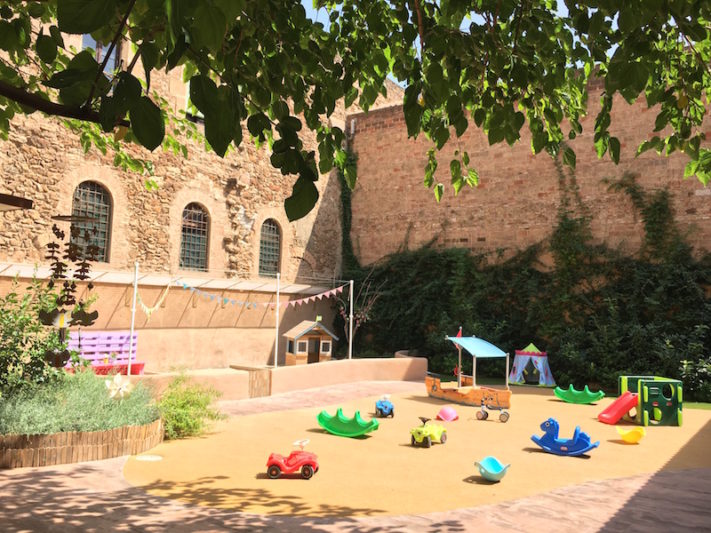 For children who like:

running outdoors, for the little ones

Area:

Next to Plaça Lesseps between Gracia and Sant Gervasi

More info:

Petit Party
PYJAMAS PARTY WITH TIPIFIESTAS
A DIFFERENT PYJAMA PARTY
If you are thinking of celebrating a different birthday and one of the ideas is a pyjama party, today's post interests you. The other day we celebrated Jorge's birthday with a pyjama party led by Tipifiestas. A spectacular montage that made the birthday super special. If you want to see how our Pajamas party with Tipifiestas was, here is the article.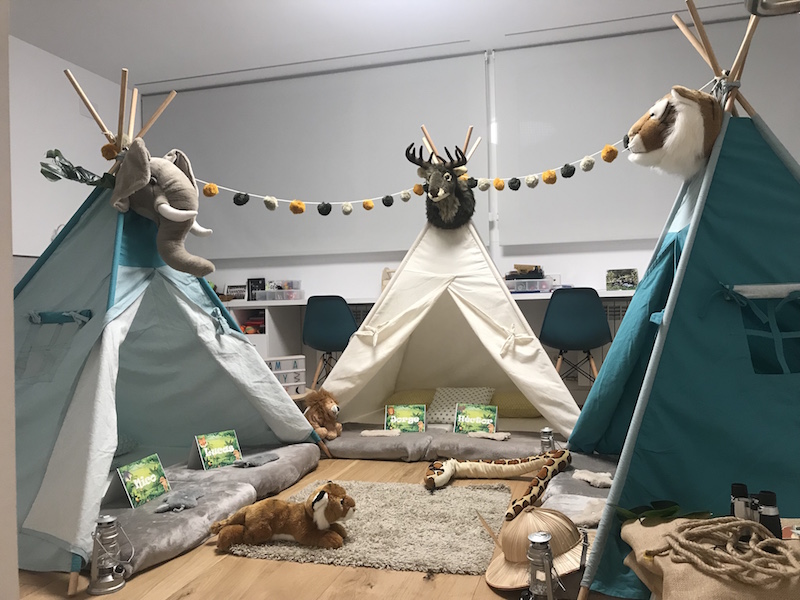 For children who like:

pyjama parties, different parties, camping

Area:

parties at home

More info:

Tipifiesta
BIRTHDAY PARTY WITH COOKING WORKSHOP
CHOCOLATE WORKSHOP FOR KIDS IN ÇUKOR
We already told you about Çukor in this post, a space for creating candies and a cooking workshop. Çukor has long specialized in offering workshops for children as well as adults. Within the range of services offered by birthday parties are one of the options. They offer the possibility of celebrating a birthday with a chocolate cooking workshop for children. During a couple of hours the kids learn to create with chocolate and then eat their works of art. Take a look at the article where we explained how birthday parties work in Çukor.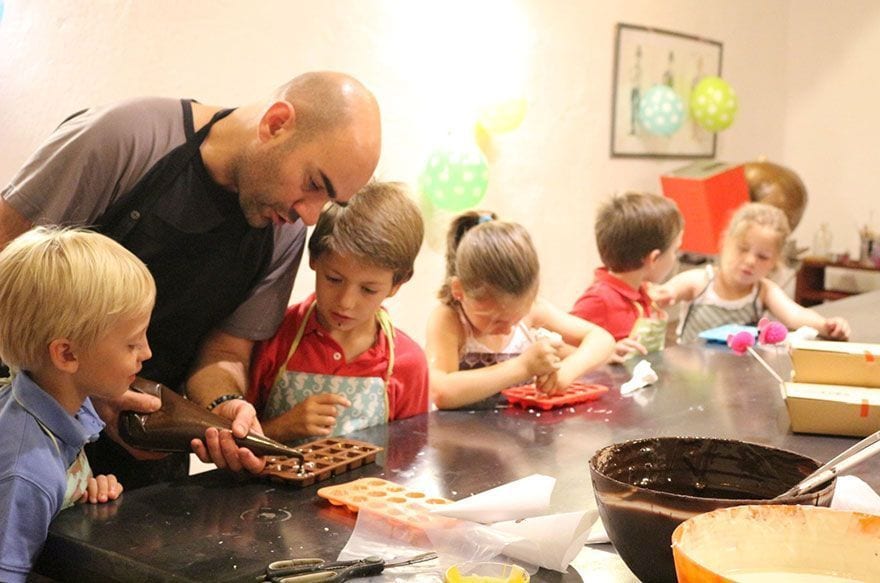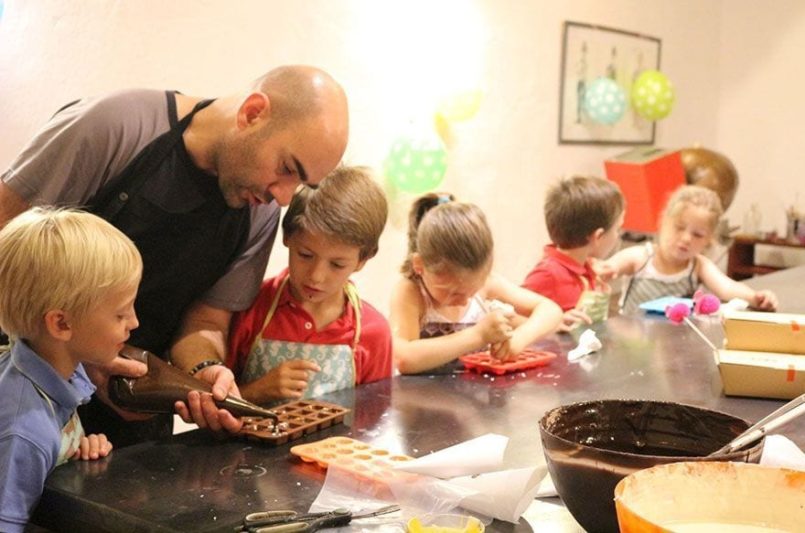 For children who like:

cooking, learning, different workshops and chocolate

Area:

Gothic Quarter

More info:

Çukor
MORE IDEAS OF SPACES FOR BIRTHDAY PARTIES IN BARCELONA
On our website you can find many more birthday options you can see them here: Birthday parties for boys and girls in Barcelona
This is the first part of our selection. We have been left in the pipeline many original places in Barcelona to celebrate birthday parties!
If you have a place for children's parties and it does not appear in this list, or if you are a private individual and you know a place that is worthwhile, write to us at hola@barcelonacolours.com
HELP US COMPLETE THE LIST!