This year we bring you a selection of Top 50 Christmas plans with kids in Barcelona and surroundings. Traditional plans, original plans, very Christmasy activities and others perfect to enjoy a different family day out. Do you want to follow us? What is your favourite Christmas plan with the kids, do you have any traditions? Explain us in the comments! 🙂
TOP 50 CHRISTMAS PLANS WITH KIDS IN BARCELONA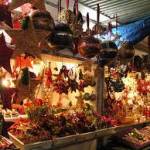 VISIT SANTA LLÙCIA FAIR. The most traditional Christmas plan in Barcelona. It's the oldest Christmas fair of cribs and decorations in the city and it's located in front of the Cathedral. You can buy little figures for nativity scenes, moss and Christmas trees, among other things. There are organised activities for children, such as the Giant Tió, puppets… Dates: from 25/11/2022 to 23/12/2022. Opening hours: every day from 10am to 9pm. For the specific activities organised, please consult the agenda. More info: Fira de Santa Llùcia
CHRISTMAS AT THE MUSEU NACIONAL. This Christmas, play and experiment with art! Come to the Museu Nacional as a family. In the Oval Room there is a circuit of four activities designed for children from 3 to 12 years old.  An area with illustrations that tell stories, others where you can draw what you hear, small scenarios for great stories and Playscapes, an Art Crochet installation created by the Belgian artist Cathy Bertel using giant crochet-covered balls. Days: 27, 28, 29 and 30 December. With four morning and afternoon slots to choose the one you prefer (10 a.m., 11.30 a.m., 3 p.m. and 4.30 p.m.). More information: Christmas at the Museu Nacional.
CHRISTMAS AT LA PEDRERA. Enjoy La Pedrera with different Christmas activities. TIO'S HUNTERS (3/12-5/01, at 10am) Age: 5-10 years old. Get to know La Pedrera and, by overcoming some challenges that will allow you to get to know this emblematic building, help to hunt the Tió, who is hiding and doesn't stop still. Enjoy the CHRISTMAS CORNERS too, different spaces decorated for Christmas, where you can take photos and share them, and where you can discover all the Christmas traditions such as the Three Wise Men, Christmas meals, the tree, the Tió… In addition, with the usual visit, the little ones will be able to make the Tió poop in the courtyard of Paseo de Gracia! Special Christmas opening hours :26/12 to 3/01 – From 9-20.30h (1/01- from 11-20.30 h). More information: Christmas at La Pedrera.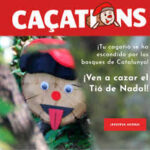 CAÇATIONS, IN SEARCH OF YOUR CHRISTMAS TIÓ. We know that the adventure of going in search of the Tió with children is a perfect plan now that Christmas is approaching. The children are amazed with the activity and take home their Tió to prepare him to poop presents. Near Barcelona there are many different options so today we have prepared a compilation of places and companies where you can do this activity. Find out how it works and where you can look for your Tió. It's a guaranteed great family activity. More information: Caçations
CORBERA'S LIVING PESEBRE. Visiting the living nativity scene in Corbera de Llobregat is one of the most typical traditions to do with children at Christmas. This town near Barcelona boasts the first living nativity scene in Catalunya. The scenes are performed by around 200 actors, neighbours of Corbera, who collaborate selflessly, with a clear aim: to make visitors and friends a unique and different Christmas experience. Dates: from 3rd December to 15th January. Tickets can only be booked online. More information: Pesebre viviente de Corbera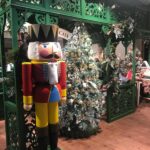 VISIT THE KÄTHE WOHLFAHRT CHRISTMAS SHOP. If you are a Christmas fan like us, if this time of the year comes and all you can think about is filling your home with Santas, nativity scenes and decorating the Christmas tree… this is your shop. The shop has been designed as if it were a fairytale Christmas village. In its 300 square metres you can find "all kinds of products" related to Christmas.⭐️ You will find more than 6,300 different Christmas decoration items made following the themes of traditional toys in their workshop in Rothenburg (Germany) Address: Banys Nous 15Hours: 10-20h from Monday to Saturday. Sundays from 12-20h. More info: Christmas shop in Barcelona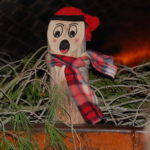 VISIT THE TIÓ FESTIVAL IN MURA. At Christmas the village of Mura is full of Tiós of all kinds, big and small, dressed in many different ways. For the children it's a very funny activity because you can find more than sixty tiós placed in different corners of the village, some of them you'll have to look for them because they're hidden! In addition, during the Festa dels Tions de Mura there are different activities and workshops for all ages. You can find more information on the Mura Town Hall website. Dates Tiós in Mura: from 3rd December to 6th January.  More info: Festa del Tió a Mura
ESCAPE ROOM IN FAMILY. If you're looking for a family plan where you can test your skills… you'll love an Escape Room. Aventurico offers 10 different children themes, among which you will find escape rooms, gymkhanas and virtual reality games: Magic Academy (for Harry Potter lovers), Alice and the Key of Time (inspired by the story Alice in Wonderland), Superheroes and Secret Agent. A good idea to enjoy the Christmas holidays with the family or a different gift for this festive season. More information: Escape Room Aventurico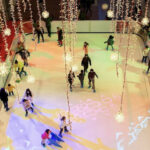 ICE SKATING IN BARCELONA. A very Christmasy plan is to go ice skating outdoors. This year in Barcelona you can do it in four different locations: in l'Illa Diagonal, in Westfield la Maquinista, in Tibidabo and in the classic ice rink of Camp Nou. It's always a great plan, and it will remind you of some of the most legendary Christmas films as if you were living in them. Don't forget to bring your gloves and… Enjoy! Here you can check the dates and schedules of all the ice rinks in Barcelona. More info: Barcelona ice rinks
MAR DE LLUMS DE NADAL. From 1 December to 8 January, the Barcelona Maritime Museum will be dressed in lights and colours with a Christmas tour that delves into the mysteries of the sea. In addition, the Sea of Christmas Lights will feature live musical performances by the musical groups Vozes and Fundació Catalònia. A perfect light and musical journey for this Christmas season. Days: from 1 December to 8 January. Time: Monday to Sunday from 6pm to 10pm (different times). Place: Museu Marítim de Barcelona. C/ Portal de Santa Madrona (the experience begins in the Museum Garden in Plaça Blanquerna). Ages: all ages. Web: Mar de LLums Navidad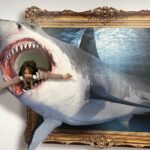 MAGIC WORLD MUSEUM. If you're looking for an original plan to enjoy with your family this Christmas, don't miss the Trick Art Museum Magic World – Museum of Illusions where you'll have a great time taking photos in all the fun and original murals that you will find throughout its spaces. For about an hour and a half you'll discover the different corners of the museum, with more than 40 different themed murals that will make you laugh, hallucinate and have a great time. Have your camera ready. Days: Monday to Friday from 10am to 8pm, Saturday from 10am to 9pm and Sunday from 10am to 8pm. Place: Magic World Museum C/Casp 50. All ages. More information : Magic World Museum 
CHRISTMAS COOKING WORKSHOPS. Espai Granada organises different Christmas cooking workshops for children. In addition, parents can also participate making the experience a perfect family plan. One of the workshops is the Christmas biscuit and cupcake decorating workshop, organised on Saturday 4th December at two different times. And the other workshop is the build your own gingerbread house workshop. Do you dare to build a gingerbread house as a family? Sign up: 18th December, at three different times. Parents and children can participate. More info: Christmas cooking workshop at Espai Granada
D
ISCOVER THE EXPERIENCE OF AN ESCAPE ROOM FOR FAMILIES. The Christmas holidays are perfect for family plans, so one option where you can all take part is to organise an Escape Room for everyone in the Magic Escape space or in the Lock-Clock escape room with the Tesoro Azteca room. And if you want to enjoy an escape room just for children, Emotion Escape is a great option. All three rooms are in Barcelona and offer different types of games, perfect for all tastes. Are you up for it? And if you're looking for an original gift for Christmas
More info:
Magic Escape – Lock-Clock escape room y Emotion Escape.
CHRISTMAS IN BAIX LLOBREGAT. Christmas is coming to Baix Llobregat with more than 50 proposals, fairs and parties to dream and enjoy these dates just a hop away from Barcelona. Christmas activities and proposals to go with the family, to enjoy nature and sport, to attend shows, to visit places of tourist interest. There are also workshops and gastronomic proposals, lunches and dinners in restaurants and offers for stays in accommodation. In addition, this year it is also accompanied by a raffle of a very festive and "succulent" Christmas solidarity lottery, with local products and complemented with a getaway in the Castell de Castelldefels. More information on the website És Nadal: Christmas in Baix Llobregat
VIVA EL CIRCO. Fofito (a legendary Spanish clown) presents: VIVA EL CIRCO. Sing, laugh, play and let yourself be surprised by the great international artists. For 90 minutes you can enjoy a true classic and traditional circus, together with Fofito and Mónica Aragón we will remember those magical songs that we know so well and that have marked generations. Trapeze artists, intrepid acrobats and the incredible golden men will be some of the protagonists of this vertiginous SHOW that will break the laws of human nature. Don't miss the opportunity to live a unique family experience, under the big white heated tent and in one of the most comfortable halls in Europe. Days: From December 6th to January 22nd. Time: different sessions. Ages: all ages. Price: from 10€ (discount for large families). More information: VIVA EL CIRCO
LLUMS DE SANT PAU. The Universe of Light, an extended tour. Barcelona is once again hosting the Christmas event Las Llums de Sant Pau.  The Sant Pau Art Nouveau Site will once again be dressed in lights and colours with a new concept. This year l'Univers de la Llum is presented, an extended tour that will allow us to enter into the mysteries of the cosmos: galaxies, stars, planets… What is beyond what our eyes can see? A Christmas event with more than 20 installations for young and old alike. Days: From 22 November to 15 January. Time: different times. Place: Recinte Modernista de Sant Pau. Further information: Llums de Sant Pau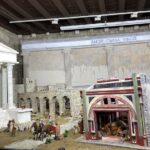 FREDERIC MARÈS MUSEUM NATIVITY SCENE. The Associació de Pessebristes de Barcelona is once again in charge of making the traditional nativity scene in the courtyard of the Frederic Marès Museum. This year it's located in an idyllic valley of the Catalan Pyrenees and Pre-Pyrenees. The nativity, the annunciation to the shepherds or the arrival of the Three Kings of Orient will be some of the many scenes represented in a setting full of details, among landscapes, villages, fauna, flora and customs of the Pyrenean orography. Dates: 26 November to 8 January. Opening times: Tuesday to Saturday from 10 am to 7 pm, Sundays and public holidays from 11 am to 8 pm (closed on 25/26 Dec-1/1). Free of charge. More info: Pesebre Museu Frederic Marès
MERRY DAYS AT CASA SEAT. This Christmas come and discover the magical world designed by the great Christian Escribà. This year Casa Seat will become a Christmas village run by toys and fantasy characters. There will be a chocolate house and a merry-go-round, along with classic Christmas figures such as reindeer and elves, and other surprises such as a friendly penguin. On floor 1, the little ones will be able to greet Father Christmas and the royal pageboy and hand in their requests. Days: 1 December to 7 January. Monday to Saturday, from 9am to 9pm. Free admission. online ticket reservation required. Casa Seat: Pg. de Gràcia, 109. More info: Casa Seat Navidad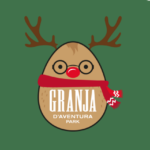 CHRISTMAS AT GRANJA AVENTURA PARK. Christmas is coming and Granja Aventura Park is full of activities perfect for families with children. During these days you will find the park decorated and special Christmas activities that you will love: In search of the Magic Tió, Christmas letter delivery, Christmas crafts workshop, you can take pictures with the giant Tió, have hot chocolate with churros and find one of the 3 sticks that are hidden around the park… and get tickets to go another day! Days of activities: 3, 4, 6, 8, 9, 10, 11, 17, 18, 27, 28, 29 and 30 Dec and 2-4 January Age: for all ages. More info: Christmas at Granja Aventura Park.
RALUY LEGACY CIRCUS – IN ART WE TRUST. The Raluy Legacy Circus returns to Barcelona to present its new show: IN ART WE TRUST, its most daring and spectacular production. An exclusive and unique show that displays all the art and savoir faire of the Raluy family with a clear objective: to live, feel and share this unique ART that the circus represents. It will be in Barcelona until March. An opportunity to enjoy the purest essence of the circus. Days: from 16 December to 3 March. Timetable: different sessions. Venue: Port Vell. Ages: all ages. More information: Raluy Circus In Art We Trust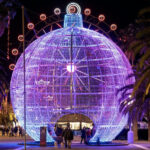 FIRA DE NADAL AL PORT VELL. The Port of Barcelona is hosting Nadal al Port 2022. A Christmas meeting point where families can enjoy activities, dances, music and new experiences with the youngest members of the family. More than 30 free shows on the stage. A 65-metre high Ferris wheel, the Manger on water, lighting, as part of the continuous activities and shows, a giant Tió and this year an open-air skating rink. You will also find a wide range of gastronomy, crafts and various children's activities. Days: from 5 December to 6 January. Time: from 11 am to 10.30 pm. Price: free of charge. Place: Moll de Drassanes. More information: Fira Nadal al Port Vell
FESTIVALET. Festivalet, the independent craft and design fair, returns to Barcelona with a host of participants who will be offering their carefully selected, quality products to everyone who visits the fair. A way to celebrate the 15th edition. The Festivalet will also have an outdoor gastronomy area where you can have breakfast, vermouth, lunch and snacks, local and homemade food (vegetarian and vegan options available).  Days: 17 and 18 December. Place: Fabra i Coats. Price: €3, under 12s free. More information: Festivalet 2022.
CHRISTMAS TRAIN PARTY AT PARC DE CAN MERCADER. You already know that we love Parc de Can Mercader because of all it offers the families. This Christmas you have a great plan: on Sunday 18th December, from 5pm to 8pm Father Christmas will visit the train at Parc de Can Mercader and he will do it in a special way, handing out chocolates and sweets to the children. The stations will be decorated with lights and Christmas decorations. Check their website to confirm dates and activities. More information: Raluy Circus In Art We Trust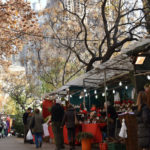 CHRISTMAS FAIR AT THE SAGRADA FAMILIA. One of Barcelona's most important Christmas markets. Every year since 1962, a Christmas fair has been held in Plaça de la Sagrada Família, the most traditional Christmas market in L'Eixample. More than a hundred Christmas stalls are set up where you can buy figurines for the nativity scene, Christmas decorations, trees and more. You can also take the opportunity to visit the Sagrada Família or take a children's workshop. At Christmas there are special workshops for children. Days: from 26 November to 23 December 2022. Opening hours: from 10 am to 9 pm on weekdays, Sundays and vigils from 10 am to 10 pm. Ages: All ages. Price: free of charge. Place: Pl. Sagrada Família nº1. More information: Sagrada Família Christmas Fair Barcelona
THE BEST CHOCOLATE CON CHURROS IN BARCELONA. We love to take advantage of this time of the year to have a snack with the family and have a good chocolate con churros. If you want to know where we like to have hot chocolate with the kids, here are some of them: Granja Dulcinea, one of the most emblematic in Barcelona; Chocolatería Brescó, in the heart of Eixample, on the ground floor of Casa Calvet, a building designed by Gaudí; Churrería de Sant Andreu, Pastelería Escribà and Granja Viader. PASTRY SHOP ESCRIBÀ. Here are all the details: The best chocolates with churros in Barcelona.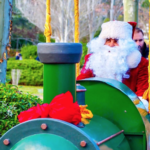 CHRISTMAS IN CATALUNYA IN MINIATURE. You can find a lot of Christmas activities in Catalunya in Miniature. Father Christmas arrives by train to Catalunya in Miniature. You can find Christmas activities from 11am to 3pm on 19,20,26 and 27 November, 3,4,6,8,9,10,11,17,and 18 December. The zip lines will be open on weekends and holidays, 27, 28, 29, 30 December, 2, 3, 4, and weekend 7 and 8 January. And you can also look for the Tió with caçations by booking through this link. Check all the activities and special schedules of the park. More information: Catalunya en Miniatura.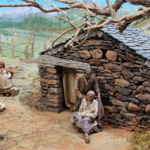 VISIT THE NATIVITY SCENE AT THE MONASTERY OF PEDRALBES. This year's exhibition focuses on two large dioramas representing the symbolism of the themes of the Nativity and the Annunciation to the shepherds, with figurines created by the artists of the Demetz family, founders of the Italian company Original Heide. This company, founded in 1970 by Enrico and Mariarosa Demetz, is located in Val Gardena (Italy), in South Tyrol, at the foot of the Dolomites. The nativity scene can be visited from Saturday 17 December, when the museum is also holding an open day to commemorate the exhibition. More information: Monasterio de Pedralbes
BARCELONA CHRISTMAS FESTIVAL. The performing arts, music, digital arts and installations will shape the Barcelona Christmas Festival, through diverse universal languages accessible to everyone, in the mornings, afternoons and evenings from 17 to 30 December 2022. And all this under the common thread of the city's Christmas and the burst of energy typical of these endearing festivities. Family events, music, street arts and shows – a party for everyone! More information: Barcelona Christmas Festival 
SOLIDARITY PLAN. ESPAI DE BOMBERS FREE IN EXCHANGE OF A NEW TOY. The toy collection campaign by Bombers Solidaris is back to ensure that no child is left without a toy for Christmas or Epiphany. During the whole month of December you will have FREE ENTRANCE to the ESPACIO BOMBEROS, in exchange for a new toy. On the 24th of December all the firemen will be collecting toys.  Address: c/Lleida n° 30. Opening hours: Saturday from 11am to 3pm and from 4pm to 8pm, Sunday from 11am to 3pm with a children's workshop at 11:30am / Tuesday and Thursday from 10am to 2pm and Wednesday and Friday from 10am to 2pm and from 4pm to 8pm. Mondays closed. Until 4 January. More information: Bombers Solidaris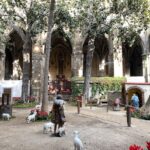 RAL NATIVITY SCENE (PESEBRE): once again, the Cathedral Cloister is transformed into a beautiful traditional nativity scene where you can stroll around. Place: In the Cloister garden. Days: until 9 January 2022. Opening hours: weekdays: from 10:00 to 18:45, Saturdays: from 10:00 to 16:45 and from 17:15 to 18:45, public holidays: from 10:00 to 13:00 and from 17:15 to 18:45 Price: free (a donation for its maintenance would be appreciated). No need to book (Access: through the main door of the Cathedral). More info: Pesebre Catedral Barcelona.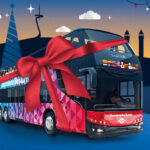 BARCELONA CHRISTMAS TOUR.
If you like Christmas lights, this is the plan for you. You will get on the bus to discover the most special Christmas spots in Barcelona. A route through the main streets and most emblematic buildings decorated especially for the holidays, such as Passeig de Gràcia, Sagrada Familia, Arc de Triomf and Casa Batlló, among others. You can also learn about typical Christmas traditions from the guides on board the bus. Dates: from 25 November to 30 December (except 25/12), from Monday to Sunday. Timetable: 18-20h. Price: from 10€ (children under 4 free). Departure: pl. Catalunya, 14 (Barcelona Bus Turístic Blue Route stop). More information
: Barcelona Christmas Tour
IMMERSIVE VISIT AND LIGHT SHOW AT CASA BATLLÓ. 

Discover the family experience at Casa Batlló "10D EXPERIENCE". A different and original visit that offers a journey into the mind of Gaudí through the five senses and using the most advanced technology. In this visit they have used different technological tools that make it unique and very visual.  Through the use of Artificial Intelligence, Augmented Reality or Machine Learning, you will be amazed by the volumetric projections full of colours, movements… they will even put your taste and smell to the test. You can also take the opportunity to see the Christmas lights on the façade every day from 17:30h. They are spectacular. More information:
Casa Batlló en Navidad. 
CHRISTMAS WORKSHOPS AT LA SAGRADA FAMILIA. Once again this year, the Sagrada Familia is offering a Christmas workshop aimed especially for children aged between 6 and 12 plus companions. This year's workshop includes a visit to the Basilica, with particular attention to the Nativity façade, the main feature of these special dates. The workshop also includes a discovery game and the making of a craft in which a candle holder candelabra in the shape of a star will be made. Days: every weekend from 3 to 24 December at 10:30 and 12:30, 6 and 8 December at 10:30 and 12:30, 27, 28, 29, 30 and 31 December at 10:30 and 12:30 Age: 6 to 12 years old Price: 6,50 €. More information: Sagrada Família Christmas Workshops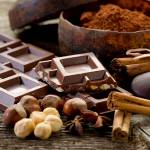 VISIT THE SIMÓN COLL CHOCOLATE FACTORY. The Simón Coll family has been working for six generations to make one of the best chocolates we have ever tasted. We recommend a trip to Sant Sadurní d'Anoia to visit this chocolate factory with your family and have a great time with the kids at Espai Xocolata. To go on this guided tour, the first thing I recommend is that you book your ticket in advance to make sure you can do it on the day you want. The best thing about the visit is the fact that it's a sensory experience. You can touch, smell, taste cocoa beans and different types of chocolate. A great Christmas plan. More information: visit the chocolate factory Simón Coll
FATHER CHRISTMAS ARRIVES BY TRAIN. L'ORENETA TRAIN. On 11th and 18th December between 10:30 and 13:30 Father Christmas will visit the Parc l'Oreneta train. This year the visit will be adapted to the current health situation. You can get on the train, as every Sunday, leave your letter and see how Father Christmas circulates in his special train. You can't touch Father Christmas but the children will be thrilled with the experience. More information: Christmas in Parc de l'Oreneta.
CHRISTMAS IN EL POBLE ESPANYOL. Christmas activities are back in Poble Espanyol. This year Poble Espanyol will become the perfect place to receive the most magical Christmas in Barcelona. This year it will be centred on wishes, including a visit to Father Christmas or the Three Wise Men! December: from 3 to 11, 17 and 18, 22 to 29 (except 25) + January: from 2 to 8. You can also enjoy the family show Winter is the family show this Christmas, a real show of dance, theatre and acrobatics starring young dancers between 16 and 20 years old. Price: from 13€. Venue: Poble marquee. Dates:Various dates from 4 December to 29 January, at 12:30h and 17h. More information: Christmas in Poble Espanyol
CHRISTMAS AT THE MUSEU NACIONAL. This Christmas, play and experiment with art! Come to the Museu Nacional as a family. In the Oval Room there is a circuit of four activities designed for children from 3 to 12 years old.  An area with illustrations that tell stories, others where you can draw what you hear, small scenarios for great stories and Playscapes, an Art Crochet installation created by the Belgian artist Cathy Bertel using giant crochet-covered balls. Days: 27, 28, 29 and 30 December. With four morning and afternoon slots to choose the one you prefer (10 a.m., 11.30 a.m., 3 p.m. and 4.30 p.m.). More information: Christmas at the Museu Nacional.
BARÇALAND 2022. The Barça facilities will be filled with sports and leisure activities to celebrate the Christmas holidays with different outdoor activities. You will find a wide range of games for the little ones, sports activities, skills and lots of options and fun for the whole family that will be available every day at Barçaland. There will also be a lot of Christmas activities: a giant culé caga tió, delivery of letters to Father Christmas and the Royal Page, the Three Wise Men, the Major coal bunker, workshops and Christmas shows. In addition to open-door training sessions and signings with the professional Barça players. Days: from 3 December to 8 January. More information: Barçaland 2022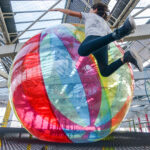 ADVENTURE IN THE URBAN FOREST. What better way to start our calendar with a novelty: the renewed Bosc Urbà of Barcelona with a lot of options for the whole family: adventure park, circuits for everyone, new attractions, new spaces, jumping at height and much more. You can also have a drink in their restaurant, a perfect plan for families with children this Christmas.  Days: Saturdays, Sundays, public holidays and every day during school holidays (closed on 25 and 26 December and 1 January). Address: Plaza del Fòrum, s/n. Barcelona. More info: Barcelona Bosc Urbà
CONOCE EL ICEBARCELONA. El primer bar de hielo al lado de la playa del mundo. Un plan súper original para hacer estos días en familia. Equípate con la vestimenta especial para niños y niñas, entra y descubre la cantidad de esculturas de hielo que hay en todo el bar. Cada año cambian la temática, este año la temática son grandes personajes del cine de todo los tiempos. Es como entrar en un pequeño museo de hielo. Además podréis tomaros una bebida y vivir la experiencia de estar rodeados de hielo, incluso los vasos son de hielo. ¿Os apuntáis?. Aquí tienes toda la información: ICEBARCELONA
NEW YEAR'S EVE WITH PYROTECHNICS. Say goodbye to the year with the most spectacular countdown! Music, pyrotechnics, monumental scenography and the most spectacular technological innovation will make Avinguda de la Reina Maria Cristina a unique space to bid farewell to 2022 and welcome 2023. From 9.30 p.m. onwards, we'll be warming up our engines at the Magic Fountain of Montjuïc and at 11.48 p.m. the show will begin, leaving everyone who wants to celebrate a New Year's Eve full of emotions in the company of others speechless. More information: New Year's Eve in Barcelona.
ROYAL CAMP IN THE OASIS OF NOU BARRIS. The retinue accompanying Their Majesties the Three Wise Men will camp for three days in Barcelona. There they will rest before the parade and regain their strength to help the Three Wise Men distribute the gifts in the early hours of 5 to 6 January. All children can visit the Royal Camp. They will meet the royal pages, the astrologers, the star, the postmen, the presents, the candy-makers, the seamstresses, the charcoal-burner, the dream fairies, the magic key-keepers, the candle-lighters? And you will also be able to discover the spectacular spaces where they are housed! Days: from 2 to 4 January. Place: Pati de la Seu del Districte de Nou Barris. Price: free of charge. More information: Campamento real Reyes Magos
THE THREE WISE MEN's TOY FACTORY.  Experience the experience of visiting the Three Wise Men's factory, the place where they receive the letters and organise the toys before distributing them to all the houses. In the old factory of Sant Andreu you will travel to the magic and now the light and colour invite us to discover the real Three Wise Men's Toy Factory. A unique Christmas spectacle in the city and live the experience of touring the toy factory during the Christmas holidays. Days: 27 December to 4 January (except 31 December and 1 January). Free admission. More information: Fábrica de los Reyes Magos
GRAN VIA KINGS FAIR. The Gran Via Fair, or St. Thomas Fair, is also a classic Christmas market in Barcelona. A Christmas fair that reaches its climax on Epiphany night but is open throughout the Christmas season. Here you can find toys, Christmas decorations, churrerías, spaces of different NGOs where you can donate toys and many more different shops. Days: from 16 December to 6 January. Opening hours: from 10am to 9pm on Mondays, Tuesdays, Wednesdays, Thursdays, Fridays, Sundays and public holidays. Saturdays and public holidays from 10am to 10pm. Place: Gran Vía 580, between Rocafort and Muntaner. More information: Feria de Reyes de la Gran Vía
BREAKFAST WITH SANTA AT HARD ROCK CAFÉ. If you want your child to hand deliver the letter to Father Christmas and have a chat with him, on 18 December the Breakfast with Santa organised by Hard Rock Cafe Barcelona is back. A family brunch full of surprises for the whole family. BREAKFAST WITH SANTA. From 10am you can enjoy a full breakfast with cold meats, bacon, eggs, toast, butter, jam, pastries and fruit. Throughout the morning, the elves will be collecting the letters that our little Roxtars have written to Santa. A magician will be in charge of the entertainment just before the most awaited moment for everyone: the arrival of Father Christmas, who will take photos with all the participants. TAKE PART IN OUR RAFFLE. More information: Desayuno con Santa en Hard Rock Café
BIGFUN MUSEUM AT CHRISTMAS. Visiting the Bigfun Museum is always a fun plan for families… discover the different scenarios, take photos, dive into the colourful ball pool (a real treat) and enjoy a family experience that is sure to bring a smile to your face. During the festive season you can also find an area decorated for Christmas. A great plan to surprise the kids or a perfect gift if you are looking for a different experience… Days: every day from 11am to 7pm except Saturdays from 11am to 8pm. Place: La Rambla 88. Ages: all ages. More information: Bigfun Museum Barcelona 
THREE WISE MEN PARADE. The Three Wise Men's Night is coming and come and welcome Their Majesties and their entourage to the most magical parade ever! Their Majesties Melchior, Gaspar and Balthazar will arrive once again this year at Barcelona's Portal de la Pau with the Santa Eulàlia pailebote, and after being welcomed by the Mayoress, they will travel around the city in a parade with many new features (and more sustainable than ever!). The Three Wise Men – who will once again have their own float – and their entourage will take a new route due to the works on Via Laietana, and will pass along Avinguda del Paral-lel and Ronda de Sant Pau before turning onto Carrer de Sepúlveda. This year's parade will feature new floats, new performers and the return of sweets! More information: Cabalgata Reyes Magos.