In summer there are many possibilities of free time activities in Barcelona. For families with children, the ideal is to combine the free time plans with a good dive in the beach or swimming pool.
Best outdoor swimming pools in Barcelona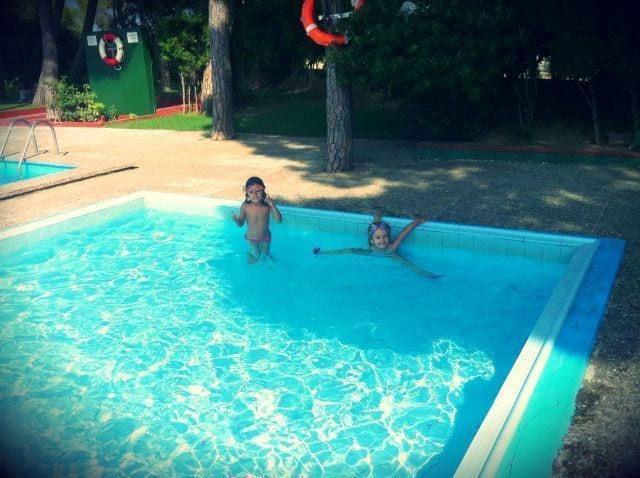 Recently we were telling you where are (according to us) some of the best beaches of Barcelona. Today we are going to get into details about where the best swimming pools of Barcelona are, so you can enjoy them with your children.
Lago de la Creueta del Coll
One of the swimming pools with family ambience. It's a lake that in summer turns into a public swimming pool. There arer umbrellas and a lawn area, they rent hammocks(deck chairs) and there are dressing-rooms and toilets. Everything is presided by the spectacular sculpture of Eduardo Chillida.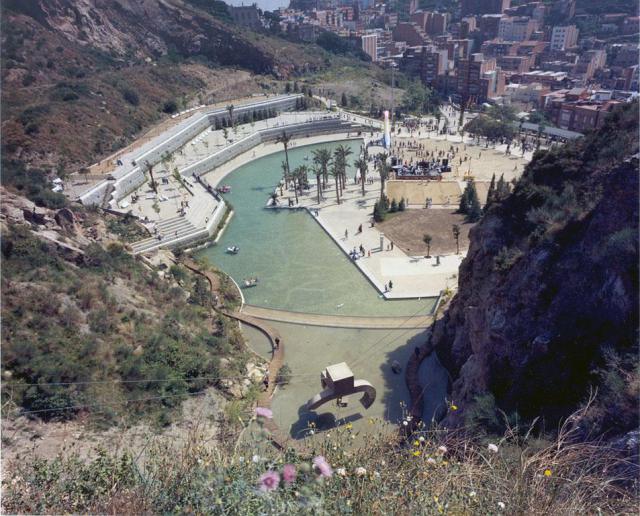 Zone: Gràcia
Entry fee at point: consult
Hours of the pool: from 10 to 21h
Transportation: Metro Line 3 (Vallcarca)
Direction: Mare de Dèu del Coll, 77. 08032 Barcelona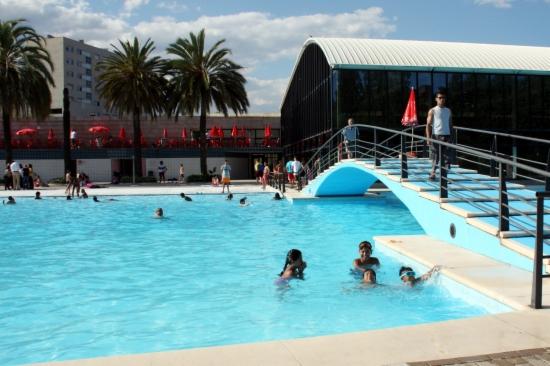 Lake of Can Dragó
With more than 15,000 square meters, the sporting complex Can Dragó  offers the largest pool in Barcelona.
Zone: Sant Andreu
Entry fee at point: consult season tickets
Hours of the pool
Transportation: Metro (Sant Andreu)
Direction: : Rosselló i Porcel 7-11 San Andrés Barcelona
Center Esportiu Municipal Bernat Picornell
The swimming pool with the most spectacular views of Barcelona will not be open until August 4th, because of the world championship of swimming (Is the training spot of water polo).
Zone: Montjüic
Entry fee at point: from 6 to 14 years: 7,29 Euros. From 15 to 25 years: 7,97 euros. From 26 to 65 years: 11,84 euros.
Hours of the pool: Outdoor pool until 29 of september. From Monday to Friday from 09:30 to 20:30h. Saturdays until 20:00h. Sundays from 10:30 to 19h
Transportation: Metro (Plaza España) and go up the escalators!. Bus 150.
Direction: : Avda del estadi 30-38 08038 Barcelona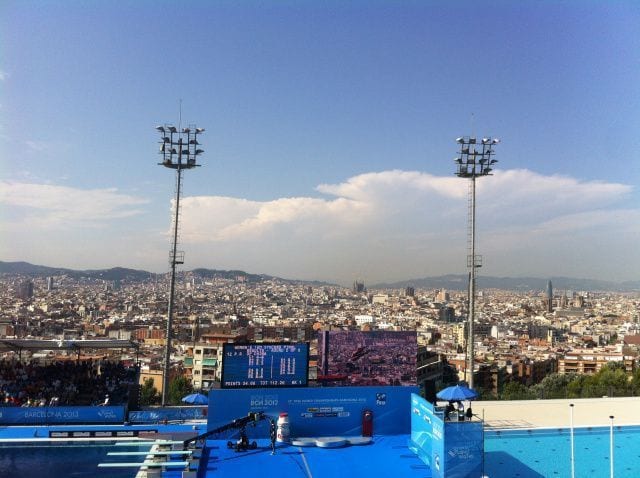 Municipal swimming pools of Montjuïc
Another pool close to the previous one, also a training spot of the world swimming championship and therefore closed until August 4. You can read more info about this pool in our recent post "A jump with a bird view".
Zone: Montjüic

Direction: Av. de Miramar, 31, Barcelona

How to arrive: From the metro station Paral·lel, take the funicular that goes up to Montjuïc (you can use your metro ticket for the funicular journey).
Can Caralleu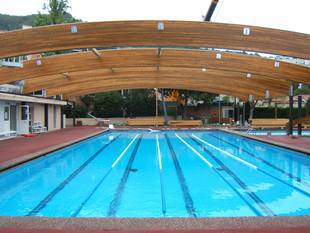 Located next to the Park de Collserola, is one of the largest sport facilities of Barcelona. But it is recommended calling by phone to go on time, for capacity reasons.
Zone: Sarriá – Sant Gervasi
Entry fee at point: from 0 to 16 years: 5,50 euros. From 17 years and then: 13,22 euros.
Hours of the pool: from Monday to Friday from 07 to 24h. Saturdays from 08 to 21h. Sundays from 08 to 17h.
Transportation: FFCC Reina Elisenda
Direction: Deportes, 2-8 Sarrià-Sant Gervasi 08017 Barcelona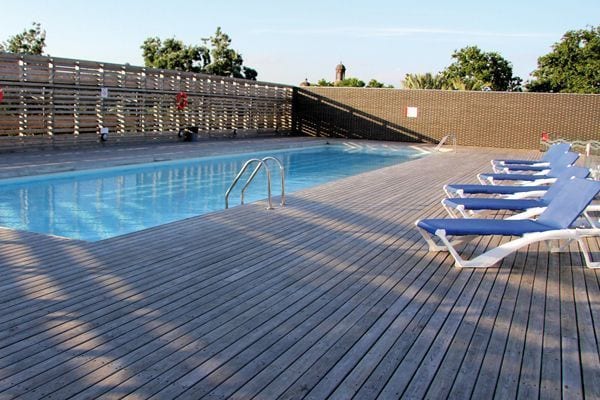 Centre Esportiu Municipal Parque de la Ciutadella
An ideal plan: spend a day in this small but cozy swimming pool, combined with a picnic lunch in the nearby Parc de la Ciutadella.
Zone: Ciutat Vella
Entry fee at point: from 6 to 8 years: 7,14 euros. Adults 15,46 euros.
Hours of the pool: from 1 of May to 30 of September, from 10h to 20h (Weekends until 19:30h)
Direction: Paseo de Circunvalación, 1. 08003 Barcelona
Transportation: Metro Línea 4 (Barceloneta)
Swimming Club Atlètic Barceloneta
Its strategic location overlooking the sea, and their two outdoor pools makes it irresistible for the whole family.
Zone: Ciutat Vella
Entry fee at point: from 0 to 3 years: 3,70 euros. From 4 to 10 years: 6,98 euros. From 11 to 64 years: 12,01 euros.
Hours of the pool: from Monday to Friday from 06:30h to 23 hours. Saturdays from 07h to 23h. Sundayes untill 20h.
Transportation: Metro Línea 4 (Barceloneta)
Direction: Plaza del Mar, s / n. 08003  Barcelona
Web: www.cnab.org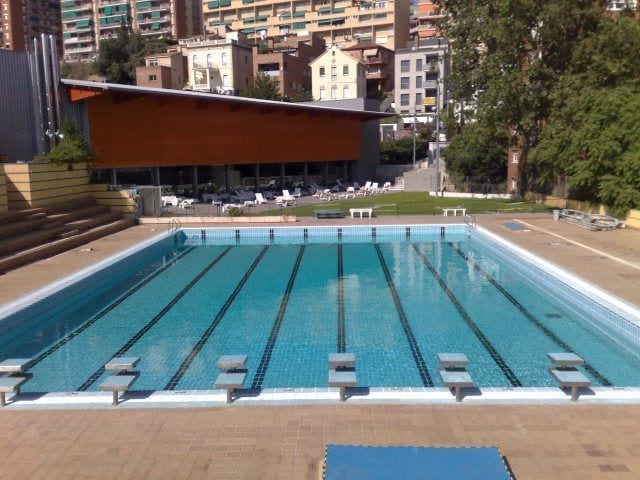 Centre Esportiu Municipal Can Toda
It is the old (and mythical) Swimming Club of Catalunya, founded in 1931 and renovated in 2009.
Zone: Gràcia
Entry fee at point: consult
Hours of the pool: from Monday to Friday from 08:15 to 21:45h. Saturdays from  08:15 to 21h. Sundays from June to September from 08:15 to 15:30h.
Transportation: Metro (Alfons X)
Direction: C/ Ramiro de Maeztu, 25-27 08024 Barcelona
What is your particular experience in these pools? What is the favorite of your children? Do you know any swimming pool in Barcelona and surroundings, which is suitable for families and can enter on time? tell us about it!!!