his year we bring you a selection of 50 plans to do at Christmas with children in Barcelona and the surrounding areas. Traditional plans, original plans, very Christmassy activities, and others perfect for enjoying a different family day. Are you up for following us? What is your favorite plan at Christmas with the little ones, do you have traditions? Tell us in the comments!
50 PLANS FOR A CHRISTMAS WITH CHILDREN IN BARCELONA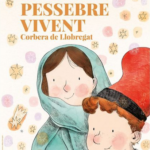 LIVING NATIVITY OF CORBERA: Visiting the living nativity of Corbera de Llobregat is one of the most typical traditions to do with children at Christmas. This town near Barcelona boasts having the first living nativity scene in Catalonia. The scenes are portrayed by around 200 actors, residents of Corbera, who collaborate voluntarily, with a clear desire: to make visitors and friends experience Christmas in a unique and different way. Dates: from December 2 to January 13. Ticket reservation only online. More information: Living Nativity of Corbera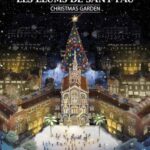 ELS LLUMS DE SANT PAU. The Universe of Light, an extended journey. Barcelona once again hosts the Christmas event Els Llums de Sant Pau. The Modernist Sant Pau Site will be adorned with lights and colors with a new concept this year. This year, the Universe of Light is presented, an extended journey that allows us to delve into the mysteries of the cosmos: galaxies, stars, planets… What lies beyond what our eyes can see? A Christmas event with more than 20 installations for young and old. Dates: From November 22 to January 15. Time: different schedules. Location: Sant Pau Modernist Site. More information:: Els Llums de Sant Pau
SHOW EL BOSC DELS SOMNIS: A visual experience, a theatricalized journey that involves more than 20 artists working hard to bring the illusion of the Christmas spirit to life. El Bosc dels Somnis is an outdoor, circular, and unguided tour, where you can discover with your little ones the Christmas post office, the kitchen where the best candies are prepared, the planetarium of illusions, the toy factory, and the coal mine. A great plan 20 minutes from Barcelona in a magical environment. Dates: from December 21 to 31. Time: different schedules. Location: Masia de Can Julià (Sant Boi de Llobregat). Ages: all. More information: El bosc dels somnis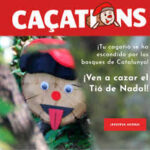 CAÇATIONS, IN SEARCH OF YOUR CHRISTMAS LOG: The adventure of going in search of the Tió with children is a perfect plan now that Christmas is approaching. Children are amazed by the activity and take home their Tió to prepare it to "poop" little gifts. Near Barcelona, there are many different options, so today we have prepared a compilation of places and companies where you can do this activity. Find out how it works and where you can look for your Tió. A guaranteed family plan. More information: Caçations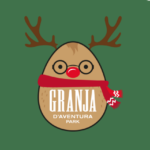 CHRISTMAS AT GRANJA AVENTURA PARK: Christmas is coming, and Granja Aventura Park is full of activities perfect for families with little ones. During these days, you will find the park decorated and special Christmas activities that you will love: In search of the Magical Tió, deliver the Christmas letter, Christmas craft workshop, take photos with the giant Tió, have hot chocolate with churros, and find one of the 3 canes hidden in the park… Activity days:December: 2, 3, 6, 7, 8, 9, 10, 16, 17, 23, 27, 28, 29, and 30 – January: 3, 4, 5, and 7 Age: for all ages More information: Christmas at Granja Aventura Park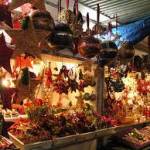 VISIT SANTA LLÙCIA FAIR: The most traditional plan of Barcelona's Christmas. It is the oldest Christmas nativity and decoration fair in the city, located in front of the Cathedral. You can buy figurines for nativity scenes, moss, and Christmas trees, among other things. There are organized children's activities, such as the Giant Tió, puppets… Dates: from 11/24/2022 to 12/23/2022 Schedule: every day from 10 am to 9 pm. For specific activities organized, it is recommended to check the agenda. More info: Fira de Santa Llùcia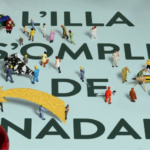 CIUTAT NOEL. CHRISTMAS AT L'ILLA DIAGONAL:Ciutat Noel is the largest miniature Christmas Village we have ever seen. It has a thousand details: the sleigh track, a church with choristers singing carols, a train station, a cable car, a ski slope, and much more! A world to dream in the Christmas magic. Workshops for children are also organized. Stay tuned to their website and social media as they will update their agenda. Also, you can enjoy the ice rink. The little ones can skate alone or with the help of a penguin. Ah! Don't forget your gloves; they are mandatory for this activity. Dates: until January 7. Location: Gardens inside L'Illa. Price: €6 (access to the rink and skate rental) 🧤 and 🐧: €2/each. Duration: 25-minute sessions. More information: Christmas at L'Illa Diagonal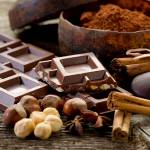 VISIT THE SIMÓN COLL CHOCOLATE SHOP:
The Simón Coll family has been working for 6 generations to make one of the best chocolates we've ever tasted. We recommend a getaway to Sant Sadurní d'Anoia, to visit this chocolate factory with the family and have a great time in "Espai Xocolata." To make this guided tour, the first thing I recommend is to book the ticket in advance to ensure that you can do it on the day you want. The best part of the visit is that it is a sensory experience. You can touch, smell, taste cocoa beans, and different types of chocolate.
A super Christmas plan. More information: Visit the Simón Coll chocolate factory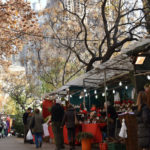 CHRISTMAS FAIR AT SAGRADA FAMILIA: Another of the most important Christmas markets in Barcelona. Since 1962, every year a Christmas fair is organized in the square of the Sagrada Familia, the most traditional Christmas market in L'Eixample. More than a hundred Christmas stalls are set up where you can buy nativity figurines, Christmas decorations, trees, and more. You can also take the opportunity to visit or participate in a children's workshop at the Sagrada Familia; during Christmas, there are special workshops for children. Dates: from November 26 to December 23, 2023. Schedule: from 10 am to 9 pm on weekdays, Sundays, and vigils from 10 am to 10 pm. Ages: all. Free entry. Location: Pl. Sagrada Familia nº1. More information: Christmas Fair Sagrada Familia Barcelona una visita o taller infantil a la Sagrada Familia, en Navidad hay talleres especiales para niños. Días: del 26 de noviembre hasta el 23 de diciembre de 2023. Horario: de 10 a 21 entre semana, domingos y vigilias de 10 a 22 horas. Edades: todas. Precio: gratuito. Lugar: Pl. Sagrada Familia nº1.Más información: Feria de Navidad Sagrada Familia Barcelona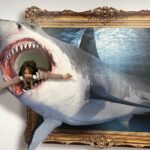 MAGIC WORLD MUSEUM. If you're looking for an original plan to enjoy with your family this Christmas, don't miss the Magic World Museum, where you'll have a great time taking photos in all the fun and original murals found throughout its spaces. For about an hour and a half, you'll discover the different corners of the museum with more than 40 murals on different themes that will make you laugh, marvel, and have a great time. Also, during these dates, there are different activities such as making a Christmas postcard or photography courses for teens. Have the camera ready. Dates: Monday to Friday from 10 am to 7:30 pm, Saturdays from 10 am to 8 pm, and Sundays from 10 am to 7:30 pm. Location: Magic World Museum C/Casp 50. All ages. More information: Magic World Museum 
ESCAPE ROOM EN FAMILIA. If you're looking for a family plan where you can test your skills, an Escape Room will delight you. At Aventurico, they offer 10 different themes for children, including escape rooms, treasure hunts, and virtual reality games: Magic Academy (for Harry Potter lovers), Alice and the Key of Time (inspired by Alice in Wonderland), Superheroes, and Secret Agent. A great idea to enjoy the Christmas holidays with the family or a different gift for these festivities. More information:  Aventurico Escape Room Aventurico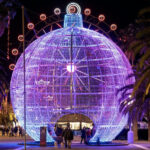 CHRISTMAS FAIR AT PORT VELL: The Port of Barcelona hosts Nadal al Port 2022. A Christmas meeting point where families can enjoy activities, dances, music, and new experiences with the little ones. More than 30 free shows on stage. A 65-meter-high Ferris wheel, the Nativity over the water, lighting, forming part of continuous activities and shows, a giant Tió, and this year an outdoor ice rink. You will also find a wide gastronomic offer, crafts, and different children's activities. Dates: from December 5 to January 6 at Moll de la Fusta. The market's opening hours are from 11 am to 10 pm, and the light and color show will start when the sun sets at 5:30 pm. Price: €8. More information: Fira Nadal al Port Vell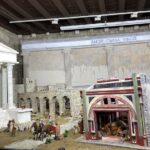 NATIVITY SCENE AT MUSEU FREDERIC MARÈS: This year is part of the celebration of 800 years of nativity scenes. Dedicated to San Francisco de Asís, the nativity scene is inspired by painters of the time, with special reference to Giotto di Bondone. Although the figures' clothing is from the late 19th century, the nativity scene aims to recreate the time of San Francisco. We can see different classic nativity scenes, such as the birth, the annunciation, the journey of the Kings… Dates: From November 25, 2023, to January 7, 2024 Location: Museum Courtyard Schedule: Tuesday to Saturday, 10 am-7 pm; Sundays and holidays, 11 am-8 pm. Closed on December 25, 2023, and January 1, 2024. Price: Free. More info: Nativity Scene Museu Frederic Marès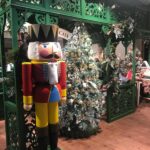 VISIT THE KÄTHE WOHLFAHRT CHRISTMAS SHOP: If you are a fan of Christmas like us, if this time of year comes, and you can only think of filling your home with Santa Clauses, nativity scenes, and decorating the Christmas tree… this is your store. The store is designed like a fairytale Christmas village. In its 300 square meters, you can find "all kinds of products" related to Christmas. ⭐️ You will find more than 6,300 different Christmas decoration items made following the themes of traditional toys in their workshop in Rothenburg (Germany). Address: Banys Nous 15📌 Schedule: from 10 am to 8 pm from Monday to Saturday. Sundays from 12 pm to 8 pm. More info: Christmas shop in Barcelona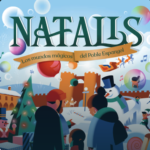 NATALIS AT EL POBLE ESPANYOL.
Poble Espanyol is the perfect setting to experience the most magical Christmas in Barcelona. The protagonists this year? The magical worlds of Christmas. Poble Espanyol transforms into four worlds full of magic. Over 20 decorations and magical lighting will fill the place with joy. Additionally, there will be magic shows, circus performances, and music throughout Poble Espanyol. Be careful not to encounter the Grinch or mischievous elves! Get your tickets for Natalis, the magical worlds of Poble Espanyol in Barcelona! Also, Santa Claus and the Three Wise Men collect letters from the little ones (reservation important).
Dates: Until January 2. Schedule: Throughout the day. Location: Poble Espanyol. Ages: All. More info: Christmas at Poble Espanyol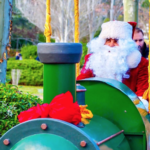 CHRISTMAS IN CATALONIA IN MINIATURE. You can find a lot of Christmas activities at Catalunya en Miniatura. Santa Claus arrives by train at Catalunya en Miniatura. You can beat the Tió, travel by train with Santa Claus, climb trees in the Animated Forest, and have a magical and special day. All the boys and girls who hit the Tió will receive a small gift! Santa Claus's train will take you around the park, and you can also visit our model. In the Animated Forest, you will find children's circuits, circuits for adults, and even a 150-meter zip line. Christmas Animation: from 11:00 to 14:00. Days: November 25, 26, December 2, 3, 6, 7, 8, 9, 10, 16, and 17. More information: Catalunya en Miniatura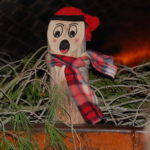 VISIT THE TIÓ FESTIVAL IN MURA. At Christmas, the town of Mura fills with Tiós of all types, big, small, dressed in many different ways. For children, it's a very fun activity as you can find more than sixty Tiós placed in different corners of the town; some you will have to search for as they hide! In addition, during the Festa dels Tions de Mura, various activities and workshops are organized for all ages. You can find more information on the Mura Town Hall website. 📌 Tió Dates in Mura: from December 2 to January 7📌 More info: Festa del Tió IN Mura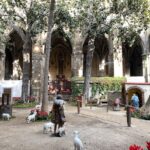 CATHEDRAL NATIVITY SCENE: Once again, the Cathedral's Cloister transforms into a beautiful traditional nativity scene that you can walk through. You can stroll through the cloister and enjoy the traditional nativity scene route and, in the process, greet the famous geese of the Cathedral. Location: In the garden of the Cloister. Dates: November 25 to January 7, 2024. Schedule: Monday to Saturday and vigils: from 10:00 to 13:30 and from 16:30 to 19:15. Sundays and holidays from 10:00 to 13:00 and from 16:30 to 19:15. Price: Free (a donation for maintenance is appreciated) 📌 No reservation necessary (Access: through the door of Santa Eulália – access through Bisbe Street). More info: Cathedral Nativity Scene.: Pesebre Catedral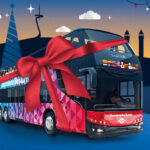 BARCELONA CHRISTMAS TOUR.
If you like Christmas lights, this is the plan. Hop on the bus to discover the most special Christmas corners of Barcelona. A route through the main streets and most emblematic buildings specially decorated for these holidays, such as Passeig de Gràcia, Sagrada Familia, Arc de Triomf, or Casa Batlló, among others. Additionally, you can learn about Christmas traditions typical of these dates, narrated by guides on board the bus. Dates: November 25 to December 30 (except 25/12), Monday to Sunday. Schedule: 18:00-20:00. Price: from €10 (children under 4 free). Departure: Pl. Catalunya, 14 (Blue Route stop of the Barcelona Bus Turístic). More information: Barcelona Christmas Tour.
: Barcelona Christmas Tour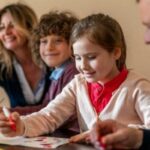 CHRISTMAS AT LA PEDRERA. Enjoy La Pedrera with this year's Christmas activity: A POSTAL CHRISTMAS. Guided tour and plastic workshop. Experience the magic of the holidays by visiting La Pedrera! The little ones will create a Gaudí-inspired Christmas postcard. Together, we will delve into the history of this unique house and explore the most original corners of Casa Milà. See you this Christmas! Age: 5 to 10 years. Duration: 1h30. Activity in Catalan. Upcoming dates: December 2, 6, 8, 9, 10, 16, 17, 29, 30, and 31, and January 2, 3, 4, and 5. Time: at 10 am. Here you can find all the information about children's activities: Pedrera at Christmas: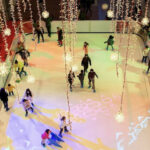 ICE SKATING IN BARCELONA. A very Christmassy plan is to ice skate outdoors. This year in Barcelona, you can do it on four ice rinks: l'Illa Diagonal, Westfield la Maquinista, Tibidabo, and the classic ice rink at Camp Nou. It's always a super plan, plus it will remind you of some of the most iconic Christmas movies like Home Alone. Don't forget to wear gloves and… Enjoy! Here you can check the dates and schedules of all the ice rinks in Barcelona. More info: Barcelona Ice Rinks.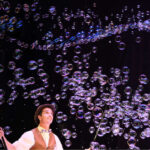 JINGLE BUBBLES SHOW. This year, a new show full of bubbles, lights, music, and creativity comes to Poble Espanyol, perfect for enjoying the holidays with the family. The protagonists of the show will be soap bubbles! Get ready to embark on a poetic and dreamlike journey based on four simple but essential elements: soap, water, music, and light. An experience that will leave you speechless, with an unprecedented stage language created by a unique artist. The ticket includes access to Poble Espanyol from 10:00, and you can spend the whole day in the venue. Dates: Until January 7. Time: according to the day. Location: Poble Espanyol. Ages: All. More information:: Jingle Bubbles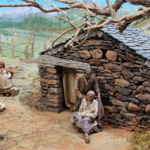 Visit the nativity scene at MONASTERIO DE PEDRALBES. This year's exhibition focuses on two large dioramas that represent the symbolism of the themes of the Nativity and the Annunciation to the shepherds, with figurines created by the artists of the Demetz family, founders of the Italian company Original Heide. This company, founded in 1970 by Enrico and Mariarosa Demetz, is located in Val Gardena (Italy), at the foot of the Dolomites. The nativity scene can be visited starting Saturday, December 16, where the museum also celebrates an open day to commemorate the exhibition. More information: Monasterio de Pedralbes
BIGFUN MUSEUM AT CHRISTMAS. Visiting the Bigfun Museum is always a fun plan for families. Discover different scenarios, take photos, jump into their colorful ball pit (amazing), and enjoy a family experience that will surely bring more than one smile. During these holiday days, you can also find a Christmas-themed area. A very good plan to surprise the little ones or a perfect gift if you're looking for a different experience. Days: every day from 11 am to 7 pm except Saturdays, which is from 11 am to 8 pm. Location: La Rambla 88. Ages: All. More information: Bigfun Museum Barcelona 
EXPERIENCE ICEBARCELONA. The world's first ice bar next to the beach. A super original plan to do with the family these days. Suit up in special clothing for children, enter, and discover the numerous ice sculptures throughout the bar. The theme changes every year; this year, it features great characters from cinema throughout time. It's like entering a small ice museum. You can even have a drink and experience being surrounded by ice; even the glasses are made of ice. Are you up for it? Here's all the information: ICEBARCELONA