Biking in Barcelona is perfect and sometimes we forget that doing it with kids is even better.
The other day,my husband organized for my birthday a surprise route in Barcelona and then a picnic in the "Parque de la Ciutadella". We had a great time, kids as well as the elders, so I tell you how was it in case you want to make this plan some day.
BIKING IN BARCELONA WITH KIDS
Some already have bikes but others rented, with seats for babies for whoever needed it. The meeting point was at Andante Hotel (at Raval District) and from there we headed to the statue of Columbus. Of course practically all the tour was by the bicycles way.

From Colombus statue we headed towards Barcelona and then to the Hotel W, on the way back we went to the Olimpic Port and from there along behind the Zoo ending to the "Parque de la Ciudadela". The route is very pleasant, almost plain and of course from the bicing way, so no problem for the kids who were excited going with their bikes and no complaints for the less "sporty" guys.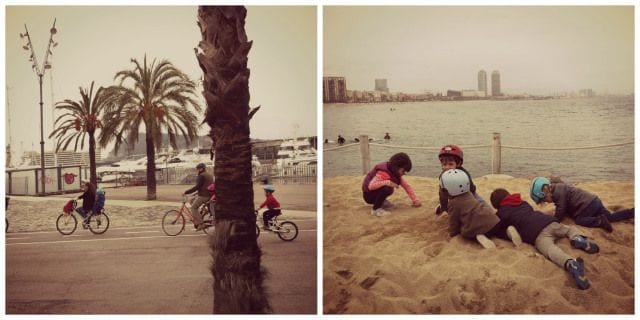 PICNIC IN PARC DE LA CIUTADELLA
After the route we reach at the "Parque de la Ciudadela". There, we look for a nice spot to settle down and eat the super picnic which had been organized. Nothing was missing sandwiches, croquettes, beers, cakes, good company and many games.