If you are looking for a place to spend an amazing day or to celebrate a birthday party, Jump Yard Barcelona is the place for you, a park with trampolines, climbing wall and many more fun activities.
At Jump Yard Barcelona, everyone, girls and boys alike, will be amazed by the number of activities they can enjoy. The space is incredible and is designed so that everyone can try and learn a lot of disciplines while having a great time.
JUMP YARD BARCELONA, TRAMPOLINE PARK
If your kids love thrills, if they love to burn calories having a great time and testing their skills, jumping on trampolines, catwalks in the heights, climbing wall, football and the final attraction… the Sky Rider that will make you fly over the whole space at a tremendous speed.
If you want to discover our experience in this video, you will see that we had a great time.
TRAMPOLINES, CLIMBING WALL AND MANY MORE ACTIVITIES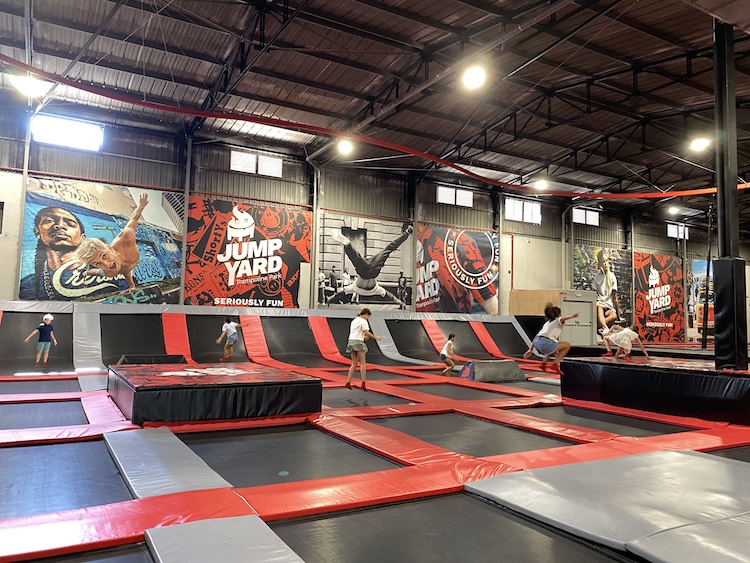 If you've ever been to a Jump Yard trampoline park, you'll like Jump Yard even more. Not only do you have a huge space with plenty of trampolines to jump to your heart's content, but you can also practice your skills in different activities. Here we tell you about them:
SKYRIDER, FLY IN THE SKY
A unique and super fun activity, like a roller coaster! Suitable only for those looking for a bit of adrenaline. It's the final touch to a fun day at JumpYard Barcelona … enjoy the rest of the activities first and end up flying over the whole space at lightning speed. The little ones can't access this activity if they don't meet certain height requirements (check beforehand on the JumpYard website).
HIGH ROPES ROUTE
The high-level walkways, or what is known as the High Ropes route, starts from the top level, some 6-7 metres in the air and has around 12 different obstacles with varying degrees of difficulty. This activity is suitable for anyone who wants a fun challenge and is reasonably brave.
Climbers can go together and move from one obstacle to another with the help of suspension bridges, nets, climbing sections and other fun challenges. 15 participants can climb the high ropes course at the same time. Each lap takes about 15 minutes to complete.
CLIMBING WALL OR CLIP 'N CLIMB
If you want to know what it's like to climb a mountain, come to the climbing wall area, or Clip 'N Climb. A space with different activities and difficulties so that everyone can get started, and challenge themselves, in the world of climbing. Of course, all the kids wear a harness that protects them from any fall but at the same time allows them to experiment and get to know this activity. It is an activity for children from 4 years old.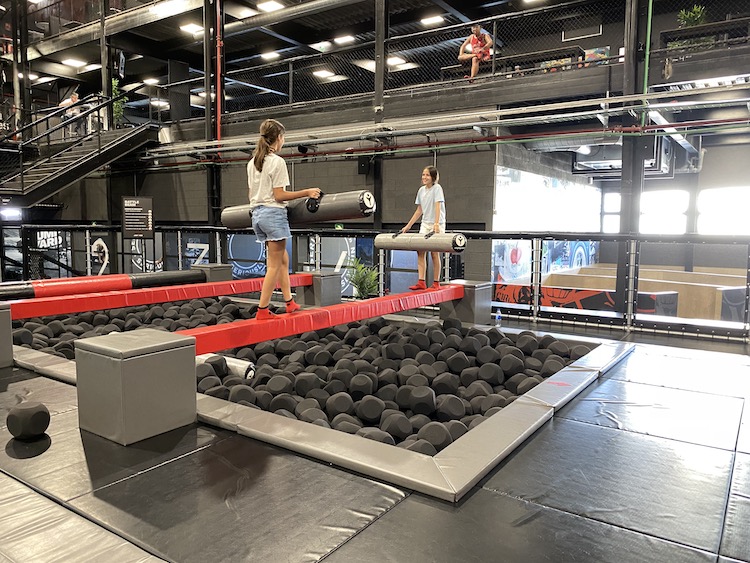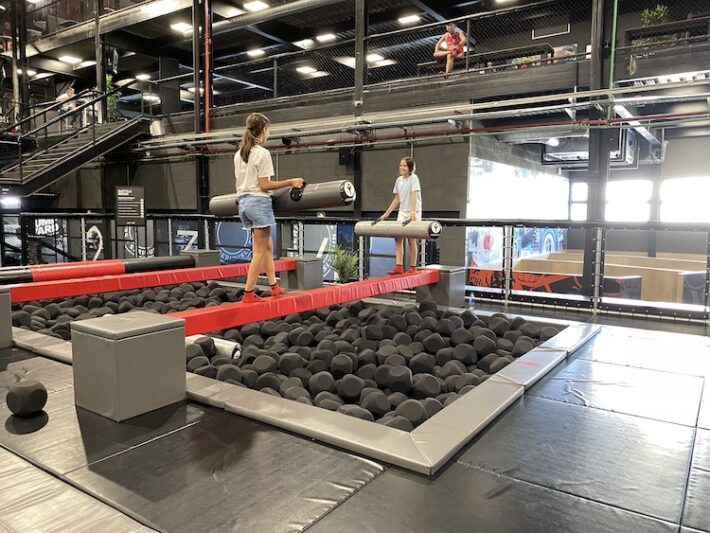 TRAMPOLINE AREA AND MAIN COURT
This is the area where everyone takes their first jumps and experiences the sensations of jumping on trampolines. Supervised by monitors who help the kids learn their first tricks, in this area the kids can run around and try out all kinds of jumps and games. Oh! And don't forget to try the Big Bag and the Jump Tower, a 2-metre-high platform from which you jump to land on an air mattress.
In this main area, you can also try out the virtual reality games and see how the jumps you do on the trampolines are reproduced on the TVs in the hall. Great fun!
FOOTBALL PITCH
At JumpYard Barcelona you can also play indoor football all year round. They have a small football pitch, ideal for a 3-on-3, with artificial grass measuring about 7×13 metres. A perfect court for quick matches and technical exercises.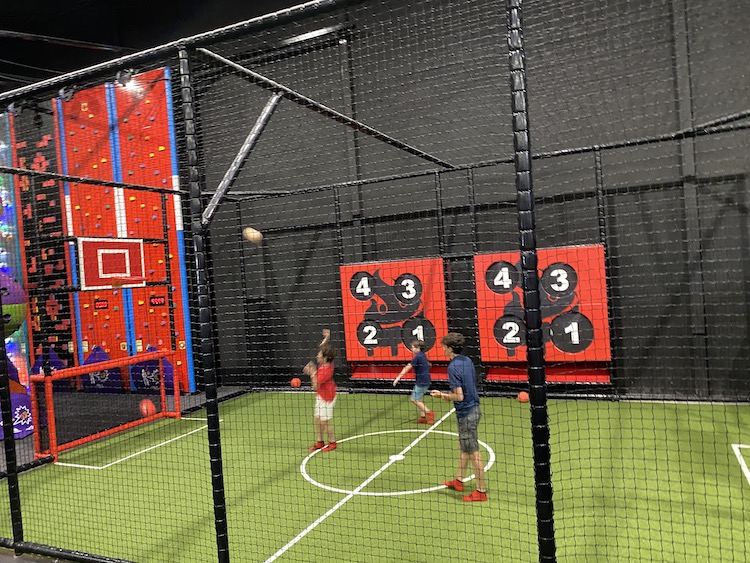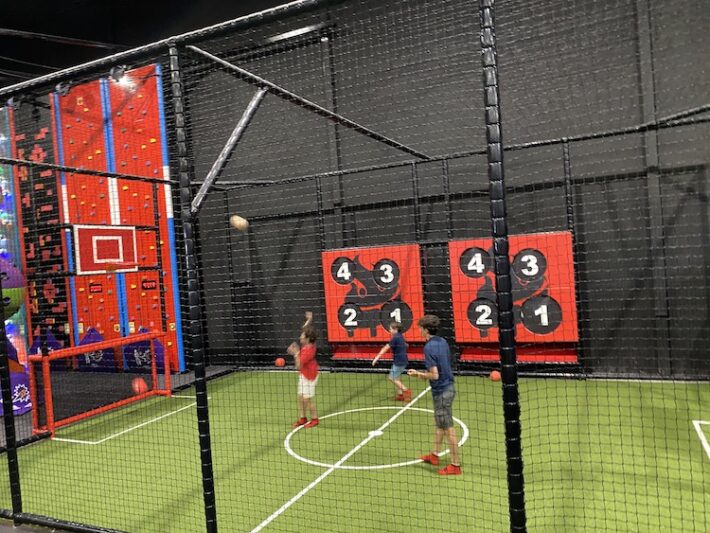 And much more that you can consult on the Jump Yard Barcelona website.
BIRTHDAY PARTY
Jump Yard Barcelona is also the perfect place to organise your daughter's or son's birthday party. Fun is guaranteed for all ages (from 3 years old). The organisation of the party includes an hour enjoying the activities in the main room with trampolines, virtual reality, jumping on the JumpTower and climbing wall.
After the jumping hour, you have at your disposal the birthday room where the kids can have a snack. You can bring your own food or cake or, if you prefer, you can order the snack directly from Jump Yard. They have different menu options available.
BIRTHDAY PACKS
There are different birthday packs, from the most basic with entrance to the site, birthday room and pack of socks, to the most complete that also include the option to fly on the SkyRider. You can always add more play time or other activities to the packs, such as the walkway area, or have a monitor exclusively with you.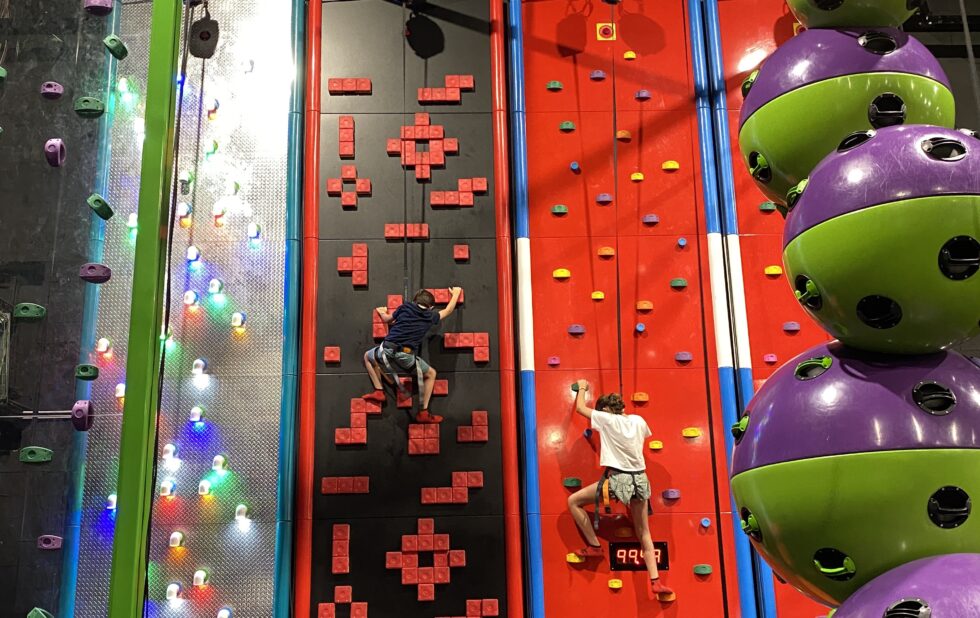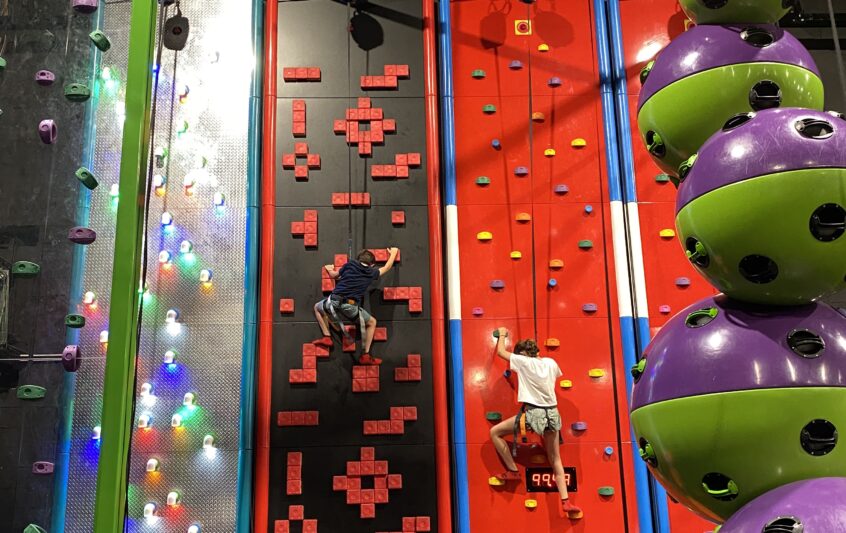 If you want more information, the best thing to do is to contact Jump Yard and ask them how their JumpParty works.
MORE INFORMATION:
WEBSITE: Jump Yard Barcelona
OPENING HOURS: Monday – Sunday: 10 am – 9 pm
LOCATION Carrer de Sant Ferran, 4, 08940 Cornellà de Llobregat, Barcelona