If you want to organise a fun plan to do with kids, a family plan, in petit comité or celebrate a special birthday party for your kid, we have the plan for you: the Escape Room Aventurico for families in Barcelona.
A perfect plan to test your familiar ability to guess riddles and an original way to spend time with your little ones.
TAKE ADVANTAGE OF THE DISCOUNT: €15 OFF WITH CODE #COLOURS15
ESCAPE ROOM FOR CHILDREN IN BARCELONA
I don't know if you are familiar with Escape Rooms, a game whose objective is to get out of a room by following the instructions and clues given to you. There are different themes and different games and they are perfect for having a great time with friends.
NEW GAME! THE SECRET OF THE JUNGLE 
Is Jumanji your game? Well, read on. There is something mystical about this game… No one who has seen or played it has managed to understand how the jungle trapped them, so our only advice is not to start it if you are not going to finish it. Do you really think it would be easy to escape from the Jungle? An Escape Room designed for families who are ready to find the game box and lock this magical world back inside; otherwise, you will be trapped forever.  High difficulty game. Minimum age: 9 years old. For groups of 4-9 people.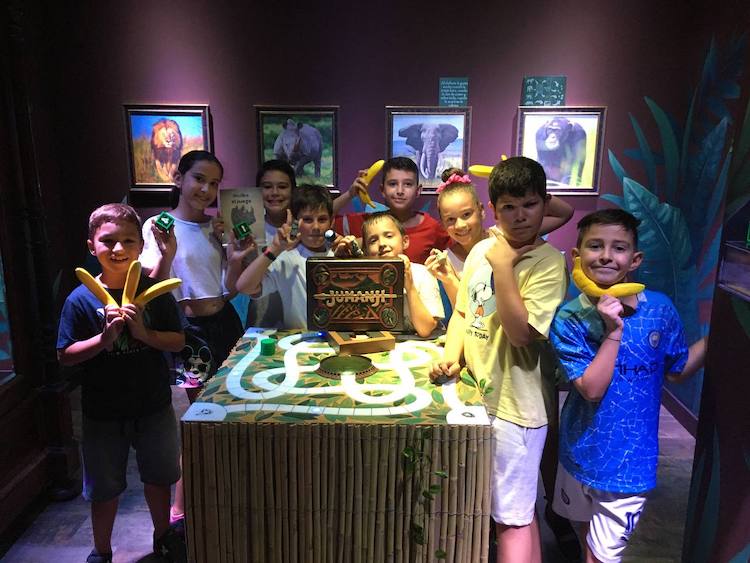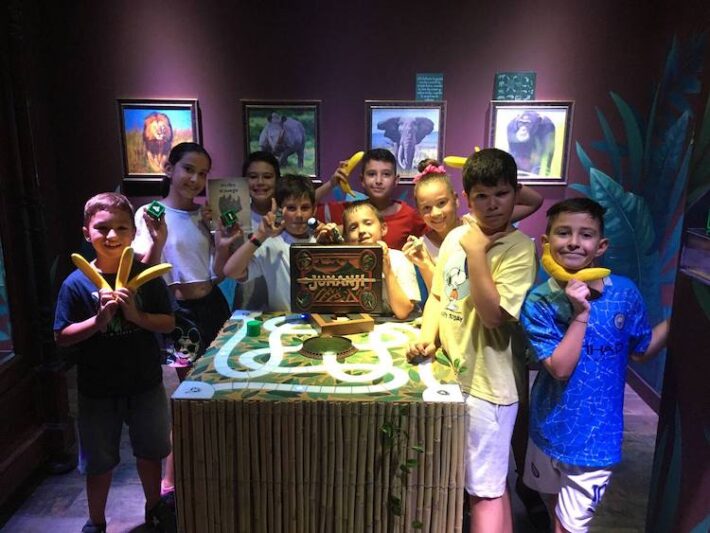 Moreover, magic lovers should be happy because Aventurico has a lot of games with this theme for them. Take a look at all their games:
ORIGINAL ESCAPE ROOM FOR KIDS
Aventurico offers 10 different themes for kids, including escape rooms, gymkhanas and virtual reality games: Magic Academy (for Harry Potter lovers), Alice and the Key of Time (inspired by the story Alice in Wonderland), Superheroes and Secret Agent.
A fun and different team game that will test the ingenuity and skill of the kids.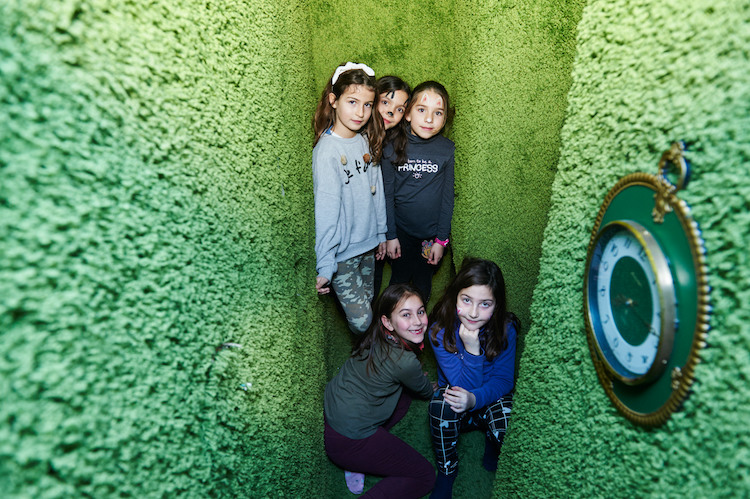 AMONGUS VIRTUAL GAME
And if you like AmongUs and want to live a virtual experience, don't miss the Virtual AmongUs game. A unique and fascinating space adventure. You will be part of a crew on board a spaceship. Together with the crew, you will maintain the ship and carry out specific tasks to repair it. What can go wrong on a space trip? An excellent and collaborator crew, a ship with the latest technology… and AN IMPOSTOR in your midst! Will you manage to discover the impostor before he kills you and return to civilisation?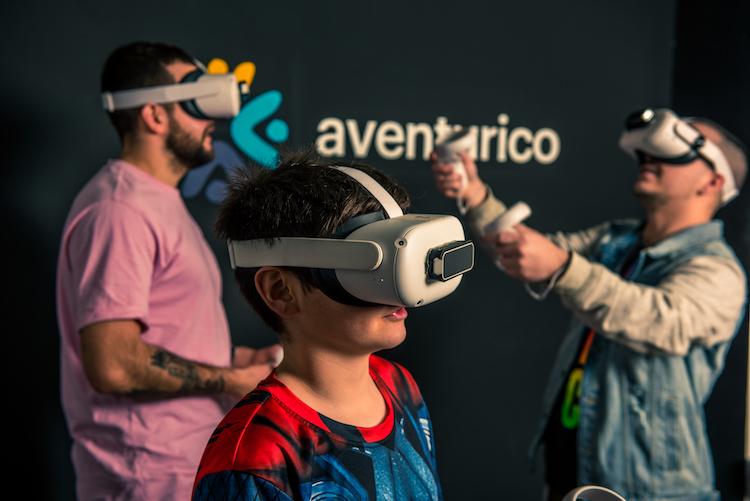 .
MORE INFORMATION: ESCAPE ROOM FOR KIDS 
BIRTHDAY PARTIES IN AN ESCAPE ROOM
Aventurico also organises birthday parties for kids. An original idea to celebrate a different and fun birthday.  You can choose one of the themes of their Escape Room, invite up to 46 people and then have a snack in the children's area where the kids can also play on the trampoline.
The activity lasts approximately one hour, which may vary depending on the game chosen. If there are several teams, the kids can play in the children's area and the adults can wait in the chillout area, which can also be decorated to suit the partygoer's taste.
They offer the possibility to bring a snack from home or the Aventurico team can take care of the snack.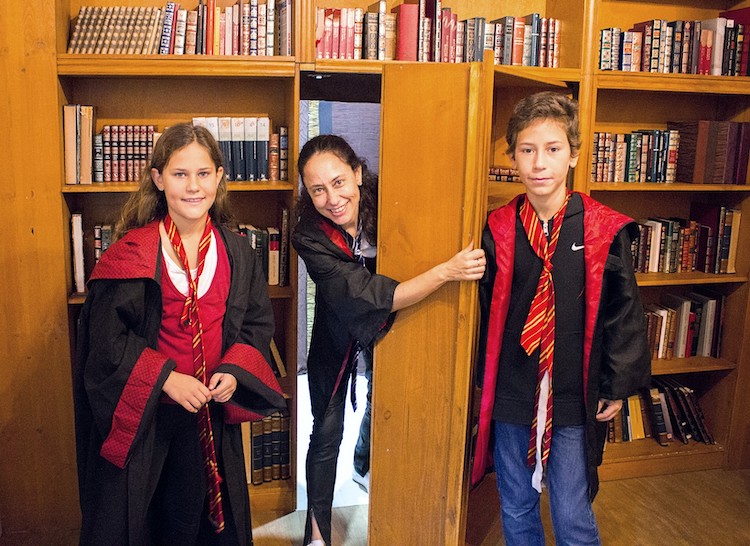 AVENTURICO, YOUR ESCAPE ROOM IN BARCELONA
We recommend Aventurico for their great experience in children's parties, take a look at their website and social networks where you can see a lot of groups of kids and teenagers participating in their games.
Also, if you like virtual reality, they also have different game proposals for those who are looking for a bit of adrenaline. Become an astronaut in Virtual Cosmos or live a chilling adventure in Virtual Kidnapping. And the latest in their collection and a real hit: Among Us Virtual. Be one of the first to try it out!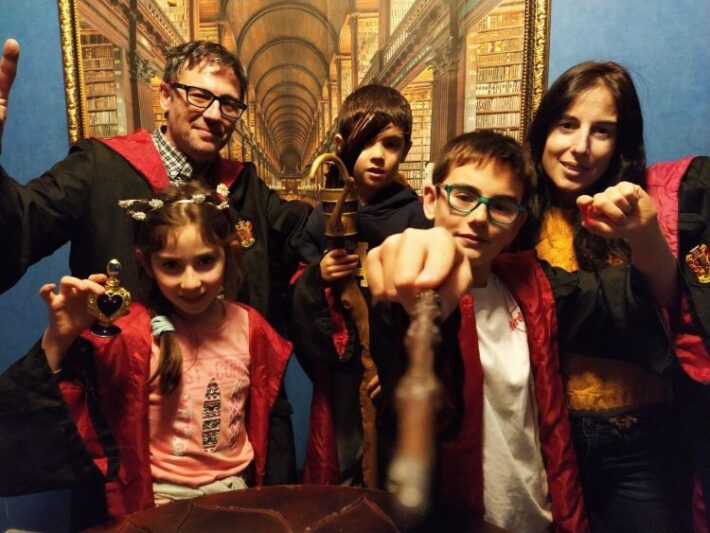 OFFER AND ENJOY A FAMILY ESCAPE ROOM
A special date is coming up and you want to give an original gift and at the same time get it right? No more boring gifts that you don't know if they are going to be used or not. Aventurico has a suggestion for you that will surely meet your needs.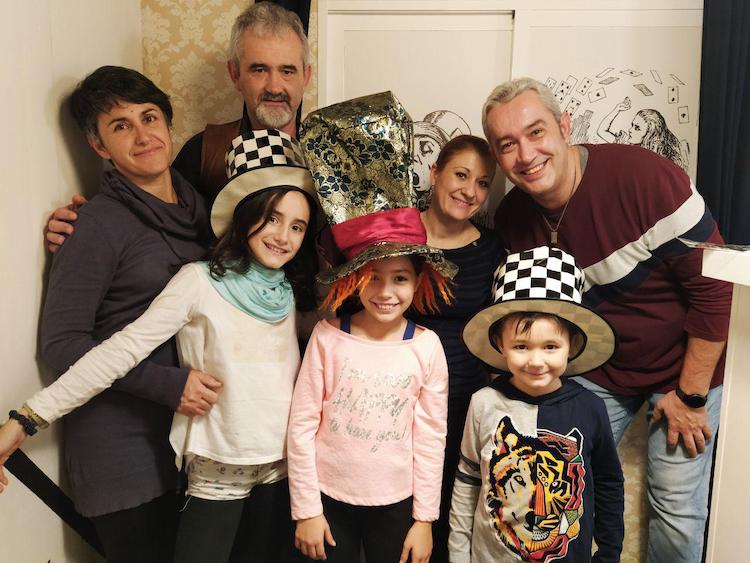 The Gift Voucher is the perfect option for anyone who is curious and adventurous.You have two ways to purchase it: in physical and digital format. If you opt for the physical format, you can order the gift voucher in a magic box. And the best thing is that it is not linked to a particular escape game and has no expiry date. It is up to the recipient to decide which adventure they want to experience and when they want to do it. In short, the Aventurico gift voucher is a unique and creative way to give the gift of adventure and excitement. 
More information: Aventurico Escape Room for families 
MORE INFO: AVENTURICO ESCAPE ROOM
Web: Aventurico Escape Room for kids in Barrcelona
WhatsApp: 60 225 29 45 y Phone number: 93 023 43 73
Address: Roger de Flor 89, Barcelona