If there is a complete park where you can find all kinds of activities for families with children, it is the Can Mercader de Cornellà Park. In it there are children's areas, a little train, museums, huge green areas and much more.
CAN MERCADER DE CORNELLÀ PARk
Some time ago we dedicated an article to the best parks in Baix Llobregat, including the Can Mercader Park, in Cornellà.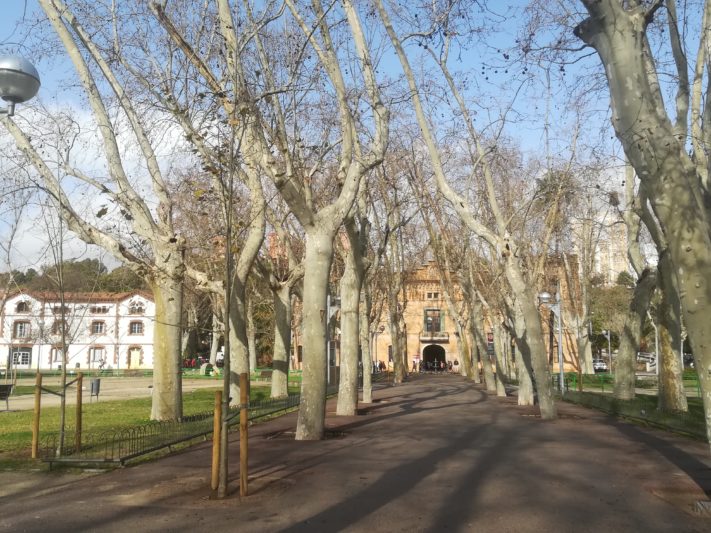 PALAU DE CAN MERCADER
The park has different accesses. If you enter from the Carretera de L´Hospitalet you will see two lateral entrances and a central one, this one is especially beautiful because it will take you along a path of banana trees to the Palau Can Mercader, a palace that is located right in the middle of the park.
The Palau de Can Mercader was built between 1865 and 1867 by order of the aristocrat Joaquim de Mercader, count of Bell-lloc, as a place of recreation. After leaving his mansion in Passeig de Gràcia, the Palau Can Mercader became the family's habitual residence and that meant that everything he had in the Barcelona mansion was moved to Cornellà. With the transfer, private collections of weapons, ceramics, clothing, stuffed animals, fossils and other objects that were part of its museum and also furniture were brought to the palace. After passing through different hands, several renovations were made that allowed it to be opened to the public in 1995 as a museum of plastic and decorative arts and as a place for exhibitions and civil weddings.
On the Cornellà Town Hall website you will find information on activities in the palace and times for the guided tour of the noble floor (Sundays and holidays at 12 noon, prior registration is recommended).
More info: Palau Mercader activities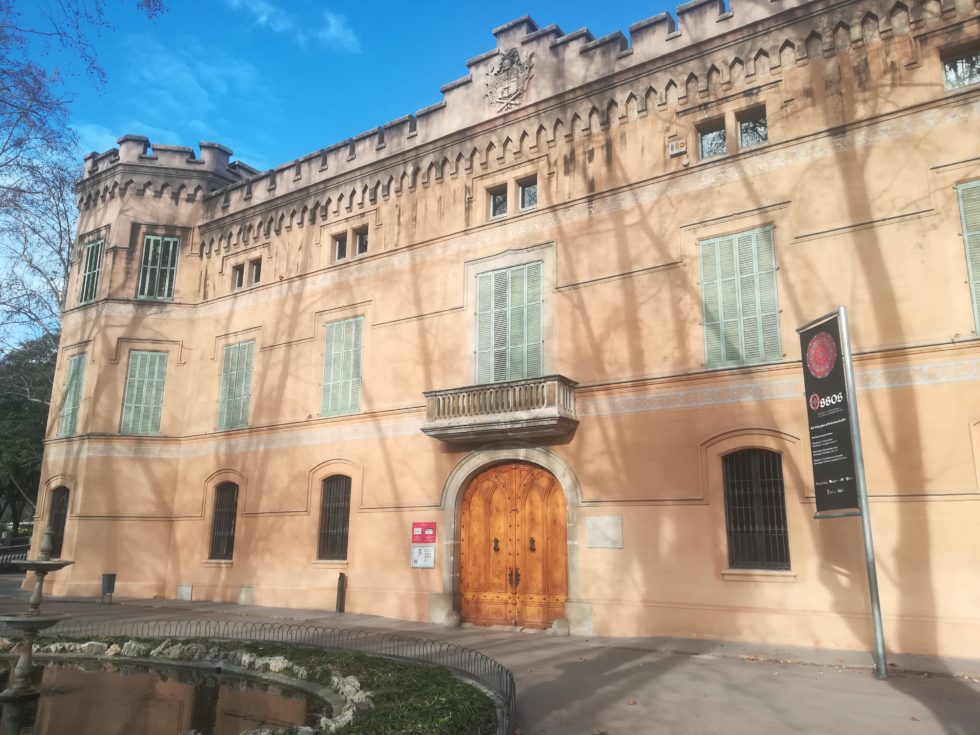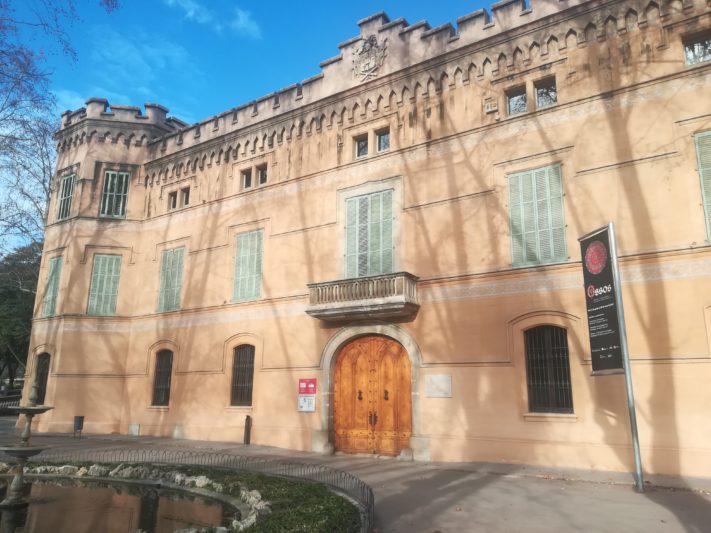 MUSEU DE LES MATEMÀTIQUES DE CATALUNYA (MMACA)
On the top floor of the Museu Palau Can Mercader is the Museu de les Matemàtiques de Catalunya (MMACA), a space of more than 300 meters to approach mathematics from a playful point of view. The MMACA offers family workshops (for example, "Leonardo's Domes"). Children will be able to participate in challenges and will learn to use mathematics in everyday life.
In this museum you will find modules of polygons and polyhedra puzzles, combinatorics, optical illusions, mirrors and symmetry, statistics and probability or kaleidoscopes, among others. The hours are as follows: Wednesdays from 5pm to 8pm and Sundays from 10am to 2pm. The telephone number for reservations is 665 233 448 from Monday to Friday from 11 a.m. to 1 p.m. or if you prefer you can write an email to contacte@mmaca.cat.
More information: Museu de les Matemàtiques de Catalunya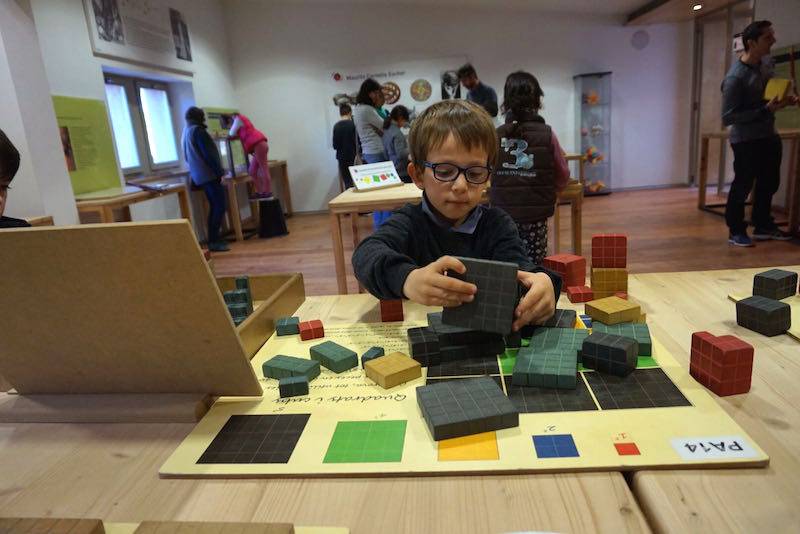 TRAIN OF THE PARK
For children, the main attraction of the park is the little train, which has become the symbol and the claim for thousands of visitors. On Sundays and holidays, miniature electric trains circulate on a network of tracks. In them, young and old can climb on a journey of 834 meters through the lower part of the park that passes through bridges and tunnels. The hours are Sundays and holidays from 11:15 a.m. to 1:00 p.m. (closed in August and December 25 and 26). Its price is 1.50.
More info: website of the Club d'Amics del Ferrocarril de Cornellà
If you like little trains, I recommend that you also visit the Parc de L'Oreneta (Barcelona), the Parc Catalunya de Sabadell and the Parc de Ribes Roges de Vilanova i la Geltrú (town where the Museu del Ferrocarril de Catalunya is also located) . They all have little trains, some bigger than others. While the one in Vilanova is in the style of the little trains in Parc Can Mercader, those in Parc de Catalunya and Parc de L'Oreneta are large and very comfortable trains for adults. About all of them, you can read articles on this blog.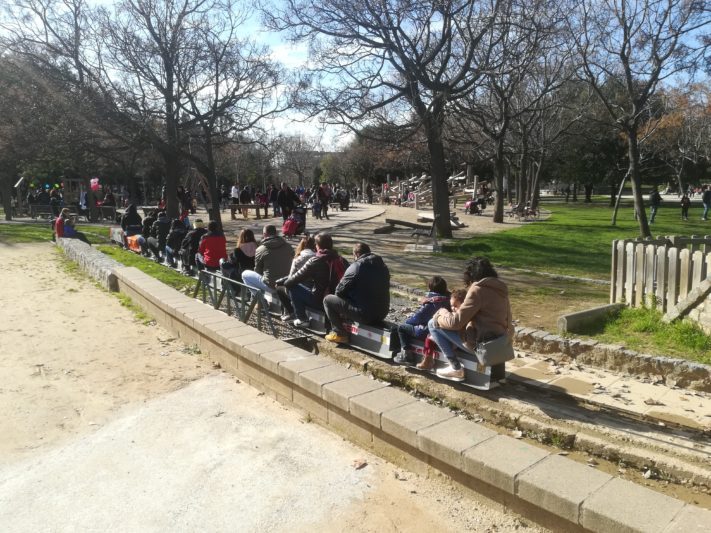 PAYÉS MARKET
On Sunday mornings you can not only enjoy a ride on the little train, but also shop at the stalls where the farmers of the Baix Llobregat Agrarian Park and other local producers sell vegetables, fruits and other types of products. The objective of this market, located in the Paseo de los plataneros, is to promote the local product. Hours are from 10 a.m. to 2 p.m.
CAN MERCADER LAKE
Very close to the train station, you will find a lake where you can see ducks, turtles and fish. Many people take advantage of the grass that surrounds a part of the lake to rest. In addition, the viewpoint and the nearby trees give the place a romantic touch. By the way, not only here but throughout the park there is very interesting vegetation. I am not an expert in botany, quite the opposite, but every time I go I am struck by the huge or curious trees that there are. The banana trees, planted in 1866, are one of the most emblematic plant elements in the park.
CHILDREN'S GAMES AREA
At the bottom of the park there is a children's play area where wood predominates. There is no plastic, no strident colors, but elements that blend very well into the landscape of the park. The playground is organized into 5 different areas: a climbing and balancing area where there are logs and wooden skeletons to climb; movement zone with, for example, an elastic band for jumping; an area for the little ones with wooden figures in the shape of sheep, snail, rat, etc. and a set of houses; a jumping area and, finally, a rest or picnic area.
By the way, if you plan to celebrate a birthday there, you should ask the City Council for permission (or at least it was like that until last year. Just in case, find out well before organizing it).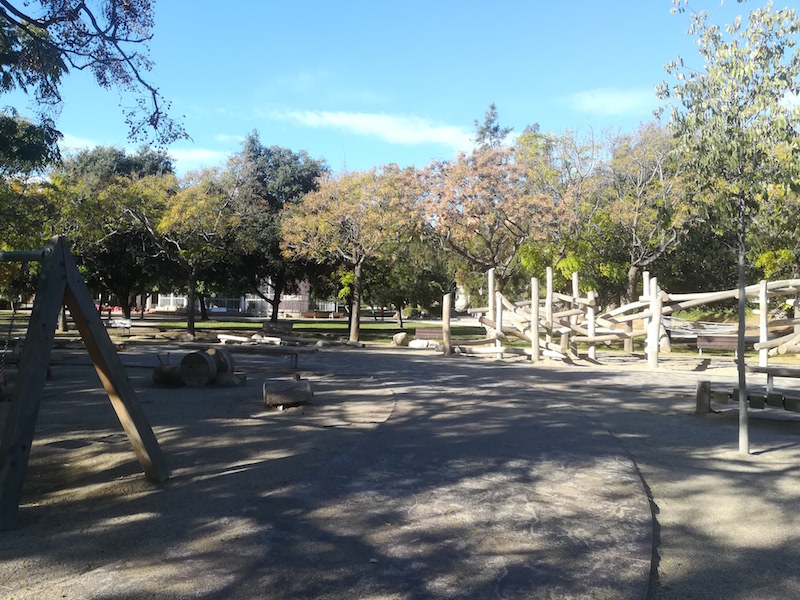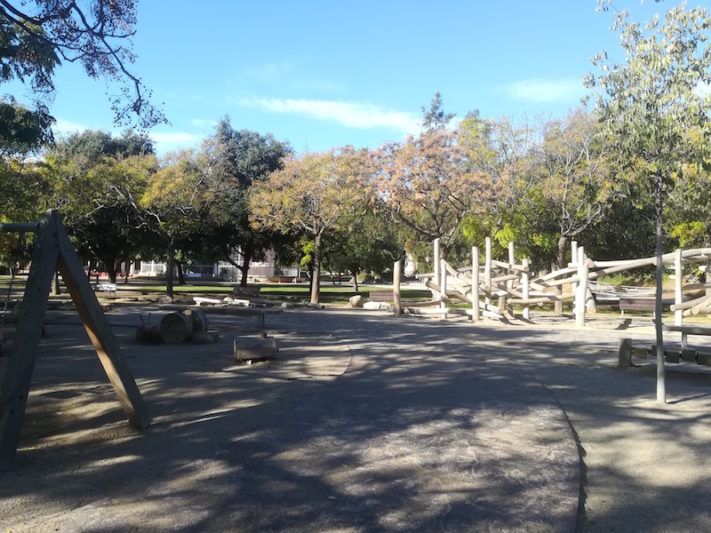 ROCODROME
If you don't have enough with everything I've explained so far, know that the park also has a climbing wall, as well as a swimming pool and an area for remote-controlled cars. I am sorry I cannot elaborate on the operation of the climbing wall or the remote control area, but we are not members. About the climbing wall, I can only tell you that it is a sports facility that depends on the Escola de Muntanya. More info: climbing wall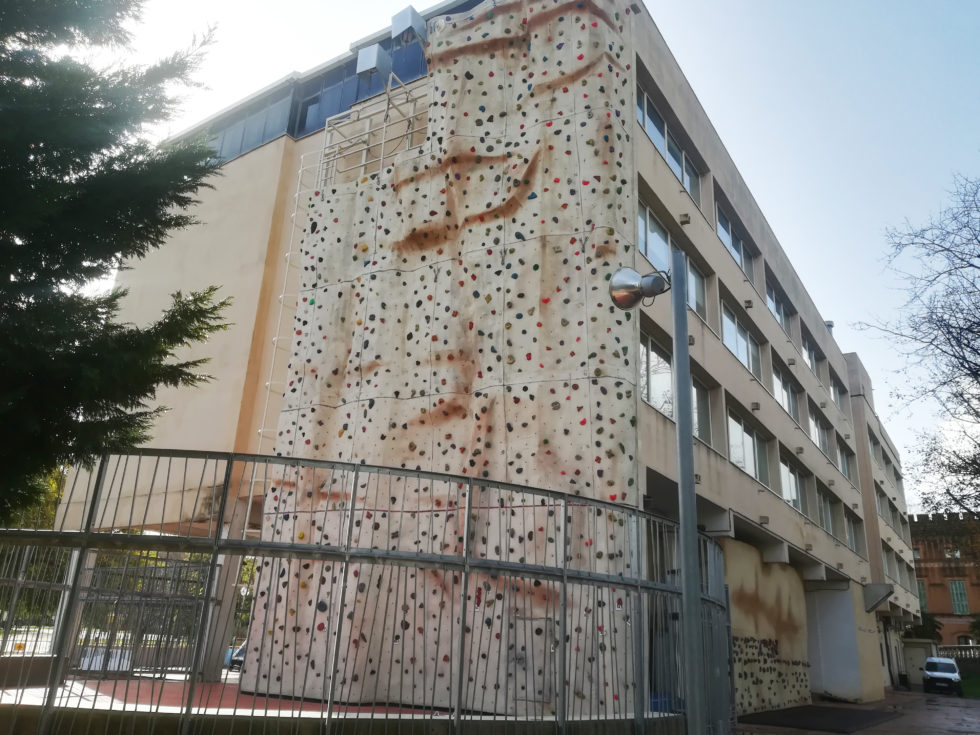 CAN MERCADER'S PARK POOL
In the upper part of the park, right in front of the remote control area, is the Complex Aquàtic i Esportiu Can Mercader, a sports facility with a 25 m indoor pool, an aquagym pool, a baby pool, a spa area and a Jacuzzi, an outdoor pool of 50 me infantile (only in summer), rooms of directed activities and fitness room. In summer, this complex is very popular because the two outdoor pools are very good and outside the summer period, it is also frequented, either by people who do directed activities or by people who occasionally want to spend a day in the pool.
More info: Can Mercader park pool
MORE INFORMATION: CAN MERCADER PARK
Address: Ctra de l'Hospitalet 48, Cornellà de Llobregat