If you do not know the Parc de Catalunya in Sabadell take a look at the recommendation of Nuria Durán, follower of the blog. A huge park with a forest and a train circuit ideal for children.
THE PARC DE CATALUNYA IN SABADELL
With this good weather, I want to suggest that you spend a day in a park that we frequent on Sundays: the Parc de Catalunya, in Sabadell, about half an hour by car from Barcelona. This is a large park (it has about 43 hectares) and, due to its variety of services, can satisfy people of different ages.
A MINIATURE TRAIN FOR CHILDREN
On the one hand, on Sundays and holidays, there is a miniature train whose route is very beautiful, as it passes through more wooded corners of the park. Children and adults can climb on it. The station is in front of the Masía Can Rull and you can see it right away because it is a large station with a pink color.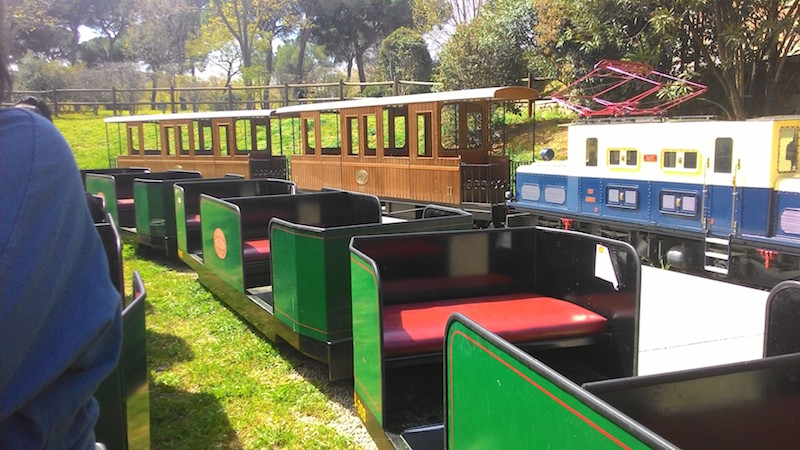 The train makes a circuit of about 3 kilometers and lasts about 20 minutes and something that makes children and not so children very funny is that it passes through different tunnels and a viaduct. Normally it works on Sundays from 11 a.m. to 1:45 p.m. (except for a few days in July) and the price is 2 euros, although children under 1-year-old do not pay.
LAKE WITH SWANS AND BOATS FOR A FAMILY WALK
At the other end of the park, we have an artificial lake with swans, ducks, carps and other types of fish, and, above all, a beautiful waterfall that can be observed up close from a bench behind it or from a little boat and is that on weekends, throughout the day, you can rent boats to walk around the lake. These boats operate throughout the day on weekends and from Easter it seems that also in the afternoons.
SKATE PARC  AND BIKETRIAL CIRCUIT FOR OLDER CHILDREN
On the other hand, if your children are already entering adolescence, they will surely love the Skate Parc where they can demonstrate their expertise in Skateboarding. They will also take advantage of the properly marked Biketrial circuit, where you can find different types of obstacles, from wheels and concrete cylinders to rocks or logs.
A PERFECT PARK FOR FAMILIES WITH PARKS AND SLIDES
Apart from the miniature train, the lake, the Skate Parc, and the Biketrial circuit, the Parc de Sabadell has a huge area of ​​grass and playgrounds for different ages. There is, on the one hand, a fenced park for children and, on the other hand, there is an area for older children where there is, for example, a tubular spiral-shaped slide, a zip line, or one of those pyramidal structures made with ropes.
If all this is insufficient, it should also be noted that the park has an amphitheater and an Astronomical Observatory. I can say little about the first because I suppose it should be used for performances, but we have never seen it in operation. And as for the Observatory, I know that they do workshops, conferences, astronomical observations, and even organize casals and birthday parties.
EAT AT THE CAN RULL FARMHOUSE
If after touring the park, you decide to do without the sandwich and prefer to eat somewhere, I recommend Masía Can Rull, it is a restaurant that offers, among other things, mixed dishes and tapas that are not bad at all and there is also there the park (next to the miniature train station).
Also here you will find some of the best plans to do with children in Sabadell.
I wish you enjoy the park
MORE INFORMATION PARC DE CATALUNYA IN SABADELL
Info about the miniature train: Cemfes
Info about Sabadell Astronomical Group: Sabadell Astronomical Group