Today we tell you about our family excursion to La Fageda d'en Jordà. A great plan for everyone and a spectacle of nature that you cannot miss if you visit La Garrotxa as a family. Also in our mini guide to La Garrotxa with children you have many other proposals in the area.
LA FAGEDA D'EN JORDÀ WITH KIDS
A plan that you cannot miss is to visit the Fageda d'en Jordà, a natural reserve famous for its beech forest that, in an exceptional way, grows on the lava of the Croscat volcano. A spectacle of nature that is very worth knowing.
HOW TO VISIT THE FAGEDA D'EN JORDÀ
Visiting La Fageda by car is not allowed, so there are different ways to get to know it: on foot, following one of the different itineraries that they mark and that start from the Can Serra car park. Another fun way to visit the Fageda d'en Jordà is on horseback. A tour of one hour, approx, is organized in which you visit the beech and they tell you anecdotes and curiosities of the area.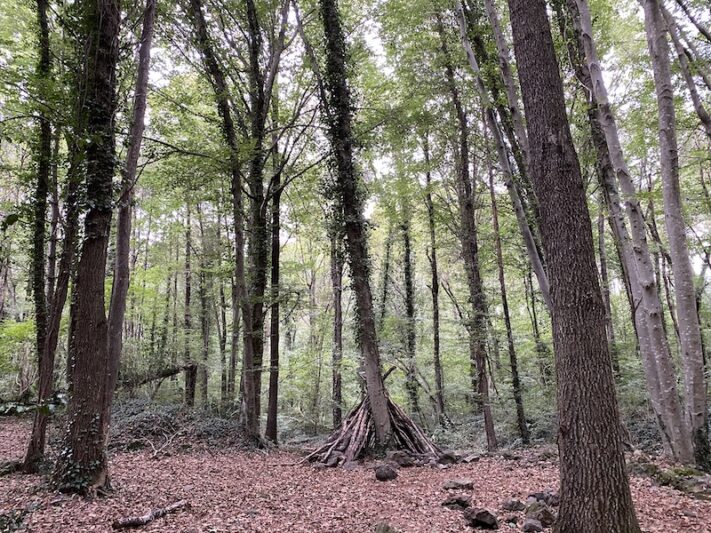 There are different itineraries on foot that leave from the Can Serra car park (paid parking). Itinerary 2, which lasts about 30 minutes, itinerary 3 that goes from Olot, itinerary 3 that goes to La Fageda (4 km, 1h 30), and from Santa Pau it can also be accessed on foot (5.2 km 1h 45).
LA FAGEDA D'EN JORDÀ WALKING
We did itinerary two. It is an easy and short itinerary so it is perfect to go with children. An excursion through the heart of the Fageda d'en Jordà.
To catch it, you can leave your car in the parking lot and, right in front of the Can Serra information center, start this route. You cross the Santa Pau road under the underpass until you reach the monolith dedicated to the poem that Joan Maragall dedicated to this forest.
The path continues up some stairs, which lead into the beech forest. We pass by the junction with itinerary 1, and we follow the path until we find a large hill. The road borders it, and returns to the information center following the same route.
VISIT THE FAGEDA IN HORSE CARRIAGES
The visit can be complemented with a ride in a horse carriage. We did not plan to do it but when we arrived we saw it and we were encouraged.
The truth is that it was a very fun experience and at the same time we learned a lot. We were lucky to take the last carriage and we went alone (great luxury). During the journey, about an hour, the boy who takes the carriage explains a little about the history of the area, anecdotes from the area, tells you how they take care of the horses. A small section of the route is done on foot.
We found it very curious that he explained to us that the boxes in some of the trees are for bats. There they mate. Bats come from France and other countries.
More info: La Fageda en Carruajes
OTHER PLANS IN LA GARROTXA
If you are in the area and want to enjoy more family activities, you are in luck. We have prepared a mini guide to La Garrotxa with children. In it we recommend the accommodation where we stayed, a farm to visit with children and learn how a cow farm works, our bike excursion through the greenway of the Olot-Barcelona carriage and a super plan discovering the best Gorgs or pools in the area . Ah! And some restaurants then, with so much activity, sure that you get hungry! Do you dare to discover it ? Here is the link: Mini guide to visit La Garrotxa with children
MORE INFORMATION:
Centro de Información del Parque Natural (Can Serra) Tel. 972 26 81 12. Horario: 10-15h.