Today we bring you a mini guide to visit La Garrotxa with children. We have been this weekend and it was wonderful. We have fallen in love with the environment, the excursions, the people, and the accommodation. So we are going to give you a little MINI GUIDE of what to see, where to sleep, and where to eat in La Garrotxa. Do you follow us?
MINI GUIDE WITH CHILDREN IN LA GARROTXA
La Garrotxa is a great area to organize a family weekend getaway or a vacation a short distance from Barcelona. In an hour and a half you can reach most destinations easily. This area is characterized by its nature, bicycle tours, the Fageda d'en Jordà, the "Olot potatoes" and much more. We tell you our recommendations:
WHERE TO SLEEP IN LA GARROTXA? MAS VEDRUNA
We were spending a weekend at Mas Vedruna. A beautiful house divided into 9 apartments of different capacities. It is in Las Planas de Hostoles, a small town 15-20 minutes from all the places of interest in the area: Olot, La Fageda d'en Jordà, Mas la Coromina farm … It is also located next to the Greenway of Olot and Girona, so its location is ideal to start excursions by bike or on foot… Ah! and you can see different Gorgs a few kilometers away.
The building and outside area is very nice, a rebuilt 16th century house. It has a charming garden and a perfect pool for the summer season.
The interior is distributed in different apartments, nine in total, spacious, very clean and with everything you need to make your stay very comfortable. We stayed in the large apartment, with capacity for 6 people and with a terrace with arches and a very nice garden view.
Here we tell you about our experience: Mas Vedruna Apartments, Las Planas de Hostoles, La Garrotxa
Web: Mas Vedruna
THE BEST EXCURSIONS IN LA GARROTXA
ROUTE DELS GORGS DE LA GARROTXA
One of the charms of the area are its pools or "gorgs" that you can find along the Brugent River and one of its tributaries. There are different pools and they are worth seeing. From Mas Vedruna, les Planes d'Hostoles, you can reach most of them since they are only a few kilometers away.
The best-known pools or Gorgs are: the Molí dels Murris pool, the Santa Margarida pool, the Can Poeti pool, and the La Plana pool.
Access by vehicle is restricted, so you have to park in the designated places, and get there on foot through the marked routes.
More information in our article: RUTA DELS GORGS DE LA GARROTXA
VIA VERDE DEL CARRILET OLOT- GIRONA
Another plan in the area to do by bike is the Via Verde from the carrilet from Olot to Girona. From Mas Vedruna, les Planes d'Hostoles, you are more or less halfway between one direction and another. We tried both, without reaching Olot or Girona, we did about 25-30 km. The two sections of the route are very beautiful. The difference is that from Les Planes d'Hostoles to Olot you go up first and then down until you reach Olot and on the way back the last section is downhill, so for the "mood" it is more motivating.
On the contrary, from Les Planes d'Hostoles to Girona you first go down and the return is up, so perhaps for children, it is not so encouraging. But it all depends on your goal, your fitness and the time you have for the route.
Both can be done at a leisurely pace and you will enjoy the experience and the landscape. Remember that being the old track where the train passed, the unevenness is never too strong.
You have all the info on this website: Via Verde carrilet from Olot to Girona
LA FAGEDA D'EN JORDÀ
A plan that you cannot miss is to visit the Fageda d'en Jordà, a natural reserve famous for its beech forest that, in an exceptional way, grows on the lava of the Croscat volcano.
It can be visited on foot, following one of the different itineraries that they mark and that have their starting point from the Can Serra car park. Another fun way to visit the Fageda d'en Jordà is on horseback. A tour of one hour, approximately, is organized in which you visit the beech and they tell you anecdotes and curiosities of the area.
More info: La Fageda d'en Jordà with kids
VISIT THE FARM MAS LA COROMINA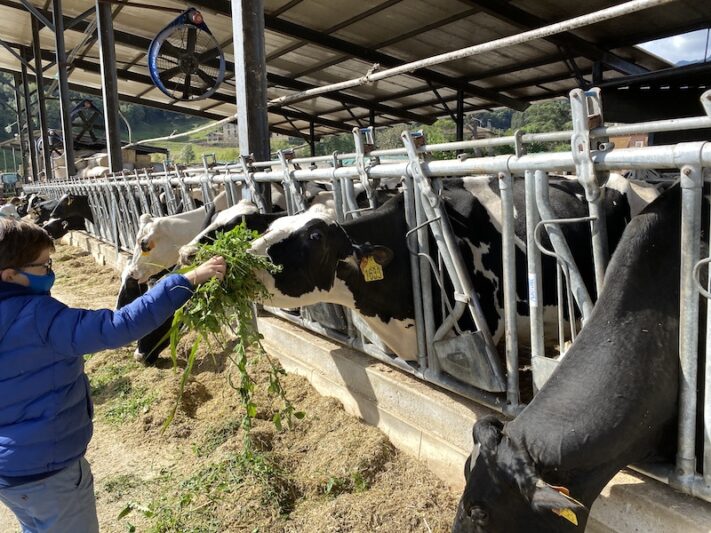 And our last plan, although the area offers many more proposals, is the family visit to the Mas La Coromina Farm, or the ATO Farm. A perfect farm to go with children where you can learn how a farmhouse works and the cow cycle as well as taste the milk and its derivatives made by hand.
A walk through the countryside led by a family member who, in a very close and personal way, tells you how they take care of farm animals, chickens, geese, pigs … and then visit the entire area cows. You can feed the cows, see how they are milked (not in all visits) and learn the different cycles of the mas.
More info: visit Mas la Coromina Farm with children
RESTAURANTS WHERE TO EAT IN THE AREA
Here we leave you some of the restaurants in the area. We did not try all of them, they did not give us time, but we leave you all the recommendations that Mas Vedruna made us in case you want to know them:
La Deu Restaurant located right next to Font Moixina founded in 1885, is one of the oldest restaurants in La Garrotxa. It is quite big and is full. You eat very well and the service is very friendly. Web: https://www.ladeu.es/
Font Moixina Restaurant located within the Natural Park of the Garrotxa Volcanic Zone, making its spaces a unique environment. Web: http://www.fontmoixina.com/es/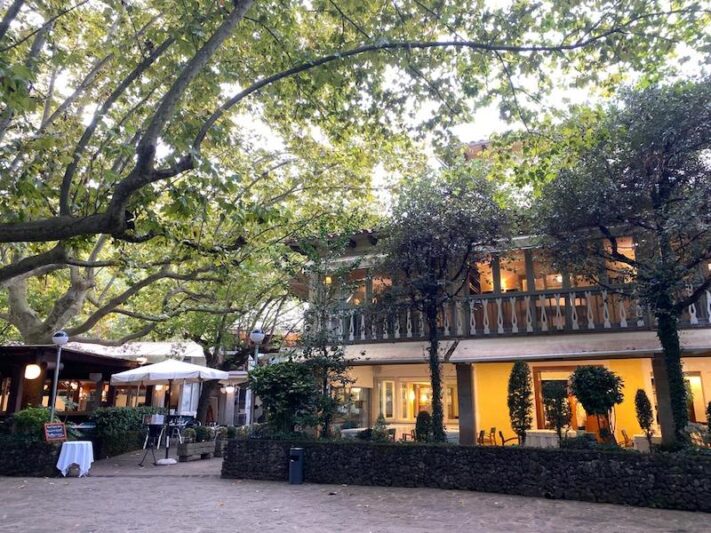 Cafeteria Les Voltes located in the center of town is an ideal place to have breakfast. The sandwiches are very rich. Web: https://www.lesvoltes.net/
Absis restaurant. Restaurant located in Amer. You eat very well. Elaborate and good quality cuisine. Web: https://www.absisrestaurant.com/
We also tried Les Planes d'Hortola: Flors i Café. Les Voltes, perfect for sandwiches, salads, and dishes. Ideal for breakfast, lunch and dinner, and the Fonda Arnau: a very «casolá» restaurant with a super complete and varied menu. Kind service.