Today we present the best beaches in Barcelona and its surroundings. Barcelona has plenty of beaches with many services, spacious and increasingly designed for families with kids. Here is a selection of the beaches that we like the most…
THE BEST BEACHES IN BARCELONA
BARCELONETA BEACH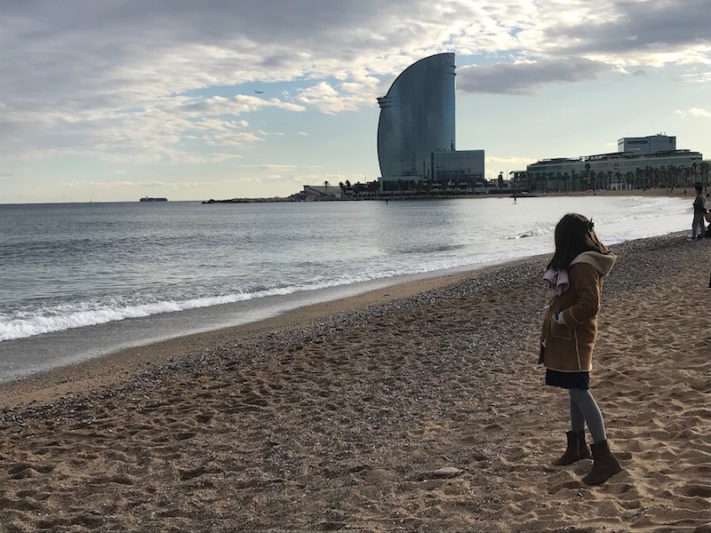 It is one of the most popular beaches in Barcelona due, among other things, to its privileged location and its easy access by metro, bus or on foot from the city centre in just a few minutes. It is in the old fishing quarter, which still retains a special charm and where you can also find traditional restaurants serving paella and typical Mediterranean products. Some time ago we recommended you the NOU RAMONET RESTAURANT.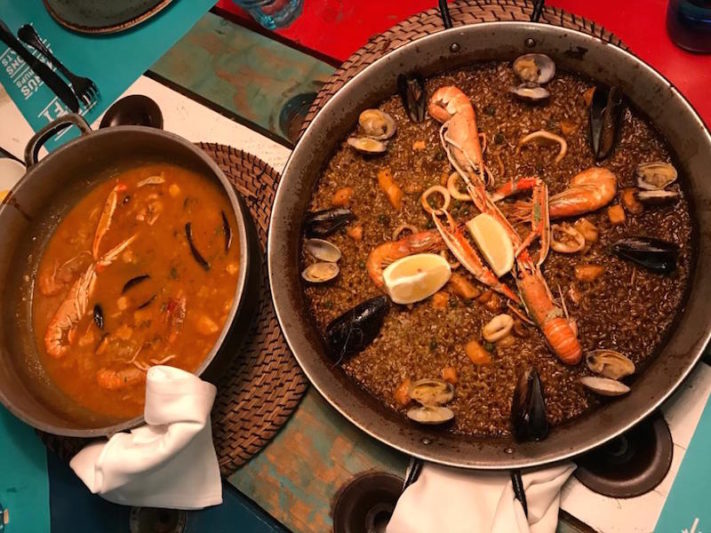 It is one of the most touristic and crowded beaches, so we, locals, prefer to visit it off-season or in winter… or we go there at the end of the day. Strolling along the promenade, having a drink in one of the bars and restaurants next to the Hotel Vela, is always a good plan. Here you have also a plan for SOME WALKS BY THE BEACHES OF LA BARCELONETA
BOGATELL BEACH
Bogatell Beach is another of the best-known beaches and where there is always a great atmosphere. You can get there on metro line L4 and stop at Llacuna. It is a quieter beach, which is why it is chosen by families, including locals.  On the promenade you can also find some free sports areas, playgrounds and places to rest. There are also many restaurants, beach bars, a McDonalds, if you want something quicker, and many services.
One of the best-known restaurants in the area is the Xiringuito Escribà (Av. Del Litoral 62) where you can enjoy spectacular rice dishes, fish and all kinds of Mediterranean food. The views are also perfect for enjoying Barcelona's beach.
And if you feel like walking and hiking, you can always take the opportunity to visit the Rambla de Poblenou and try one of the best horchatas of Barcelona at El Tío Che.
SOMORROSTRO BEACH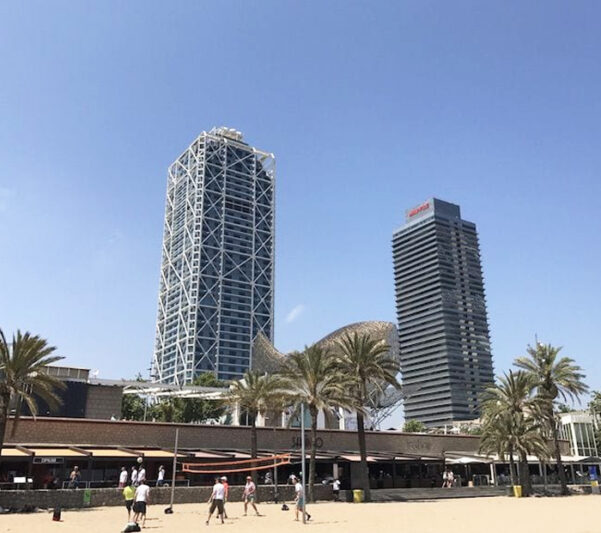 One of the most popular beaches for tourists due to the atmosphere of the restaurants, bars, etc. But also perfect for families. It is located next to the famous Mapfre Towers and you can find a bit of everything. We talked about what we liked most about this area in this article Plan with kids in Barcelona's Front Marítim.
We love to eat on the terrace of the Bestial, of the Grupo Tragaluz, or the Agua, the RED FISH restaurant (with an unbeatable location)… And if you want to surprise the kids, you can take them for a drink at the ICE BAR, the coolest bar in town.
NOVA ICARIA BEACH
Another of the great beaches of Barcelona. It also has numerous services, and you can find restaurants, bars and beach volleyball courts. It is a bit quieter as there are not so many young people. The water is right even though it is deeper than the others.
MAR BELLA BEACH
It is a nudist beach and, therefore, it will not be the best if you go with kids who are not used to this kind of beaches. On the other hand, the atmosphere is calm, there is a mix of people from all walks of life and people live together very well. It is a beach that, due to its location and the fact that it is less protected, can be windier than others. The water is quite clean and there are few sellers. It is one of the furthest from the city centre.
NOVA MAR BEACH
A very quiet beach with few tourists, and therefore, one of the favourites of locals and people from Barcelona who look for peace and quiet. It is far from the city centre so, if you don't live in the area, you will have to travel there by metro, Selva de Mar stop, or by car. It is one of the quietest and perfect for families.
Located close to the Diagonal Mar shopping centre and other great places for kids: next to the Diagonal Mar Giant Slide Park, the Museu Blau and, if you want to have a good and fun meal, you can always eat at the Vapiano Restaurant in Barcelona.
SOME BEACHES NEAR BARCELONA 
GARRAF BEACH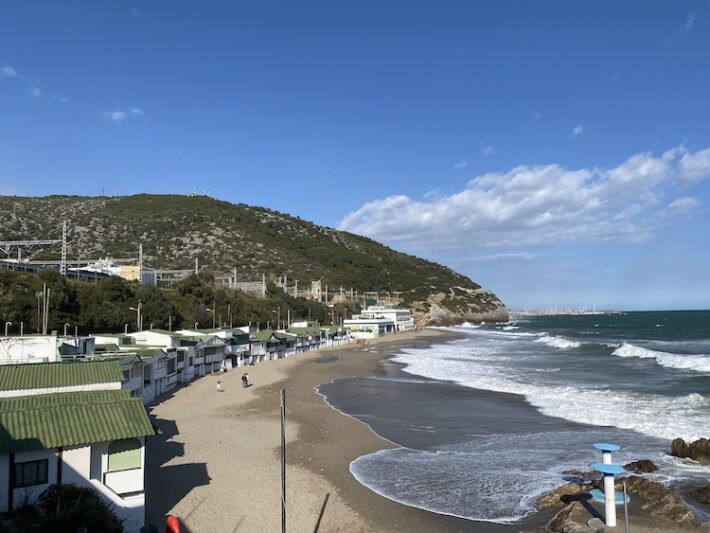 Today I'm going to present you one of the best beaches in Barcelona. Garraf beach is one of the most charismatic beaches fifteen minutes from Barcelona. In it there are some fishermen's huts that make it very peculiar and that give it this special touch.
It is also quiet (in summer you have to go very early otherwise it gets crowded and there is not much space) and has some of the best restaurants and beach bars to eat by the sea.
MORE INFO: DEL GARRAF BEACH
MURTRA BEACH IN VILADECANS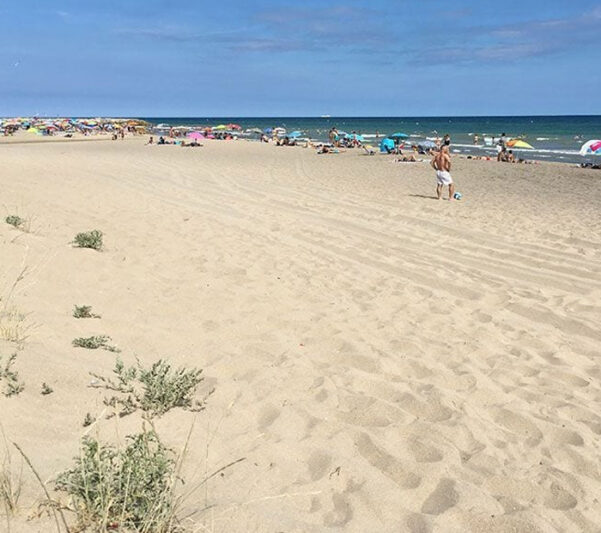 In Viladecans, very close to Barcelona, there are some of our favourite beaches to go with kids. In particular, Murtra beach (also known as "Playa de las Filipinas") is one of our favourites: spacious beach, clean water, easy to get to, and the kids love to watch the planes fly by so close to them.
MORE INFO: MURTRA BEACH
OTHER BEACHES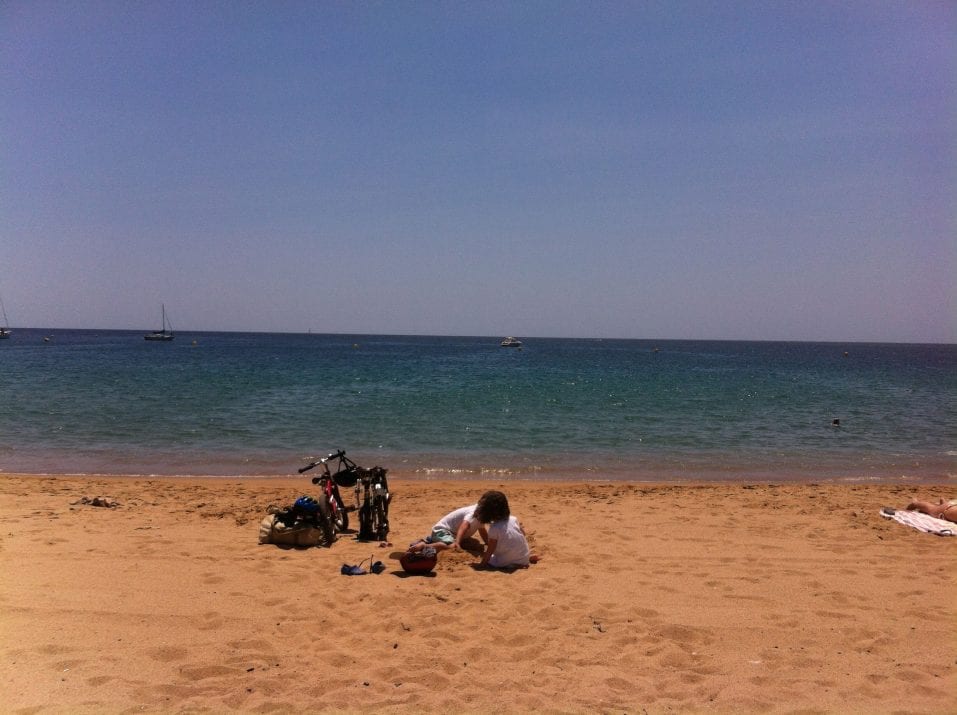 Badalona beach and L'Estupendu beachbar
Sitges Beaches.The enchantment of Sitges, the village, the promenade (ideal for cycling with kids), the beach bar, Sausalito, the aperitif at the Kansas, Cala Morisca, makes it the best beach for you.Here's an article about Sitges
The Beaches of Castelldefels. For its long and wide beaches with plenty of space and many beach bars. Your favourite was undoubtedly the Ibiza, with castles for kids, workshops and concerts. Someday, we will do a special post as we think it is very appropriate to go with the family. Your blog here.
The beaches of El Prat.The promenade is easily accessible by bike, with children's playgrounds and many terraces where you can have a drink. Ideal to watch aeroplanes and go for a walk around the Llobregat delta. Here we went on a cycling tour that we loved: Cycling in El Prat de Llobregat
Gavá Mar. Fine sand and wide. The Kauai beach bar is one of the most popular. A family visit is also highly recommended!