Summer is getting closer and closer and from Barcelona Colours we are continuously updating the search engine with the best summer camps of this year. In our search engine you will find sports camps, language camps and summer camps.
Check out all the summer camps options in our  SEARCH ENGINE for summer camps for kids from 2 to 14 years old. You will find a selection of the best entities that organise children's camps in Barcelona or outside Barcelona.
THE BEST CHILDREN'S CAMPS IN BARCELONA AND SURROUNDINGS 
In our search engine you can find different types of camps by theme: language, cooking, theatre, sports, new technologies, art, magic or science, to name but a few.
SEARCH FOR THE BEST SUMMER CAMPS IN BARCELONA
In addition, our search engine allows you to find those houses by geolocation. You can then select all the activities for children that are close to your neighbourhood. You will find the best camps in Sarrià Sant Gervasi, Les Corts, Sant Martí and Poblenou, Gràcia, l'Eixample, Ciutat Vella, Horta and Sagrada Família and Sant Andreu.
You will also find camps from outside Barcelona: Castelldefels, Esplugues, Terrassa, Sant Cugat and Masnou.
LANGUAGE CAMPS FOR CHILDREN IN SUMMER
In our search engine you can find English, French or German camps with specific activities for these days: arts and crafts, outings to the park and outdoor games. Language workshops linked to art, theatre, photography, games and yoga activities. As well as interactive workshops on cooking, crafts, gardening, science experiments in English. You will also find schools that offer online language classes: Chinese, English, French…
SEARCH FOR CAMPS BARCELONA COLOURS
SPORTS CAMPS 
There are different types of sports camps, aquatic camps and original camps where the kids can practice aerial dance, fabrics, trapeze, hammock…
SEARCH FOR CAMPS BARCELONA COLOURS
EDUCATIONAL ROBOTICS CAMPS FOR CHILDREN
Robotics is in vogue because it is super fun and helps to stimulate the kids. That's why several companies offer Easter robotics camps. Among many offers there are workshops on robotics with Lego, programming in Minecraft with Scriptcraft, 3D video games with Unity and robotics with Arduino. As well as video game programming with Scratch 3.0, technological crafts with Neuron and AirBlock drones.
SEARCH FOR CAMPS BARCELONA COLOURS
ARTISTIC CAMPS  
If you are looking for a creative camp in our guide you will find different options. Some companies organise modelling workshops with Jumping-Clay, circus camps, theatre, and arts and crafts. Even one of the Easter week camps is offering education games for peace.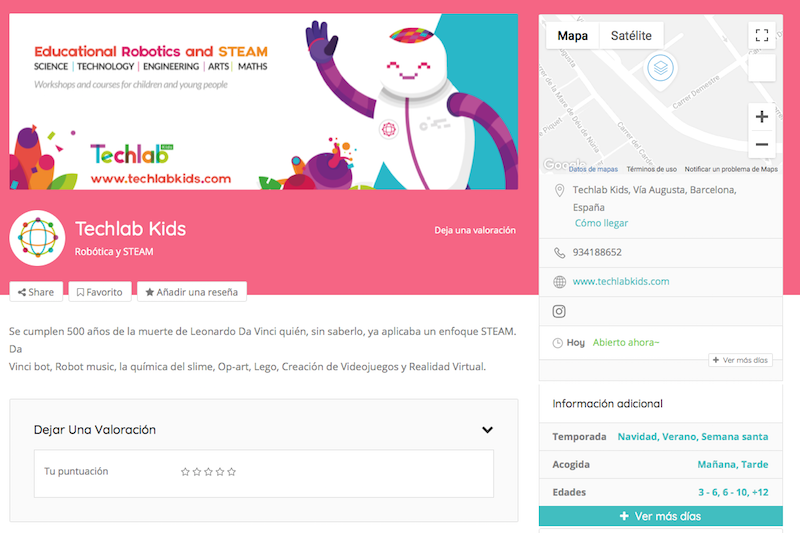 CHILDREN 'S LEISURE CAMPS AND ACTIVITIES FOR THE LITTLE ONES
If you are looking for a camp for small kids with different activities, you will find in our search engine many proposals of ideal camps for the little ones with crafts, fables, egg hunts, outdoor activities in incredible spaces, psychomotricity, yoga and much more.
SEARCH FOR CAMPS BARCELONA COLOURS
HOME BABYSITTERS AND PRIVATE LANGUAGE LESSONS
And if what you need is a babysitter or if you want to hire a private English or Chinese teacher so that your children can learn a different language in an easy and fun way, Nanny Mandarin will help you find one. Specialists in housekeepers, private teachers and Chinese or English-speaking babysitters.
SEARCH FOR CAMPS BARCELONA COLOURS
AUGUST CAMPS IN BARCELONA
This year, it will be more necessary than ever to be able to juggle work and kids, so many of the companies dedicated to the industry have extended their camps and offer summer camps during all the weeks of August. A way to make it easier for families who have to work during August and need help with their children.
SEARCH FOR CAMPS BARCELONA COLOURS
DO YOU HAVE A SUMMER CAMP/COURSE FOR KIDS FROM 2 TO 14 YEARS OLD AND YOU ARE NOT LISTED IN OUR SEARCH ENGINE? SEND US AN EMAIL TO HOLA@BARCELONACOLOURS.COM