Another of the most important summer festivals in Barcelona is coming up: the Sants Festival 2023. They don't get as much publicity as the Gràcia Festival, but they are also among the best popular celebrations in Barcelona. From August 19th to the 27th, the Sants neighborhood is filled with colors, decorated streets, and activities for all ages. It's a perfect plan for families, and children are amazed by all the decorations.
THE SANTS FESTIVAL 2023
The Sants festivals are the second most important in Barcelona in August. The streets of this popular neighborhood in Barcelona are filled with decorations made by its residents, activities, concerts, shows, and many more events for all ages.
This year, the Sants festivals will be celebrated from August 19th to the 27th. To participate in the activities, we recommend checking the schedule on their social networks.
You can check all the info: Fiesta Major de Sants 2023
THE TRADITIONAL FESTIVALS OF SANTS
The festivals start with the traditional parade of big-headed figures and giants that will tour the Can Mantega Gardens, Joan Güell Street, Sants Square, Sants Street, Spain Industrial Street, and the Spain Industrial Park.
The festivals are also known for organizing a street decoration contest. Each participating street chooses a theme, and they prepare the decorations for many months. True works of art are created, and the themes are very original. Here are some pictures from previous editions.
ACTIVITIES PROGRAM FOR SANTS FESTIVALS
Throughout the festival days, a plethora of activities for all ages are organized. There are activities for all tastes: parades, workshops, concerts, feasts, scavenger hunts, confetti wars, paella events, clowns, and many more activities.
There are many more plans on all the decorated streets, so we recommend visiting their website where you can find the complete program.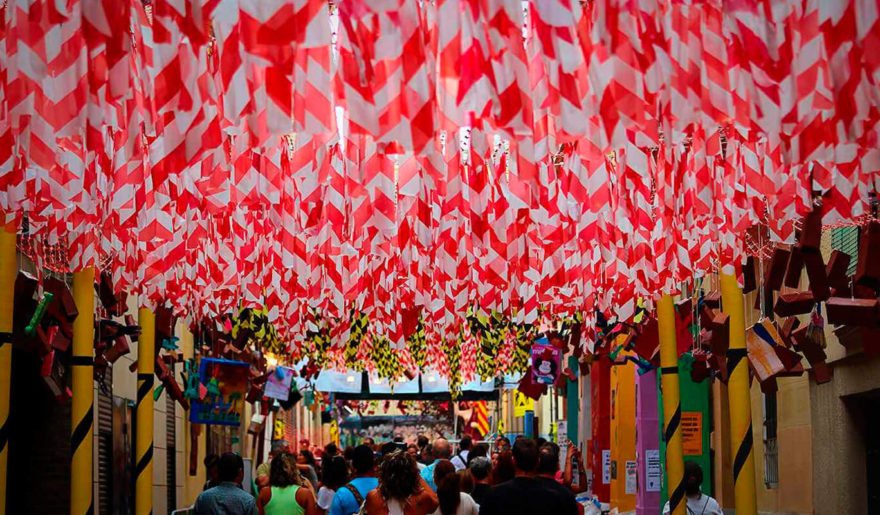 INFORMATION AND FULL PROGRAM FOR SANTS FESTIVAL 2023
Days: from August 19th to the 27th
Information about the festival program: Festes de Sants