If you are thinking of traveling to Marrakech with children, we will tell you about our experience here. Marrakech is a perfect destination for family travel: it is just a few hours by plane from Barcelona, you get to know a culture very different from ours, and children are well cared for and respected in the country.
MARRAKECH WITH KIDS
To be honest, I had doubts about the destination because it is not a place that people consider for traveling with children, but it has undoubtedly been one of the best trips we have taken as a family. I'll tell you why and some details of the trip. Before that, let's be clear that each family is different, so these are our recommendations, which may not be suitable for others, but always help! Oh! My children are 9, 7, and 6 years old.
WHY TRAVEL TO MARRAKECH WITH CHILDREN?
After the trip, I can say that Marrakech is a perfect city to visit with children for these reasons:
It is just a few hours from Barcelona, and you can find very cheap flights. We used the Skyscanner website, which finds the best flights among all airlines. It is the best way to find cheap flights. If you don't know it, we recommend it: Skyscanner
The contrast of cultures is so great that everything is interesting, curious, and different for them, making them super engaged in the destination and then remember anecdotes from the trip forever.
It is a chaotic but fun city. Full of motorcycles, donkeys, crazy life, colors, and smells.
Children in Morocco are super loved and respected. They are always welcome, and they are not bothered if they play, run, or have fun. Even in the most formal restaurants.
They help you if they see that you are traveling with family and you do not have the same "pressure" as if you were traveling alone or as a couple.
The food is suitable for all tastes. In all restaurants, both Moroccan and more international, you can find dishes that children like.
It is very safe. Many of you have asked me if visiting Marrakech with children is safe, and I tell you that yes, it is very safe. Tourism is their main source of income, and it is closely monitored and well cared for. This does not mean that there is no "trickery" and they may try to charge you more for their services, but except for this, the city is very safe.
TRANSFERS FROM THE AIRPORT TO THE HOTEL OR RIAD. At the airport, you can take a taxi or van as there are a lot of them, but if you want to make sure you are picked up, we recommend that you book it. It is very reasonably priced, and the service is very friendly. We did it through this website: Marrakech airport transfer.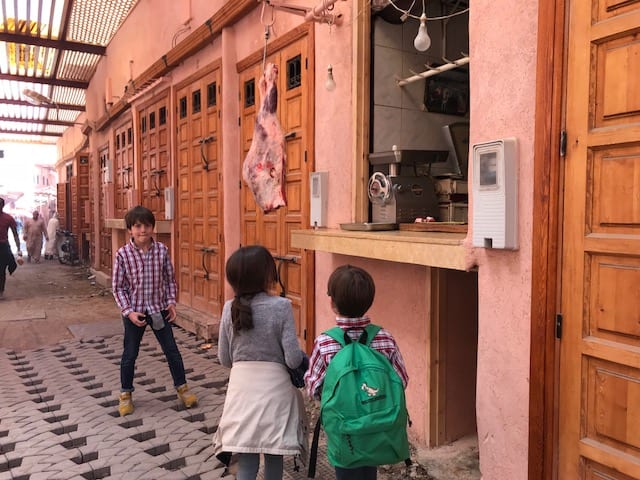 WHERE TO STAY IN MARRAKECH WITH KIDS?
There are two very different options for staying in Marrakech with children. Sleep inside the Medina or outside of it. It all depends on what you want from your destination, and both are good for families.
I wanted to stay inside the Medina and stay in a RIAD. A Riad is a typical accommodation in Marrakech that is like a more or less large guesthouse, always in old buildings with an inner courtyard around which the whole life of the house is made. We stayed at Riad Imilchi, a very decent Riad where we had a great time. The service was very friendly at all times, they organized everything we asked for, we had dinner there a couple of nights with very
Yo quería estar dentro de la Medina y alojarnos en un RIAD. Un Riad es un alojamiento típico en Marrakech que es como una casa de huéspedes más o menos grande pero siempre en edificios antiguos con un patio interior alrededor cual se hace toda la vida de la casa. Nosotros nos alojamos en Riad Imilchi, un Riad muy correcto en el que estuvimos genial. The service was extremely friendly at all times, they arranged everything we asked for, we had dinner there a couple of nights with very good homemade food and it was also very well located, which made it easy for us to get from the Riad to the center (which was important for me because getting lost in the narrow streets of the Medina is very easy).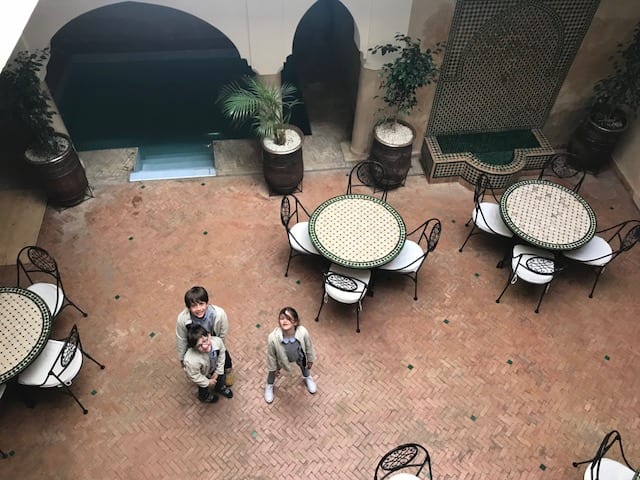 Outside the Medina, you can find many Western hotels of different categories. This is a good option if you're traveling in the middle of August because they all have huge pools, children's activities, etc. If you're traveling with babies, this may be the better option because there are no elevators in Riads, and there are many stairs.
WHAT TO DO WITH KIDS IN MARRAKECH?
Marrakech is already a city that is entertaining just by walking through its narrow streets and its squares and markets. Even so, I recommend organizing your days by doing a bit of cultural visits and some "children's activities." Here's what you can't miss if you visit Marrakech with kids:
The Al Jeezma Square
The heart of the city and a place you can't miss, both day and night. Enjoy the stalls, the frenzied movement of its people. There are the typical food, fruit, and vegetable stands, but also some as original as the tooth sellers or snake charmers. Oh! Beware of the ladies who make henna tattoos or those who carry monkeys. They are quite "aggressive with sales" and do not accept a no afterward. We do not recommend taking a photo with the monkeys as we collaborate with animal abuse, and we believe that if we don't take the photo, we help prevent their disappearance. But beware… they can suddenly climb on your shoulder!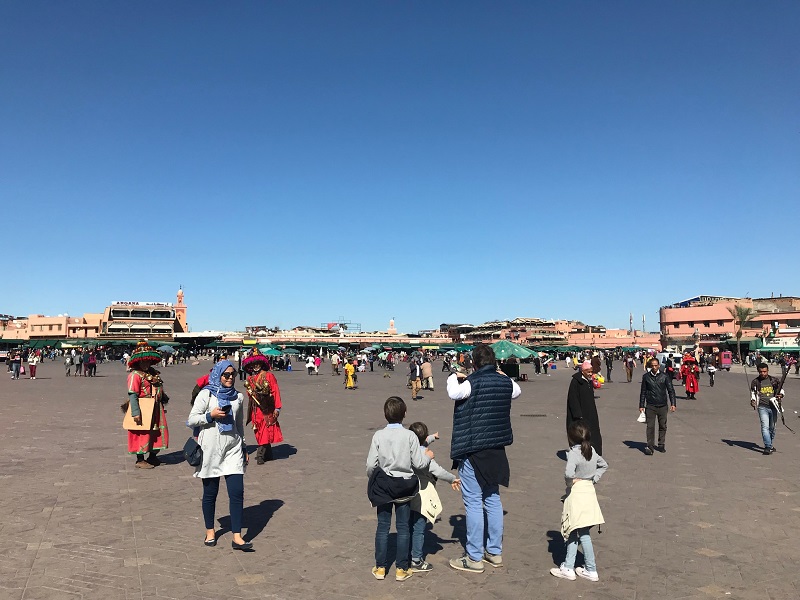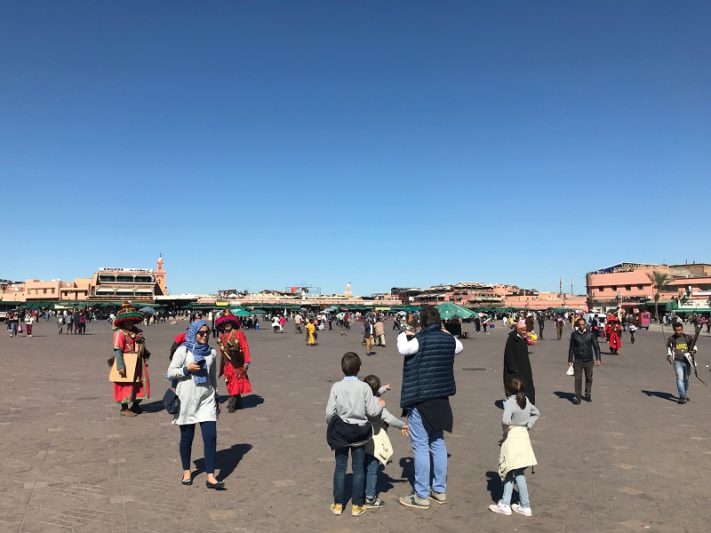 At night, it's a show. We recommend going early to have a drink and get a good spot on one of the terraces of the cafes overlooking the square to watch the sunset over the square. We did it at the famous Grand Terrasse du Café Glacier. The terrace fills up quickly, and the gastronomic offer is not worth much, but the views it offers at sunset with the sunset and the lights of the square are worth seeing. A show worth seeing.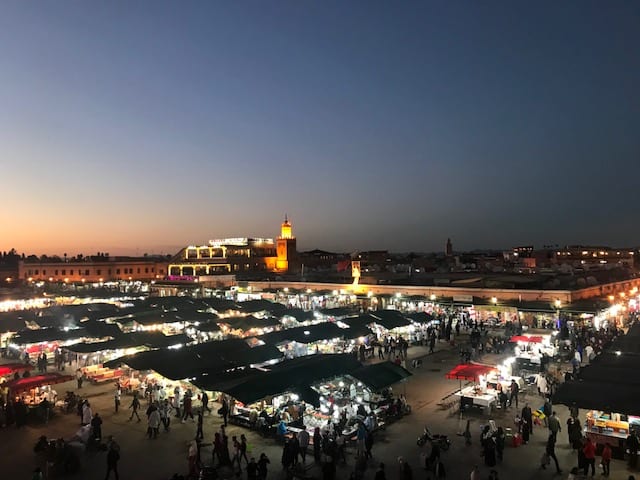 And finally, a great plan is to eat at the street food stalls in the square. We tried snails (I'm not a fan), but Jorge and my husband love them, so they had a tapa before dinner. Then we sat at one of the many stalls in the market. They are all very similar and will try to get you to sit at their tables with great skill (they know all the typical phrases of all countries and manage to make you smile). We had skewers of meat, chicken, breaded fish, and some vegetables… it was good, and the experience was very fun.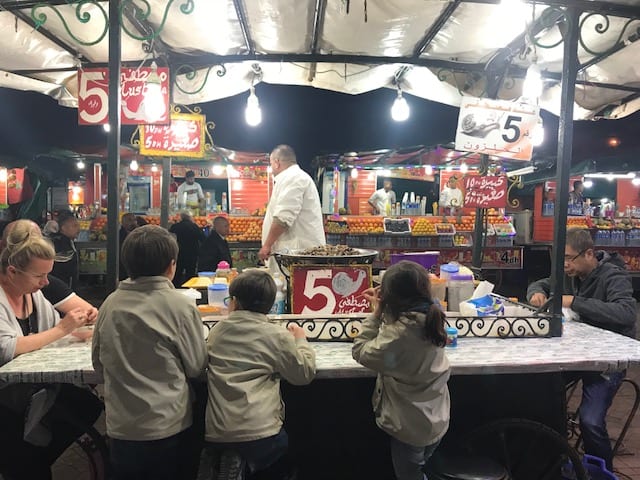 The Spice Square
One of the most charming corners of the city. There, as its name suggests, you will find many little shops selling spices and artisan women. Sitting down for a coffee and observing the life of the square is great. The most famous cafe is Café Des Épices.
Palace El Badi
It's not one of the most typical visits in the city, but it's great for going with children. A huge palace that at its peak was decorated entirely in gold. It's so big that kids can play, run, stroll among the pools, go down to the orange tree area, and be amazed by the number of storks in each tower.
Palacio of the Bahía
One of the must-see visits. Beautiful mosaics, corners, ceilings… There are usually a lot of people, so I recommend going first thing in the morning or late in the day, although being large, you can try to stay away from the groups and enjoy its corners.
Jardin Majorelle
A wonderful garden. You can't miss it. One of the most beautiful gardens I've visited with lush vegetation, many different plant species, and all complemented by the Majorelle blue color that gives it that special touch. There are usually a lot of people, so I'll give you a "tip" to save time in line. There are two ticket offices: one at the entrance to the gardens and the other at the entrance to the museum. The first one usually has a long line, but the one at the museum has much less. If you're going to visit both things (recommended), buy the combined ticket at the museum and then go directly to the gardens. We visited the museum, and when we entered, the people in line hadn't even bought their ticket yet.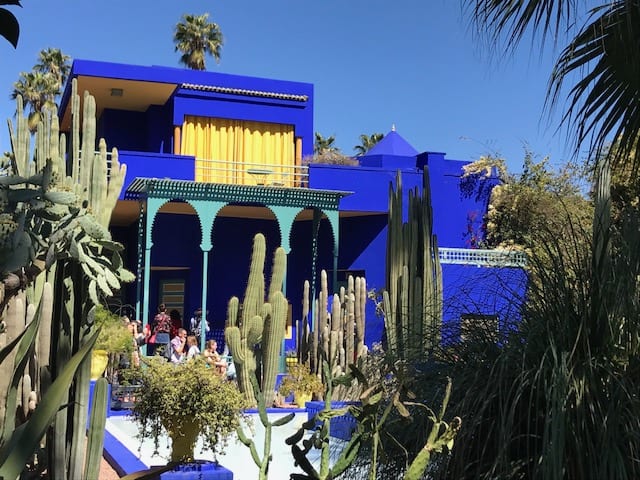 Casa de la fotografía de Marrakech
It's not one of the must-see visits, but I was excited to visit it. The building is small and very pretty and has different collections of very beautiful photographs of Morocco. On the terrace, there is a small café with great views of the city. If you have time and feel like exploring, it's great, but it's not a must-see.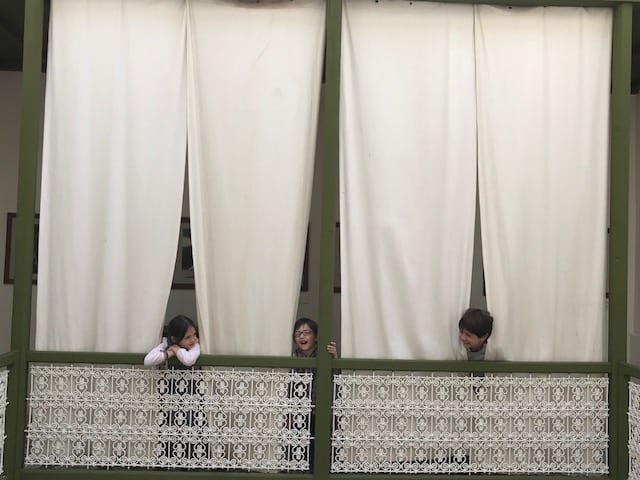 Madrasa of Ben Youssef. It's usually a recommended visit, but we couldn't go because it's being renovated.
The Secret Garden
The guys at the Casa de la Fotografía recommended this visit, and we went there. We were about to not go in because it's one of the few places where children over 5 pay, and the price of admission seemed quite expensive compared to other places. And the truth is that it was worth it. It's an old Riad with the largest inner courtyard… Ideal for a stop with children as they can play, run, there's a small "pond" with turtles, shady corners, and a cafeteria. A great discovery in which we could have stayed all afternoon relaxing.
The Palmeraie
To the north of Marrakech is one of the largest palm groves in the area. There, apart from enjoying the scenery, you can ride a camel, go on a quad excursion, etc… You can see all the options here. We didn't do it because we already had an organized tour, but we did take a taxi ride there. The visit is not essential, but the taxi ride also served us to rest after a morning of walking
Hotel Mamounia
Visiting hotels is something we love to do in our family, a professional flaw! And we couldn't leave Marrakech without seeing the famous Hotel Mamounia, one of the most luxurious hotels of its time. In most hotels, no matter their level, you can go for a drink without staying there. It's the same at Mamounia. At the entrance, they ask if you are staying or not, but you can always say that you are going to eat. You can also buy a daily entrance ticket to the pool or, if you go without children, to the spa, etc. We took advantage of those moments of exhaustion to relax and enjoy the environment…what amazing gardens!
EXCURSIONS AND TOURS NEAR MARRAKECH
There are many excursions to do near Marrakech. You can hire them directly in the city as you will find numerous shops offering them or you can take them already organized. Visiting the Ouzoud Waterfalls or Essaouira (highly recommended if you have time) are very typical excursions. Here you can see many routes that may interest you: excursions near Marrakech.
In Marrakech, you can also hire a private or free tour of the Medina, which will help you locate yourself and get to know the most typical areas of the city or even hire a different experience such as night tours. Here you have all the info on tours.
We would continue telling you more about Marrakech, its restaurants, shops, and our desert getaway, but the post has become long, so we will continue with a second article in which we will tell you more about our trip. If you have any questions, leave us a comment and we will answer them.