Today we are back with one of our bicycle routes. This time we went from Barcelona to Vilassar Mar, about 25 km along the coast and without too much difficulty. The route was once again organized by Ok Barcelona Tours.
FROM BARCELONA TO VILASSAR DE MAR BIKING
As you already know we are users of Brompton, one of the best folding bikes that exist and moreover from the few that have adapters to carry children from a really small age up to 7 years (depending on the size). We met Jaume because he has set up one of the few companies that organizes guided bike tours in Barcelona, and the area around of Barcelona using Brompton bikes.
The tour is pretty plain because it runs actually all along the seafront. So it is highly recommended for people who are not in shape. From the Arc de Triomf we took the seafront of Barcelona untill Sant Adrià. There we enjoyed the view of the old factories towers.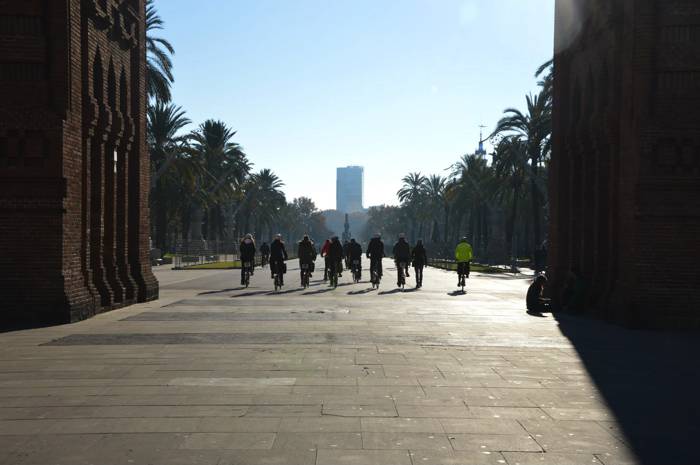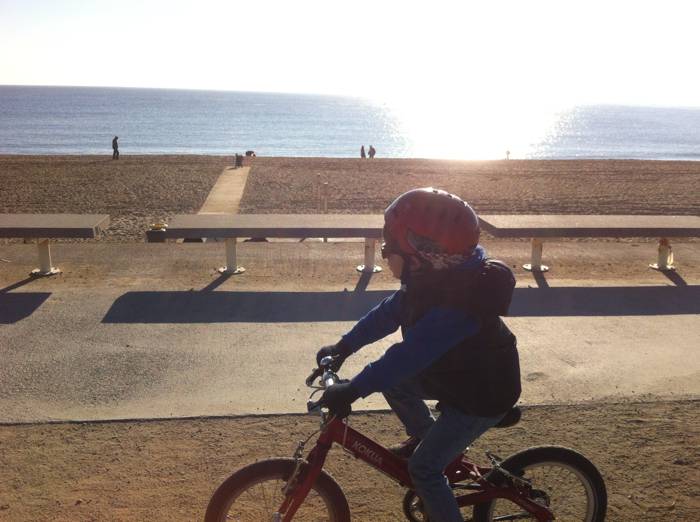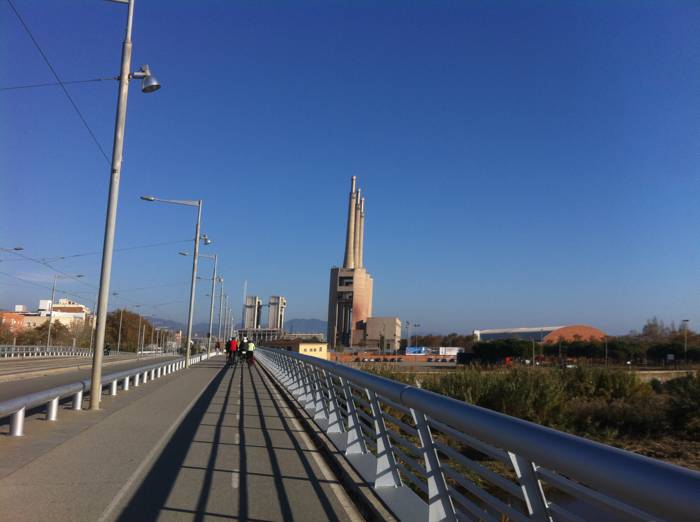 Then we get to Badalona. There we stopped a while to enjoy the Pont del Petroli and its wonderful views. Beside the Pont del Petroli is the old factory of "Anís del Mono", a modernist gem that has been preserved for its historical value and right at the beginning of Pont del Petroli you can find a statue of the typical "mono" inspired by Charles Darwin.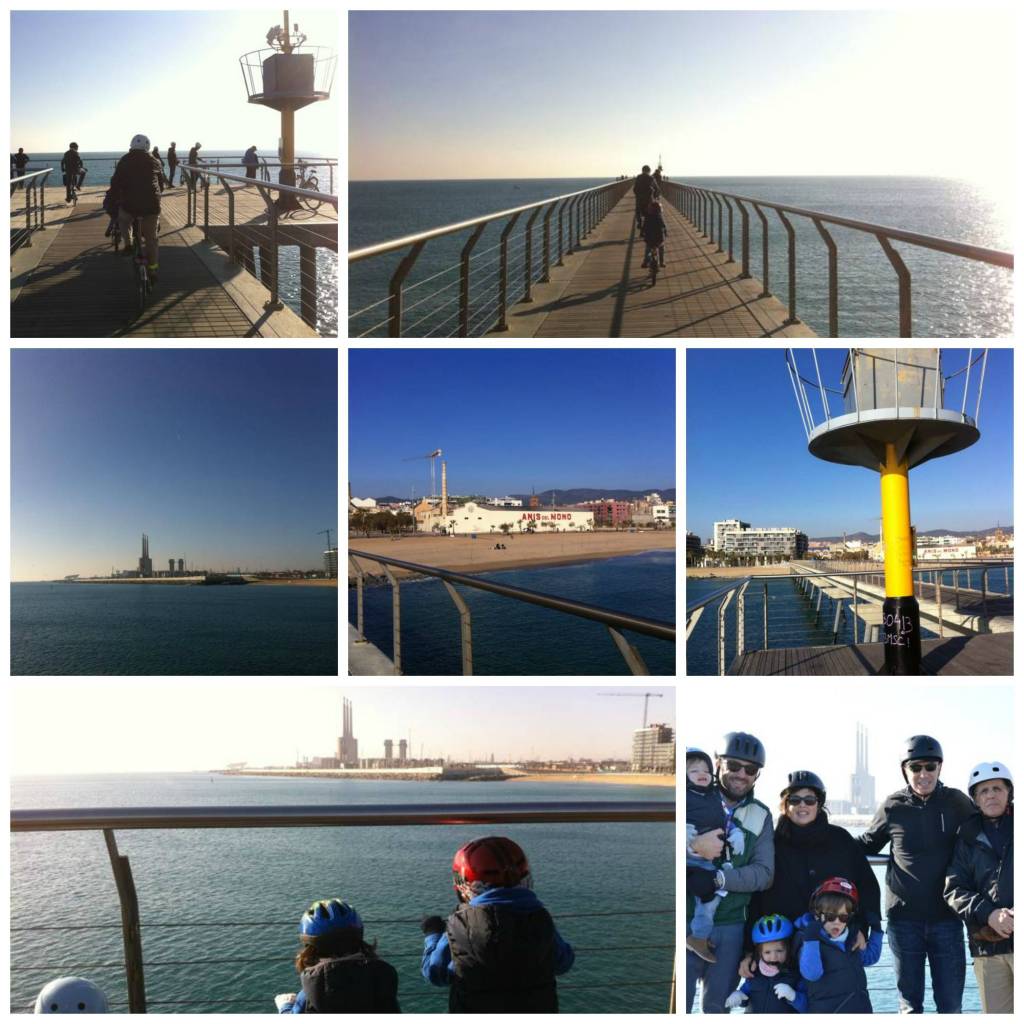 We continue and we pass Montgat, El Masnou, Premià de Mar y finalmente Vilassar de Mar. Always from the indicated way except from a small part that you have to do on foot because bikes are prohibited.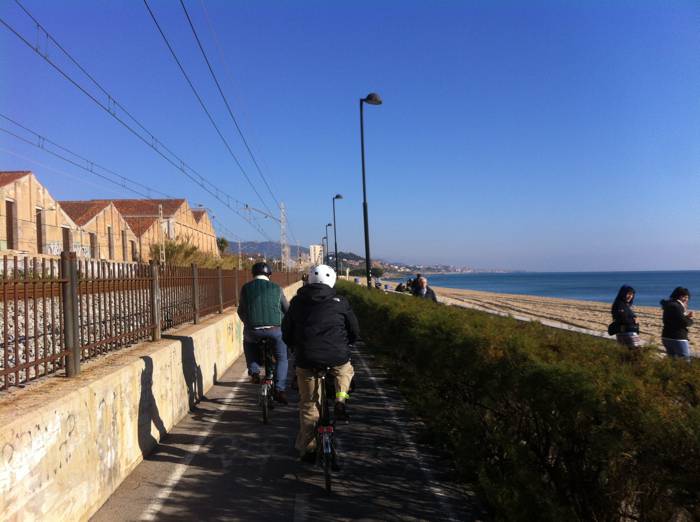 In total we were at about two hours at easy pace. As family excursion i would suggest doing this in two phases, more calmly. But as the route was organized and we were the only ones that had children  the pace was fast, but we had no problem in following, and Paul 4 years neither had (is used to go biking and bears more than i do : ) ).
Arriving at Vilassar de Mar the support van was waiting for us. The last three kilometres to the nave where Espinaler is, is the only tricky part that costs a little, so the kids and I 🙂 we went aboard the van.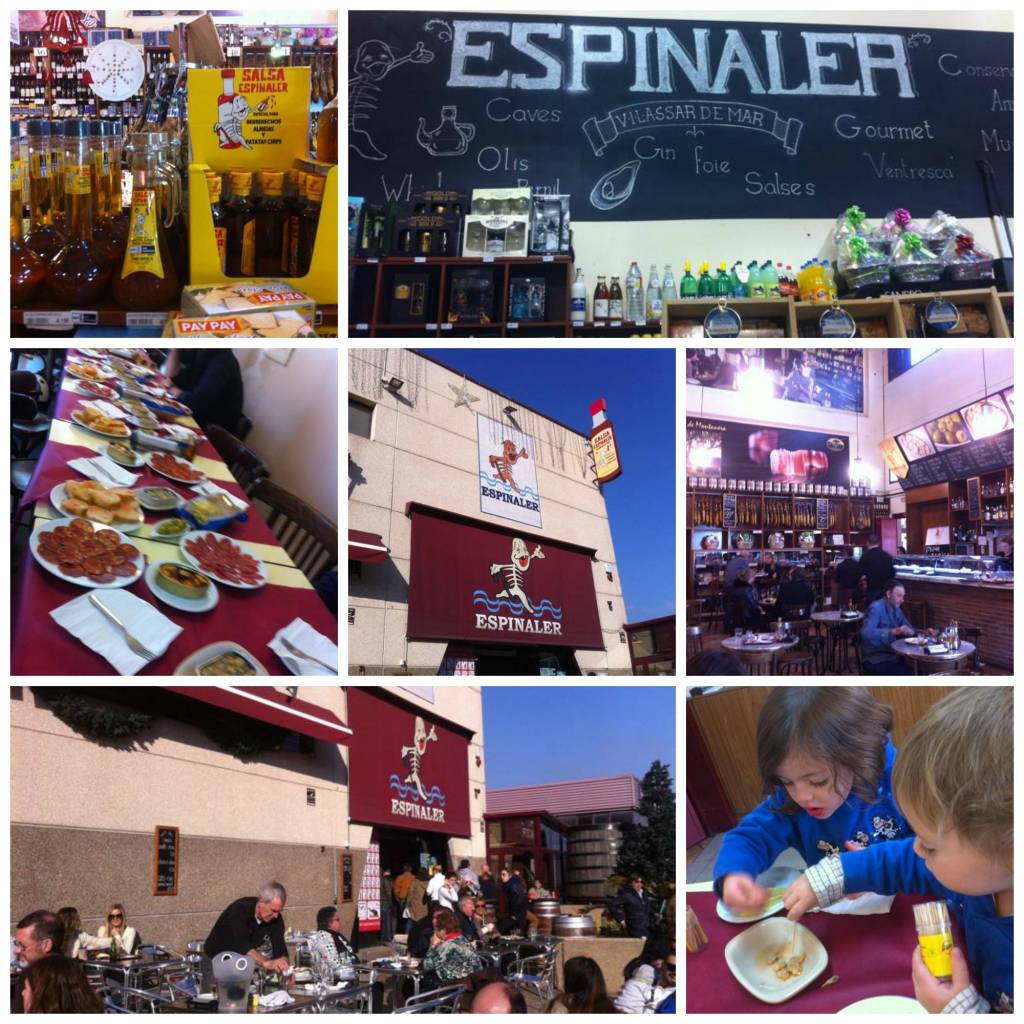 The nave of the "typical mediterranean tavern" of the famous salsa Espinaler is spectacular. We had never been and we loved it. There we had prepared a vermouth, a variety of sausages, croquettes, bread rubbed with tomato and of course, the typical products of their brand, cockles, mussels… The nave consists of several areas, a restaurant, a tavern, a huge tent with all kinds of "delicatessen" local products and a wonderful terrace to have an aperitif in the sun.
The route cost us 19. -€ each adult, so an awesome plan with a great price. I recommend you follow Ok Barcelona Tours on Facebook since its page typically provide information about different routes. In addition if you don't have a bike, Jaume helps you, even with adapters for children.
ESPINALER: Web: espinaler.com
Map of the route: