December and Christmas are coming, and Barcelona is full of traditional Christmas markets. This year will be different, but you can still enjoy Christmas, albeit in a different way. In addition, during December there are numerous independent markets, perfect for buying original gifts from artisans and small businesses. We invite you to read on!
CHRISTMAS MARKETS AND FAIRS IN BARCELONA
SANTA LLÚCIA FAIR
This is Barcelona's Christmas fair par excellence, a must-visit to start preparing for Christmas. It is the oldest fair of nativity scenes and Christmas decorations in the city and is in front of the Cathedral. You can buy figurines for nativity scenes, moss and Christmas trees, among other things. There are organised activities for kids, such as the Giant Tió, puppets… Days: from 27th November to 23rd December 2021. Opening hours: Weekdays: from 11 am to 8:30 pm and holidays and vigils: from 10 am to 9:30 pm. For the specific activities to be organised, please consult the agenda. 
More information: Fira de Santa Llúcia 2022
SAGRADA FAMILIA CHRISTMAS FAIR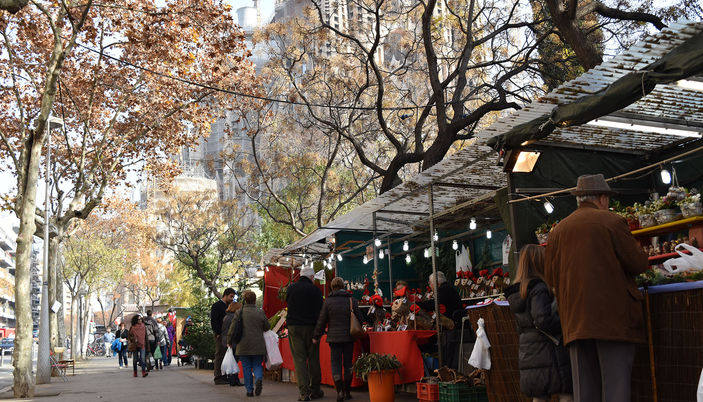 Another of Barcelona's most important Christmas markets. Every year since 1962, a Christmas fair has been held in the Sagrada Familia square, the most traditional Christmas market in L'Eixample. Located in front of the Sagrada Familia, there are more than a hundred Christmas stalls where you can buy figurines for the nativity scene, Christmas decorations, trees and more. You can also take the opportunity to visit the Sagrada Familia or go on a children's workshop. At Christmas there are special workshops for kids. Days: from November 27th to December 23rd, 2021. Opening hours: from 10 am to 9 pm on weekdays, Sundays and vigils from 10 am to 10 pm. Ages: All ages. Price: free. Location: Pl. Sagrada Familia nº1.
More information: Christmas Fair Sagrada Familia Barcelona
CHRISTMAS FAIR AT EL PORT VELL

The second edition of the Port Vell Christmas Fair is back.Located in the Portal de la Pau square, it brings together stalls and activities in an area of 5,000 square metres.  Of course, there will be a large, illuminated Christmas tree, a floating nativity scene and a classic carousel. Inside all the stalls there will be a gastronomic area and activities for adults and kids. Days: from December 9th 202 to January 5th 2023. The usual opening hours will be from 10 am to 10 pm although, depending on the days, they may vary, so we recommend you check their website.
More information: Port Vell Christmas Fair
FAIR OF THE WISE MEN OF LA GRAN VÍA
The "Feria de la Gran Vía", or "Feria de Santo Tomás", is also a classic Christmas market in Barcelona. A Christmas fair that reaches its climax on the Epiphany night but is open throughout the Christmas season. Here you can find toys, Christmas decorations, "churrerías", spaces of different NGOs where you can donate toys and many more different shops (dates to be confirmed).Days: from 19 December to 6 January. Opening hours: from 11am to 10pm, except on the 5th when they close once there's no one left, no one sleeps that night! Location: Gran Vía 580, between Rocafort and Muntaner.
More information: Feria de Reyes de la Gran Vía
CHRISTMAS FAIRS AND MARKETS IN CATALONIA
A few minutes away from Barcelona you can find different Christmas fairs: Tions fairs, fir tree fairs, medieval fairs and much more. All our ideas in: Christmas Fairs and Markets in Catalonia
GETAWAYS AND CHRISTMAS MARKETS IN FRANCE
And if you're looking for a Christmas getaway in France, check out our article on 5 Christmas markets and plans in France.You will like all the proposals we have near Barcelona