If you are a Christmas fan like us if you want to decorate your house in preparation for the following Christmas parties… if this time of year comes and you can only think of filling your home with Santa Claus, nativity scenes, and decorating the Christmas tree … this is your store. The Käthe Wohlfahrt store is Barcelona's Christmas store.
THE ONLY CHRISTMAS STORE IN BARCELONA
Käthe Wohlfahrt is a magical world where you will find all kind of Christmas decoration elements to perfectly decorate any Christmas house, dinner, or tree.
So if you still don't know the Barcelona Christmas store, you already have a perfect plan to do with children. A walk through the Gothic Quarter to discover this little magical paradise where your shop assistants will greet you as you enter with a wide smile and their traditional German clothing.
The store has been designed as if it was a fairytale Christmas village. In its 300 square meters you can find "all kinds of products" related to Christmas. You will find more than 6,300 different articles of Christmas decorations made following the themes of traditional toys in her workshop in Rothenburg (Germany).
VISITING A TYPICAL VILLAGE OF BAVARIA
This original Christmas store is located in the center of Barcelona, in the street Banys Nous 15, it is the largest in Spain and it is built entirely in a traditional way. Entering it means walking through streets full of magic, where each house in a typical Bavarian town shows us from decoration items made by expert craftsmen to a four-and-a-half-meter high fir tree.
As its manager tells us: «We work with glass, wood, tin… All our products are of the highest quality, made with love down to the last detail. I do not believe in any store in Spain you can find Christmas items like these».
WHAT TO BUY AT KÄTHE WOHLFAHRT
Among the products you can buy at Käthe Wohlfahrt, incense smokers stand out. It is an original product and today you can find different versions. But you cannot miss the decorations for the Christmas tree. There is something for all tastes: gold, red, more traditional like the nutcracker and even musical boxes.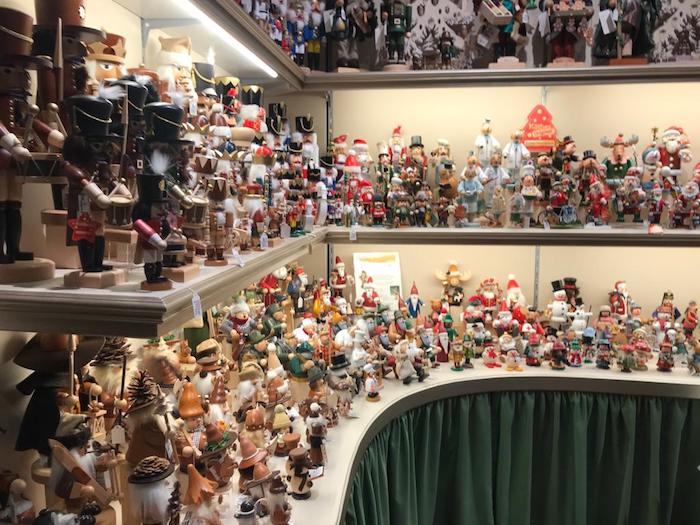 They have also created some unique pieces inspired by the city of Barcelona with Gaudian designs, the characteristic yellow and black taxi, the traditional 'caganer' and even a figure of the Virgin of Montserrat.
You can also find traditional advent calendars (if you are looking for advent calendars for children you can check our special article with ideas for calendars made by you), you will also find Christmas dolls to decorate the house, Christmas tableware and many more products.
A PERFECT PLAN TO DO WITH CHILDREN
So if you are looking for a perfect plan to do with children in Barcelona to enjoy Christmas, you can always walk through the center, visit the nativity scenes, the Santa Lluçia fair and now this new Christmas store. You will surely like it.
MORE INFORMATION:
Web: Käthe Wohlfahrt the Barcelona Christmas store
Opening hours: open from Monday to Friday, from 4:00 p.m. to 8:00 p.m., and Saturdays from 10:00 a.m. to 8:00 p.m.
Address: Carrer dels Banys Nous, 15, 08002 Barcelona