In fact the name of these gardens is 'Jardins de Sentmenat Can', but as Eina design school has the building there, popularly it is known as the Park of the Eina.
EINA PARK AND PLAYGROUND IN BARCELONA
This is one of our "star" parks. It is large, clean, green, has children's area and a bar for a drink.
A PARK WITH A BAR
There are really various different spaces, on the one hand is the bar (AulaZero), where you can get a good snack based to patatas bravas, olives, cockles… and if you want to eat they do very good warm sandwiches and have some salad.
The area of children's games is not very big, but in fact tha smallest kids use it, well, the rest prefer to play football or go biking in the gardens.
A PARK PERFECT FOR ALL THE AGES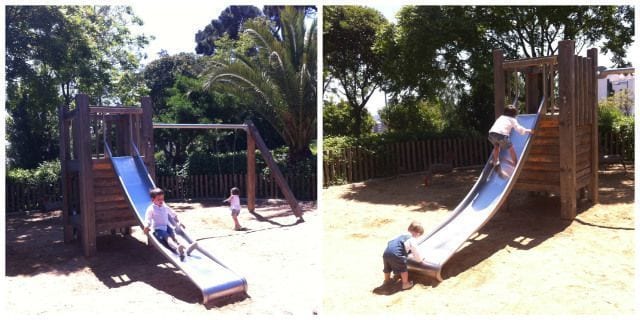 In the Center there is a lake with a fountain and some roads where it is funny biking around. All surrounded by lawn where people lies down to sunbathe, eat in plan picnic or put together a children's Party.
MORE INFORMATION: EINA'S PARK
It is open all year from 10h until dusk.
Direction: Can Caralleu nº16-18 Street
Tip for parents: also, is ideal for an adults  birthday party at night. They have also a reserved zone.