Today we will make a gastronomical trip to India, thanks to the restaurant Bembi.
"Bembi" is a word used in Mumbai (India) which means belly button. It is the bond between the baby and the mother, the connection between what exists and what does not. With this same goal, Bembì pretends to be a gastronomic link between India and Barcelona
The indian food is fabulous, and besides if it is cooked by chefs with an excellent reputation like Anand Singh Negi,it is a total success.
A chef cooking with local first class products, as it can be seen endorsed by the diploma of the Institut Municipal de Mercats de Barcelona, that proudly is shown off in the restaurant.
The decoration is very modern and cozy. You can go with your family, with kids, because they have high chairs, changer in the bathroom, wide spaces to move with the baby stroller, etc..
But we recommend this restaurant for a special occasion, those ones that you leave children with grandparents (or babysitter) and go out to enjoy a romantic dinner with your partner, savoring the delicious Indian cuisine in a unique and elegant restaurant.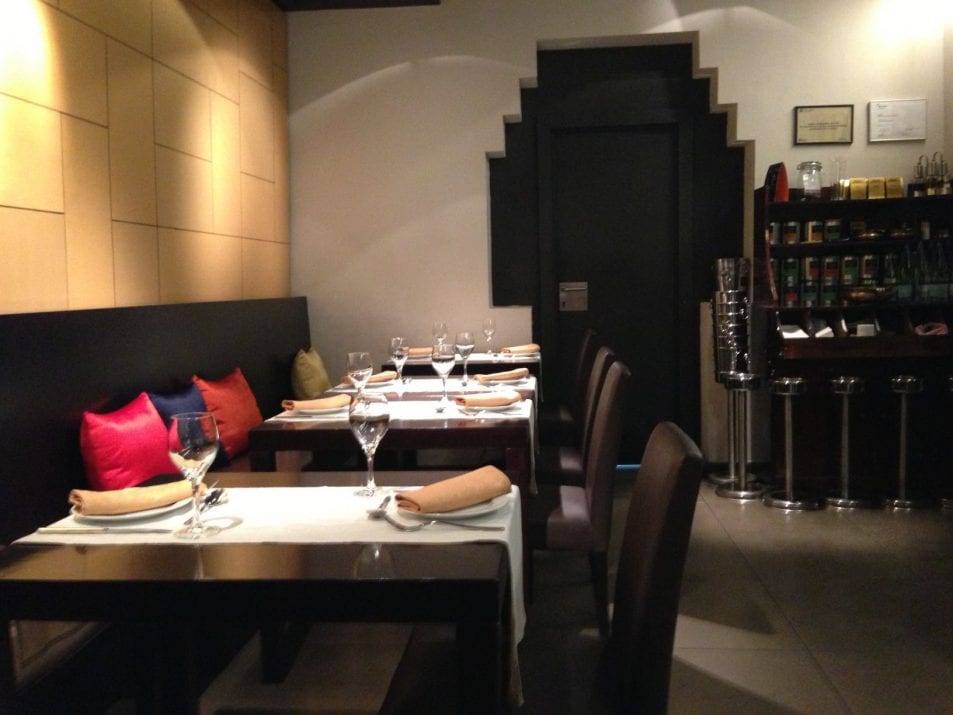 Or for a fun dinner with friends with Bollywood dance 🙂
The service is courteous and very friendly, always willing to explain the contents of the dishes. We ordered a tasting menu of 26.50 euros, which I will explain in detail below:
As starters, they  brought some tapas of the typical dishes of the Indian cuisine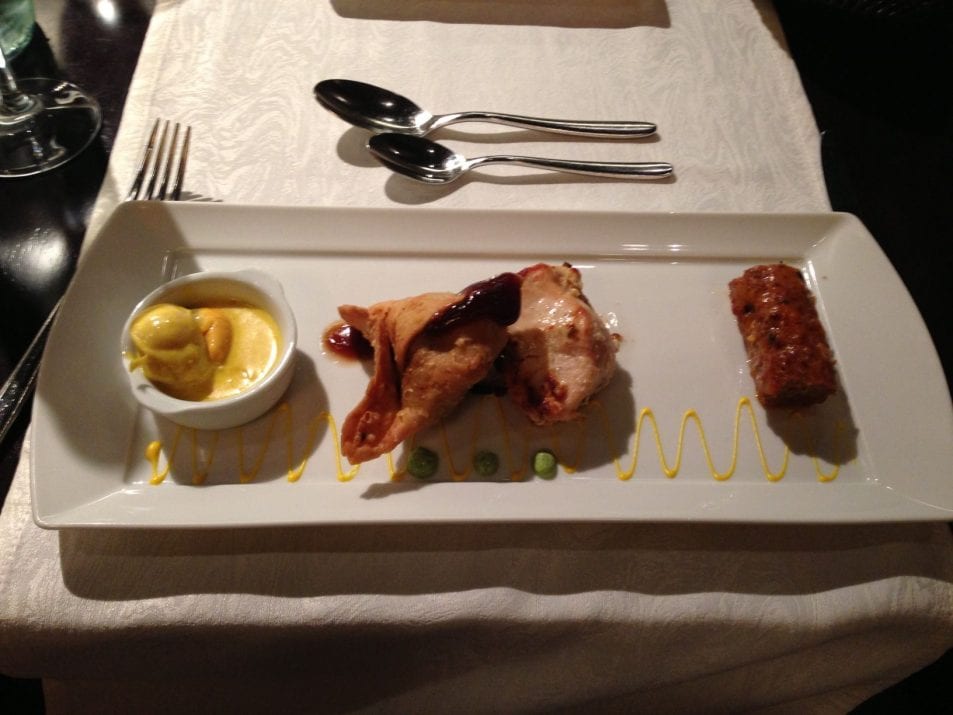 SAMUDRI RATTAN: Grilled scallop on a smooth saffron sauce flavored with garlic. Delicious.
PUNJAB SAMOSA: A crispy triangle of vegetables, dumpling type, stuffed with potato, peas and spices, with tamarind sauce.You know that we are fans of all international versions of the dumplings!
LASOONI MURGH TIKKA: A juicy chicken steak marinated in yogurt and garlic cooked in tandoor oven. They accompany it with the mango sauce, and it was spectacular. (the chicken is in the picture above, the piece of meat on the right, which was stuck with the dumpling and I have not been able to separate
LUCKNOWI SEEK: a skewer of tasty lamb, also cooked in tandoor oven. If you like the spicy, you can accompany it with the spicy sauce they put on the table. We have put the mint sauce, and it was delicious.
Then for main course, they brought us the Thali.
The Thali is a selection of different dishes served in small bowls and accompanied by Zafrani Pulao (rice with saffron) and Naan, the typical Indian bread.
In the photo above, clockwise, from left to right, we can see:
MURGH MAKHANWALA: Tikka Masala chicken
SAAG PANER: Spinach with fresh cottage cheese. My favorite. Delicious!
NARUYAL JHINGA: Curry prawns  with a creamy coconut based Kerala sauce. 
KOHE ROGANJOSH: curry lamb stew with tomato, ginger and Kasmir chillies.
RAITA: a yogurt sauce with a flavour of cumin.
All sauces are spectacular in restaurant Bembi. Watch these spicy sauces, mint and mango- from left to right- what they look like:
For dessert, we tried the Gulab Jamun, very sweet and served with ice cream.
Do you like Indian food? Do you know any other Indian restaurant in Barcelona? We do. We will speak about them in future posts …
BEMBI
Consell de Cent 377 – 08009 Barcelona
Price: Daily menu 16 euros. Tasting menu 26,50 Eur.
Telephone 93 502 49 52