Today I will talk you about one of my favorite restaurants to go with kids in Barcelona: Le Cucine Mandarosso. It's a nice place, with very correct prices and that serves delicious homemade Italian food.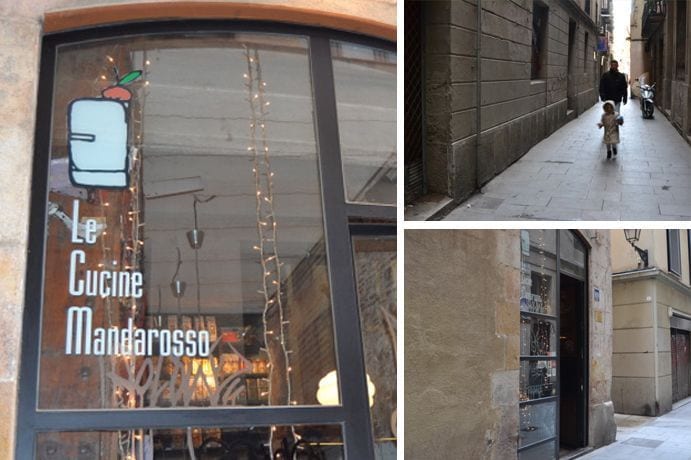 It's actually a really versatile restaurant: it is perfect to go with kids, for romantic dinners, for meeting up with friends, for a work lunch … I can guarantee it because I've been to Le Cucine Mandarosso on all these occasions , and all they have been successful. And as I write this post I am looking forward to go back!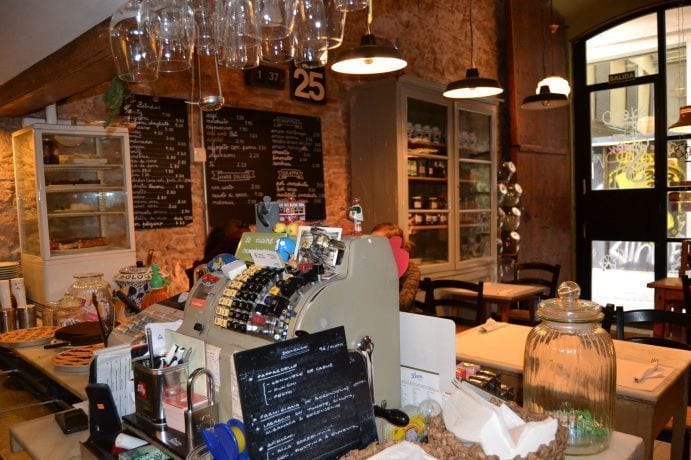 INTIMATE AND COZY DECORATION
It is a relatively small place, with a certain air of Roman osteria situated between Palau de la Música and the Market of Santa Caterina. The informal home decoration makes it very cozy. The service is very friendly and outgoing, making you immediately feel like at home.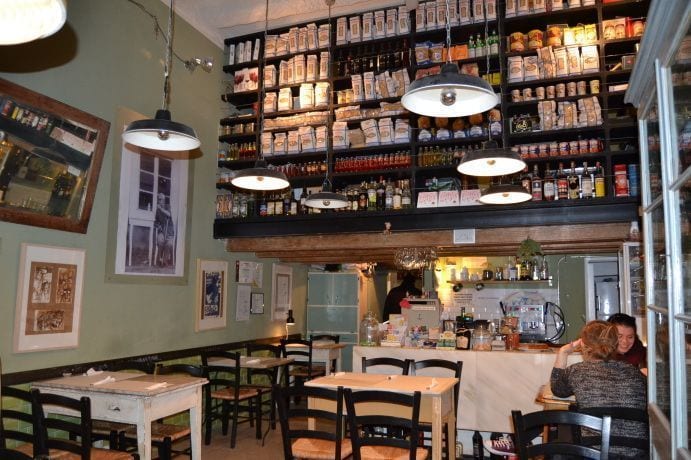 If you go with children, do not forget to greet Nelson, the fish of the house.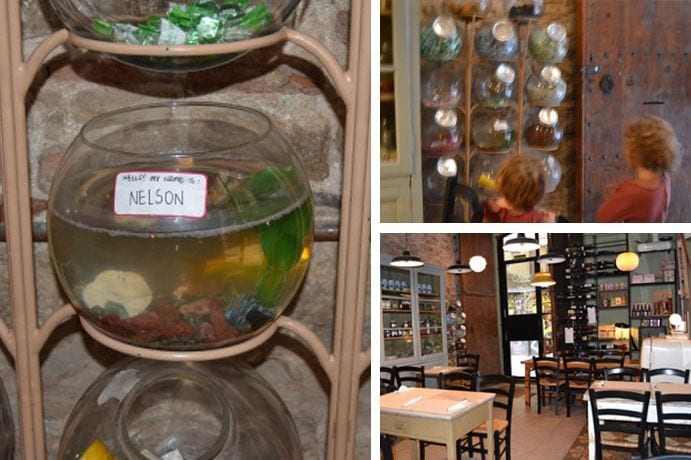 Before we used to greet Penelope … but she passed away in September 2013 ..
YOU MUST MAKE A RESERVATION BY PHONE BEFORE
Do not even expect to find a free table in the "rush hour" of meals or dinners. It's a busy place and you always have to make a reservation before. The ideal, with children, is to reserve at 13:30, when the restaurant opens.
WHAT YOU CAN EAT IN LE CUCINE MANDAROSSO
My friend Maurena, Italian who discovered the restaurant, says "It's like going to have dinner at your aunt´s or your grandmother´s house." The food is homemade and typical Italian. Excellent pasta, a menu that always changes with a very correct price (weekends included). And the desserts are delicious and addictive!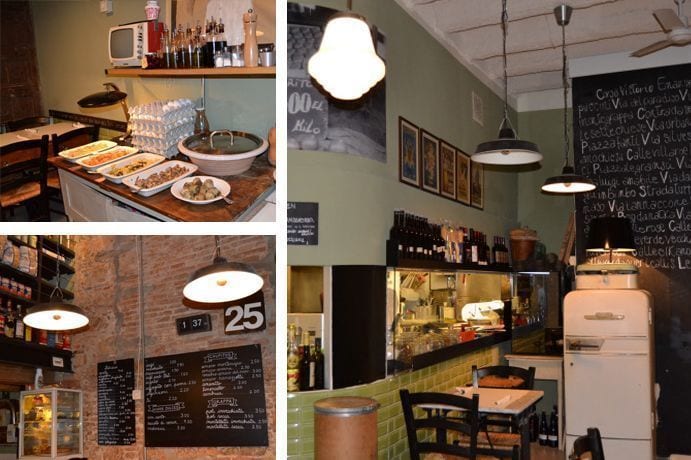 Usually in this auxiliary table they present some of the dishes of the day, so you can see if you like it before ordering it.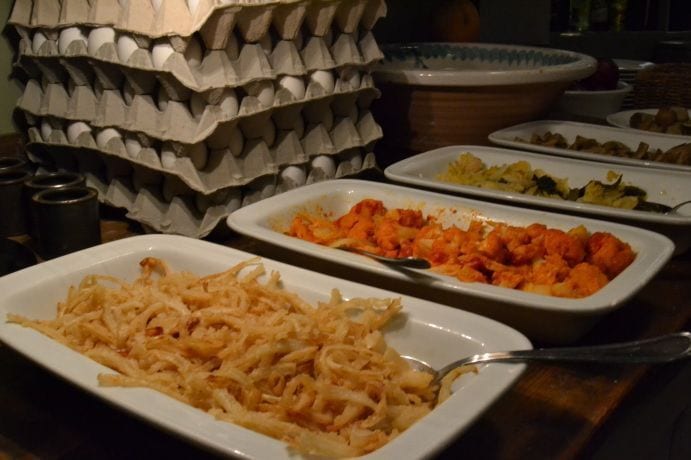 They have menu suitable for coeliacs.
The waiters explain the menu in small blackboards. Fortunately, as I said, the waiters are very nice and show infinite patience explainig to you all the dishes and the differences between Fetuccini, Lumaconi, Pappardelle, Rigatoni, Gnocchi, …
While waiting for the food, the children decorate the paper tablecloth with a beaker of paintings that they bring to them.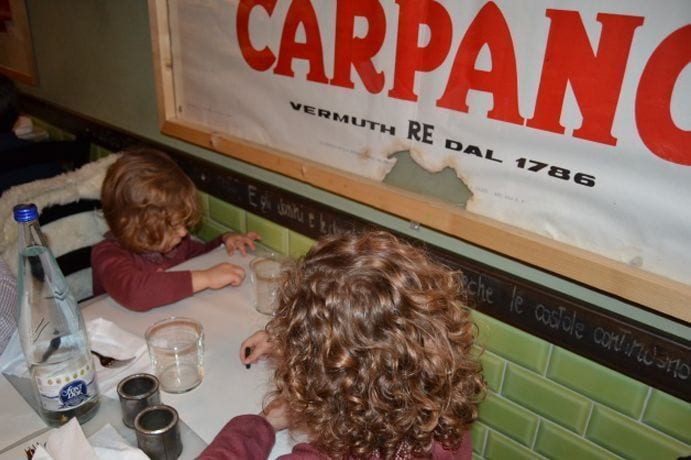 We have chosen a salad with fresh and homemade burrata , delicious and very appetizing.The girls tried the pasta al funghi, well covered with cheese, which was delicious. We tried pasta with onion and meat,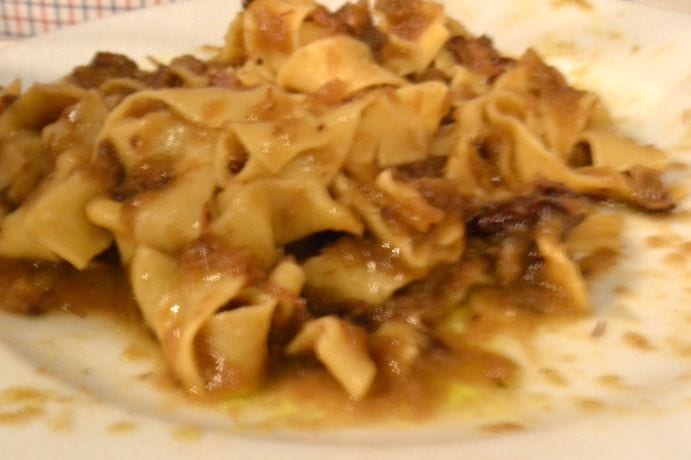 and an exquisite plate of lasagna with eggplant that was finger-licking! Well, actually all of us tried all of the plates. Mamma mia!
But the best does not end with the fresh pasta. You have to leave place in the stomach for the desserts! We ordered tiramisu, cheese cake with cherries, and coffee.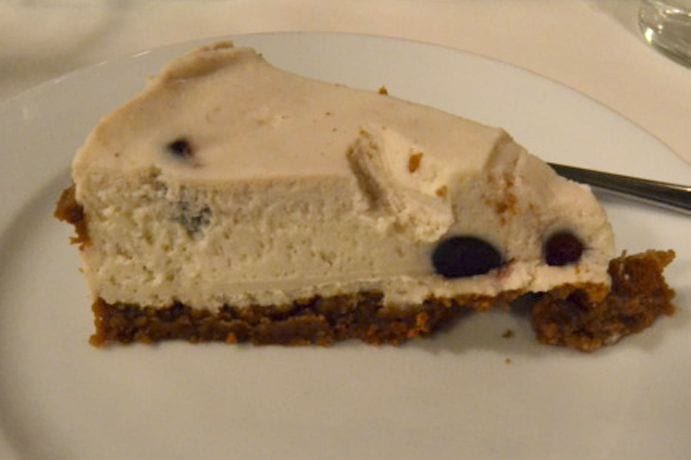 DELICIOUS DESSERTS MANDAROSSO
The desserts of Le Cucine Mandarosso have been so successful, that they have opened another shop with cakes and pastries … about which we will tell you in another post …
LE CUCINE MANDAROSSO
Verdaguer i Callis, 4. 08003 Barcelona
Tel: 932 69 07 80
Opening Time:  From Tuesday to Sunday from 11h to 01h.