There are several key days to buy books to children: the international day of bookstores and Sant Jordi's day. Because of this, we've done a compilation of the best children's bookstores in Barcelona. We keep updating it, so if any is missing, don't hesitate to leave it to us in comments.
Besides, going to a bookstore with the kids is a great plan to do. They have the opportunity to discover books, stories and get lost for a while by taking a look at the newest publications. This is our selection of the best children's bookstores in Barcelona
THE BEST CHILDREN'S BOOKSTORES IN BARCELONA
SENDAK BOOKSTORE
Nuria and Aitor are the ones behind the Sendak Bookstore. Parents and book lovers, they have teamed up to create this small bookstore where you can find books for children, illustrated books, some books for grown up children and a small selection for adults. The bookstore also has an area with a selection of games and toys designed to stimulate the children's imagination and their ability to make up stories. They organize many activities for children.
More information: Sendak Library
LAIE BOOKSTORE
We love this combination of bookstore and café-restaurant, and we love to snack on its terraces (indoor or outdoor, depending on the weather). They have a large area for children literature, which is located at the end of the lower floor. It is decorated in a cozy way and with a large collection of books in Catalan and Spanish for children from 0 to 14 years old. Here you can read our post about the Laie Library.
Location: Calle Pau Claris, 85 (Eixample Zone).
LA PETITA BOOKSTORE
La Petita is a bookstore specialized in illustrated album, books for babies and first readings, as well as literature for children and young adults. They are also specialized in other topics that may be of interest for the parents, such as parenting, pregnancy or infant feeding, or simply for those seeking to deepen in contemporary children's artistic and literary creation.
At La Petita they also carry out many activities linked to literature for children and they choose carefully each of the books they sell later in their store. La Petita has been transformed into one of the essential places for families and fans of children's and youth literature in the city of Barcelona.
More information: La Petita Bookstore
FABRE BOOKSTORE
Fabre bookstore is known for being the oldest in Barcelona. Full of tradition, this bookstore is specialized in German books, toys and gift items, most of them coming from Germany and Austria. However, you can also find national product. Here, you will find perfectly selected books for Children, in Spanish and Catalan. Here you can read our post about the Fabre Library.
Location:Calle Aribau, 84 (Eixample Zone).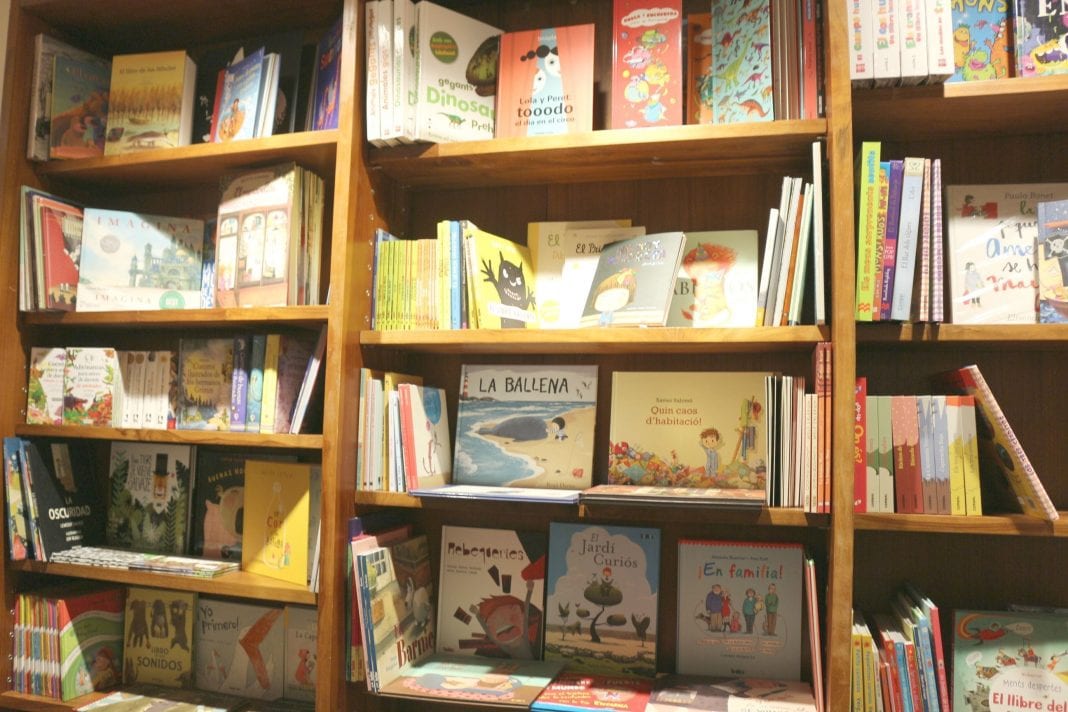 CASA ANITA BOOKSTORE
Casa Anita is a bookstore specialized in literature for children and teenagers, as well as illustrated albums for children and adults. Located in the middle of Gracia's neighborhood, this bookstore is on the ground floor of an early century building in the surroundings of the Libertad Market.
At Casa Anita you can tell that they love they work, and their values are focused on provide kids with good books; good texts, good pictures and beautiful edition. They also believe that books are not only pedagogical tools for children, but also an artistic piece. In addition, they also think that good books never get old fashioned. Are you not looking forward to visiting this bookshop yet?
More information: Casa Anita Bookstore
CALDERS BOOKSTORE
This is an old factory converted into a very spacious, cozy, and dynamic bookshop, which fosters love for books. The area for children is large and full of some of our favorite books. It has a large bar  with a stage, piano and tables to sit down for a drink, so this bookstore has wants to be a cultural space where have fun with concerts, presentations, talks, openings, children's workshops, etc. Here you can read our post about the Calders Library.
Location:Passatge de Pere Calders, 9 (Sant Antoni Zone).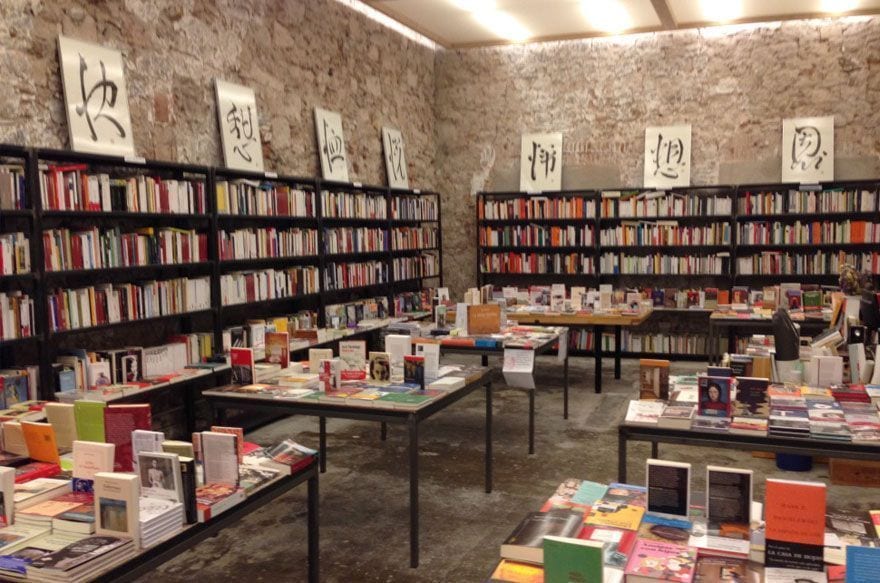 LUZ DE LULA BOOKSTORE
Luz de Lula is another of the best children bookstores in Barcelona. Located in Joanic de Gracia Square, the only thing that can prevent you from entering are the stairs if you go by stroller, but don't stop doing it because you're going to discover a place where you won't be able to get out. They are specialists in literature for children, but you will also find games and craft materials. They also have at the end a space where they do activities or you can organize a different birthday party.
More information: Lula Light Bookstore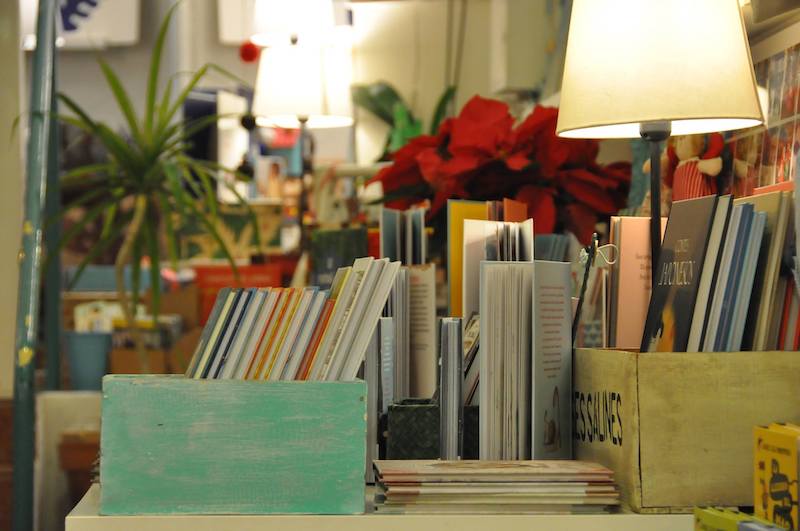 RE-READ, A LOW COST BOOKSTORE
Re-read is a low cost bookstore in Barcelona, where you can buy second-hand books in perfect condition and at an almost impossible price. It is a franchise, and in Barcelona there are several stores (all with the same owners). Here, you will find a wide variety of topics and many books with tips for families with children. Plus, you could also find a large area with books for children and youth in several languages, with a table and a chair to read. In re-read, they also buy books, so it's a good option to buy new books and sell the ones you've already read. For more information you can read our post here.
Location: Paseo de San Juan, 152 (Sagrada Familia Area); Gran Via de les Corts Catalanes, 564 (Eixample Zone); Carrer Roussillon, 158 (Eixample Zone).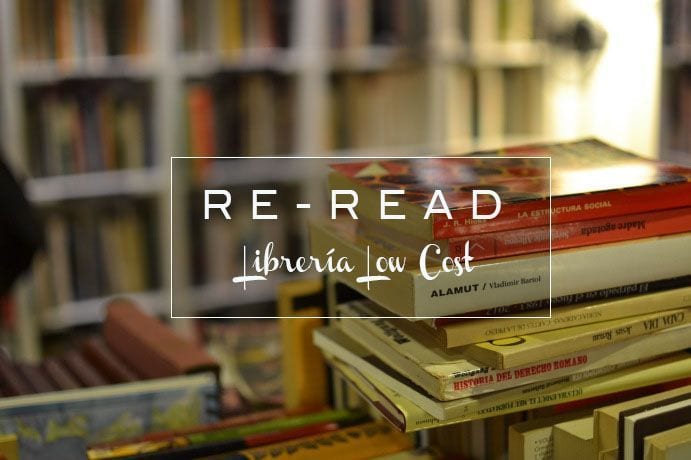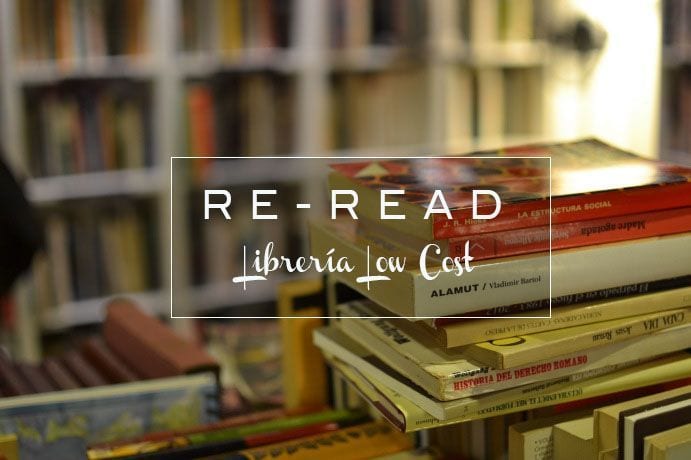 ABRACADABRA BOOKSTORE
Near Santa Caterina's Market there is this bookstore specialized in books for children and youth, as well as in original teaching toys. We highlight the diveristy of booksin different languages (Spanish, Catalan, English, German, French, Italian, Dutch and Portuguese). Plus, we also want to mention its children's area, which has a large red carpet and a giant blackboard to give free rein to children's creativity. For more information, you can read our post about the Abracadabra here.
Location: Calle General Alvarez de Castro, 5 (Borne Zone).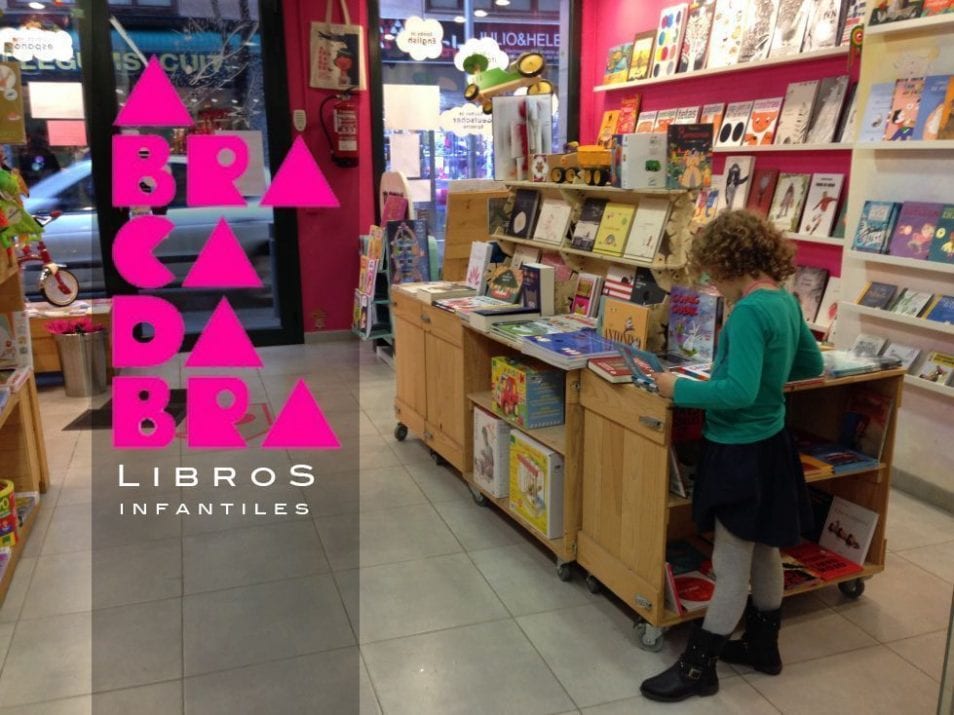 CAIXA D'EINES  BOOKSTORE
It is one of our favorite bookstore for children in Barcelona. You will find a Caixa d'Eines on Calle Aragón (at Passeig Sant Joan's height). Here, they combine adult literature with a wide range of literature for children and books exposed to the visual height of children. In addition, they also have educational toys and, at the end of the store (children's zone), they hold weekly workshops for children, storytelling, play games and make crafts for children. To learn more you can read our post here.
Location: Calle Aragón, 367 (Eixample Zone).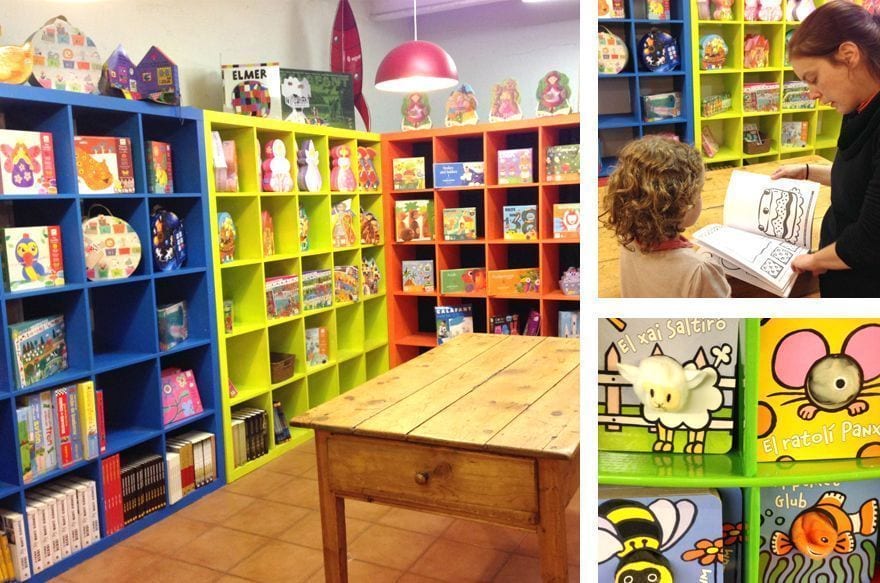 DOCUMENTA BOOKSTORE
In 1975, Documenta opened its doors with the main aim to be a different bookstore specialized in literature, art and human sciences. Back then, their standard were based; books should be in Catalan, Spanish, English and French and the quality had to at the top. Forty years later, the project goes on and the criteria remain. After all this time, they still have the same excitement and the same thought: there is still a long way to go in defense of good books of art, history, anthropology, philosophy. They have a zone dedicated to literature for kids, at the same time they organize some weekend activities for families in their "DocuNens" space. Check your website and networks to stay up to date.
Más información: Librería Documenta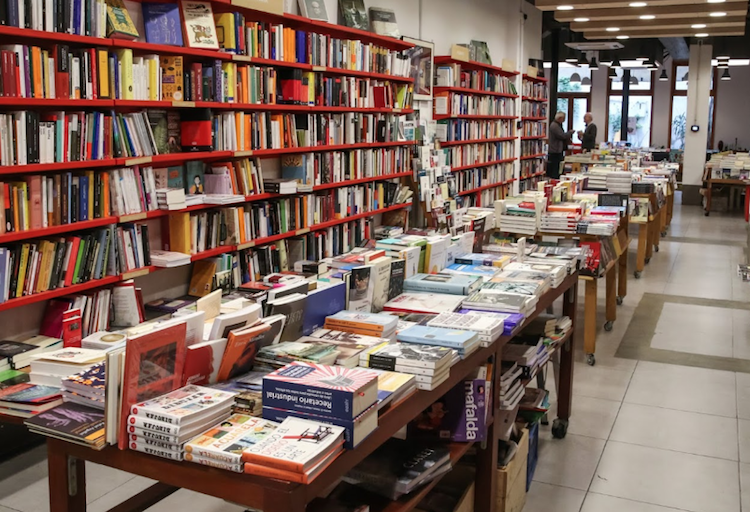 PEBRE NEGRE BOOKSHOP
Located in the Clot number 41, Pebre Negre is a bookstore specialized in books for children and youth, as well as in the gastronomic world and sustainability. As book enthusiasts, going to Pebre Negre ensures that children will be able to choose from a wide range of books that are specially designed to make them enjoy while reading. This will ensure that they love reading as much as they do!
In addition, they also have a separate space where they present books, organize debates and different activities for the whole family, including a comic book club. A place that you and your little ones will love!
More info: Librería Pebre Negre
AL·LOTS BOOKSHOP
With the motto "the bookcases of your life", Paula Jarrin and Helder Ferrés have made of their passion their work with the Al·lots bookstore. Opened since 2012, this cozy bookstore wants to show to children the power of reading. In it, you can find books mainly for children and youth, where all, adults and children, can find new readings to learn, grow and feel at home.
More information: Librería Al.lots
TRABOOKAIRE BOOKSHOP
In the neighbourhood of La Sagrera, we find the independent library of Trabookaire. In this large bookstore opened since December 2019, you will find a wide variety of books for all, for adults and children, from the most recent releases, to the best well-known books that every reader should have in its library. Any book you want, you will find it in Trabookaire for sure!
Location: Clara Zetkin Street corner with Berenguer de Palou.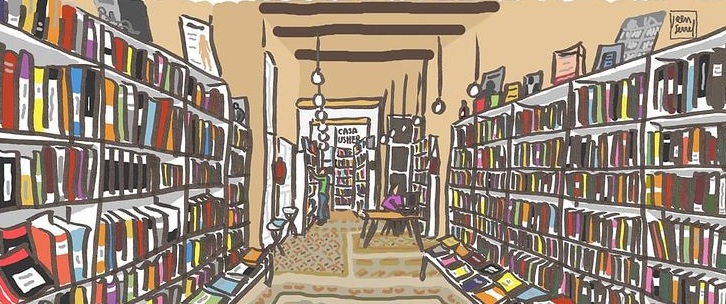 CASA USHER
Casa Usher is located in the neighborhood of Sant Gervasi, specifically on Calle Santaló 79. Its decoration has maintained the essence of the old business, an old winery, which gives to this bookstore a lot of charm and personality. Among its books, you will find a wide variety of genres; children and youth, cooking, comics, illustrated books or poetry, among others.
Casa Usher is more than a bookstore; it is also a stationery shop at the same times it holds a wide variety of cultural activities where you can live endless experiences and live the literary world to the fullest.
More information:: Librería Casa Usher
A PEU DE PÀGINA
A Peu de Pàgina is a cozy bookstore in the neighborhood of Sarrià, concretly Major de Sarrià Street number 50. Although they have books of all kinds, in it, you will find a zone especially dedicated for kids where there are books specially chosen for them, at the same time it includes a game zone where children can read and have fun.
In addition, A Peu de Pàgina also holds painting exhibitions, children's story-telling events, books' presentations and reading clubs, all with the main aim of recover the human and personal dimension of book's world essence.
More information: Librería A Peu de Pàgina