The proposal of today is a simple but surefire one for children. And also free. We discovered it by accident last summer.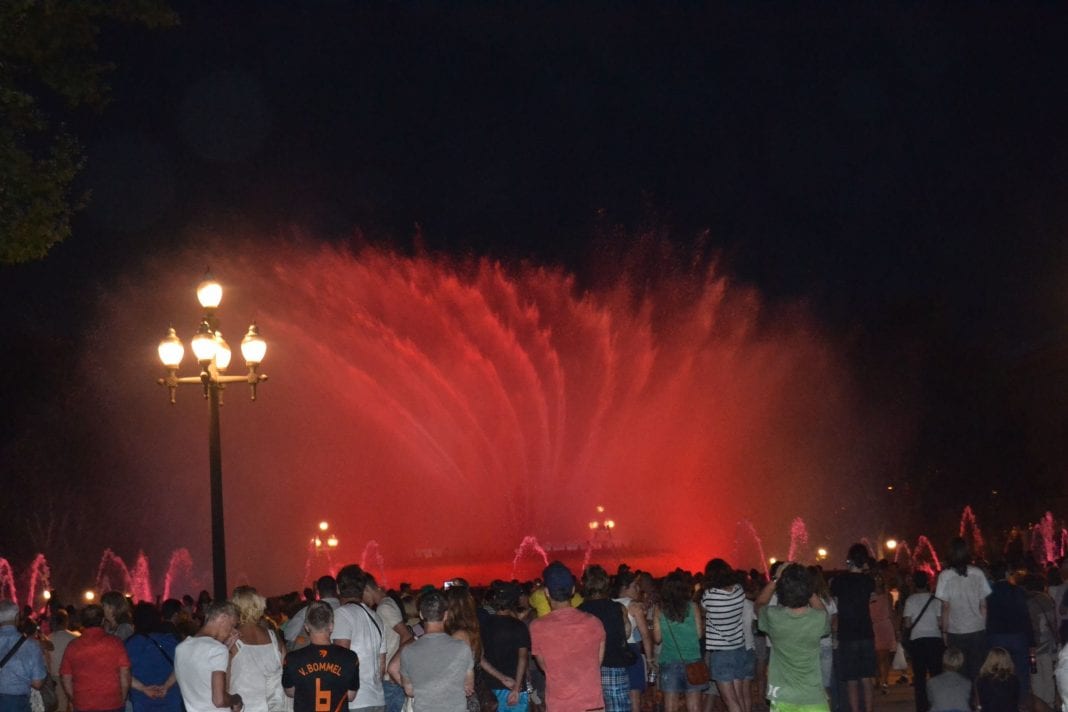 Last summer they came to visit us some friends who live in Ronda (Málaga), and together we made a tour through Barcelona. With the desire to show them the whole city, when we got to Montjuïc fountains it was late and the kids were really tired. In a nearby bar we bought some sandwiches and juices to takeaway, and the kids had dinner watching the show of water, lights and music of the fountains. It was a success!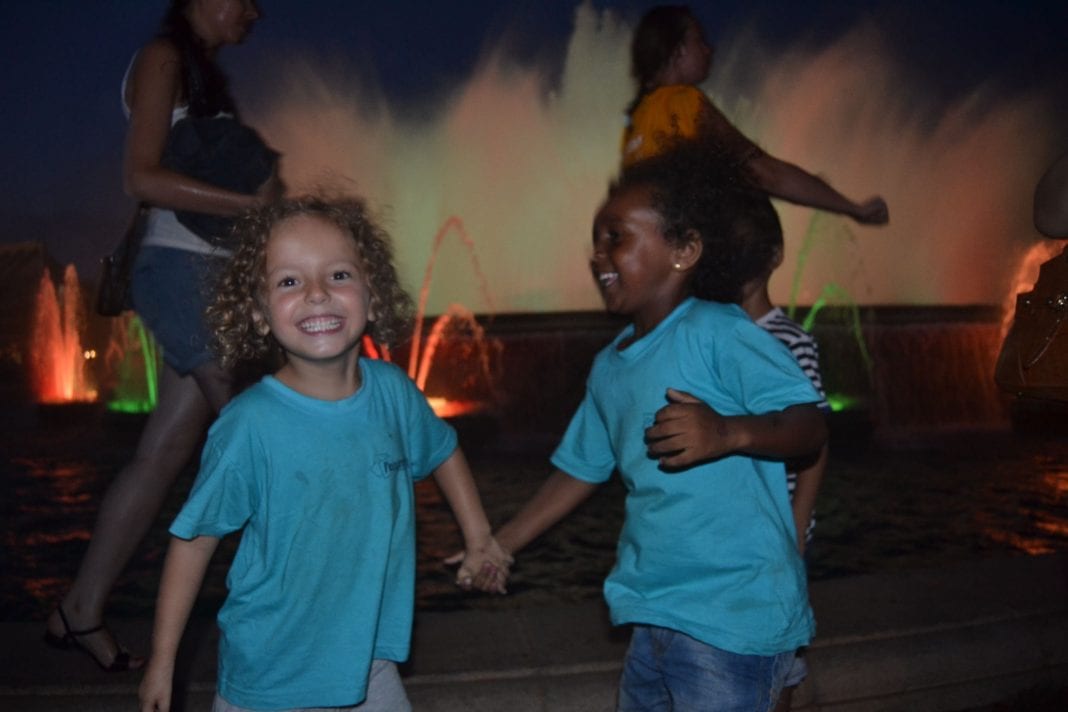 This year we decided to repeat the experience but in a little better way.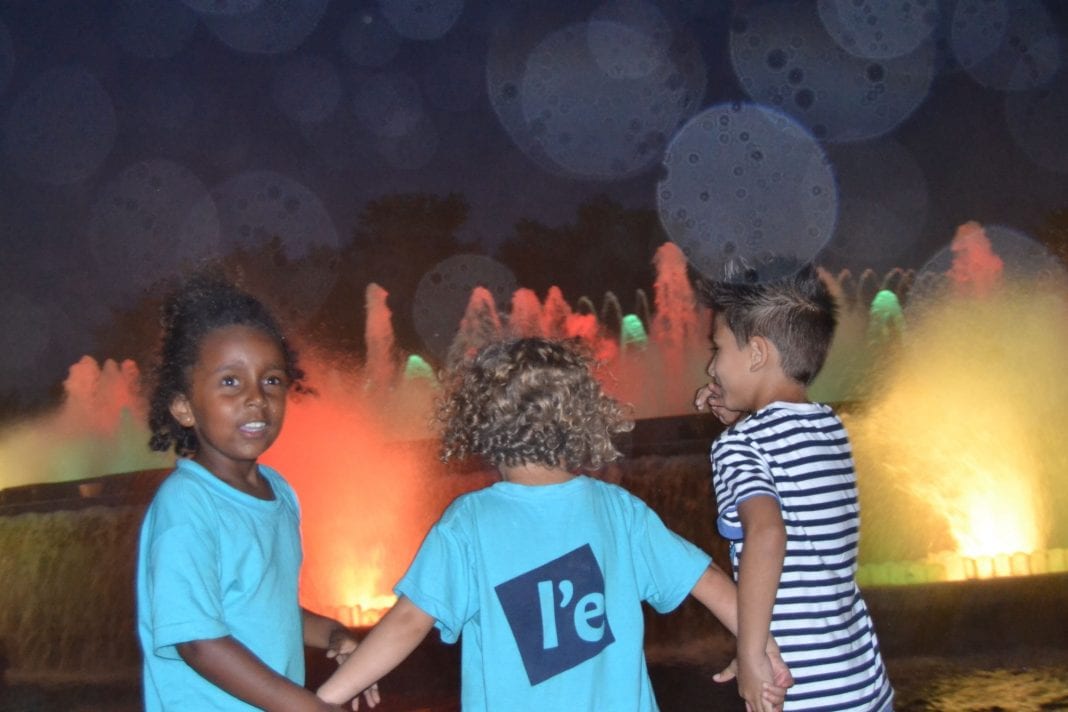 We met with more friends with kids, all with luxury picnic brought from home. Instead of arriving at the time that the show starts, we were there before, so as to be able talk while the kids played with skates. There is plenty of space, but the buses are coming and the tourists will take their seat early.
See how are the stairs and the bars around the fountains. Filled to the brim!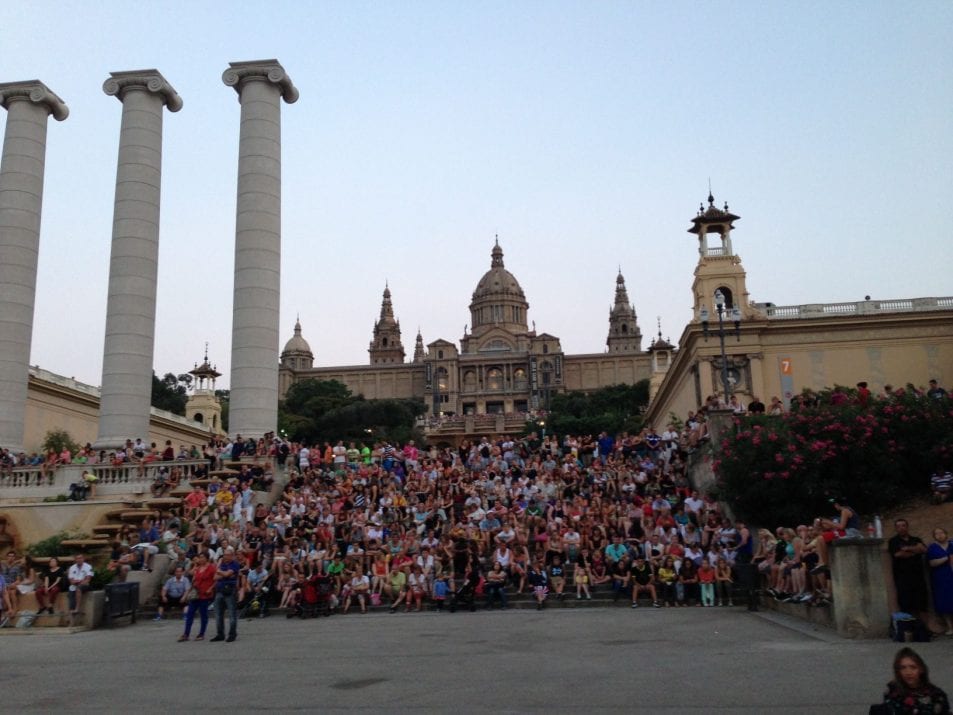 A good idea is to combine the show of the Fountains of Montjuic with the visit to a museum (You can visit MNAC or CaixaForum, both options are a 5 minute walk and super recommended).
The Pavillion Mies Van der Rohe is at 2 minutes from the fountains and you can also visit it. Another interesting option is to make time visiting the nearby Mall Las Arenas.
Or spend the afternoon at Poble Espanyol and go to the Magic Fountains when you are leaving, they are very close.
We prefered go directly in the fountains and prepare the picnic in a fairly quiet area, on the lawn, where we could watch the show while younger children were running around under surveillance, but without any danger of being lost among the crowd.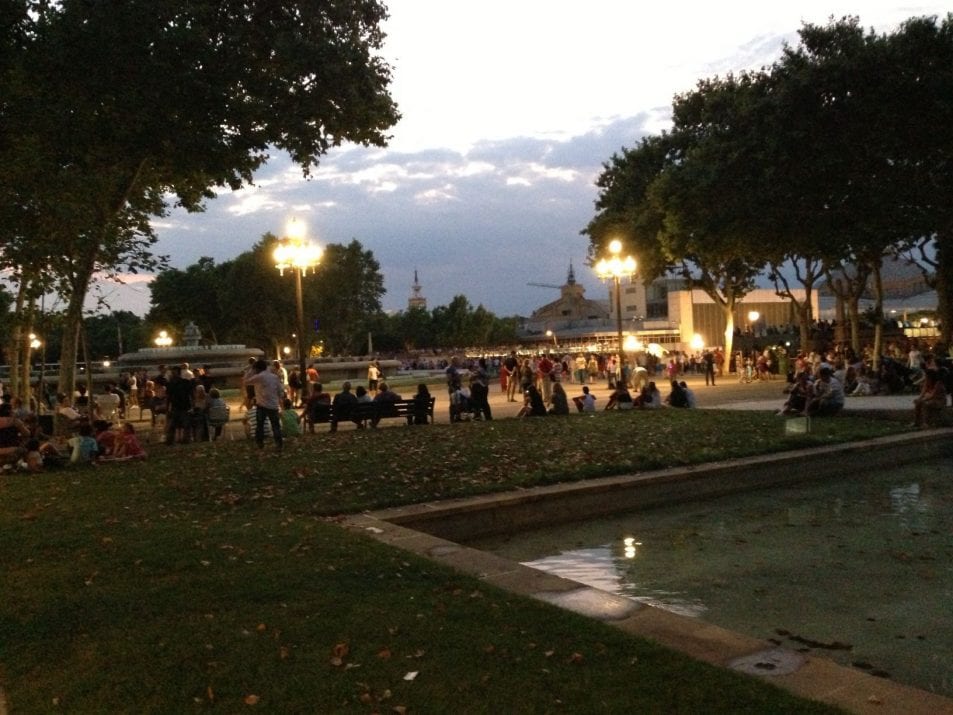 You can see that it is becoming night.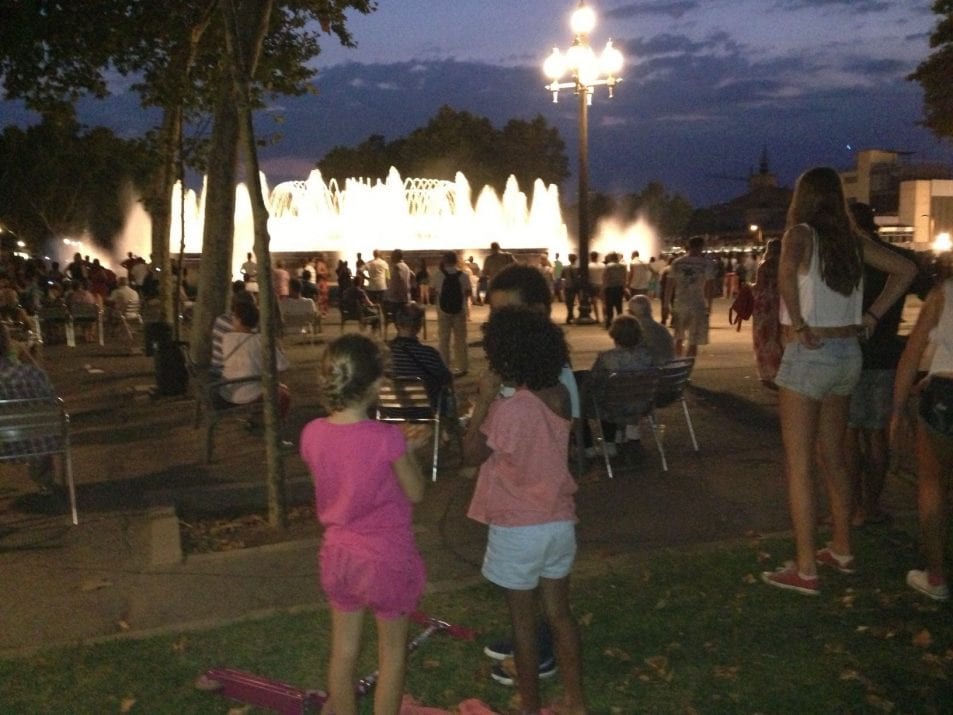 The Magic Fountain of Montjuïc offers musical choreographies of water and sound. The music is for all publics: Disney songs, movie soundtracks, remixes from last year, nineties music, classical music … etc.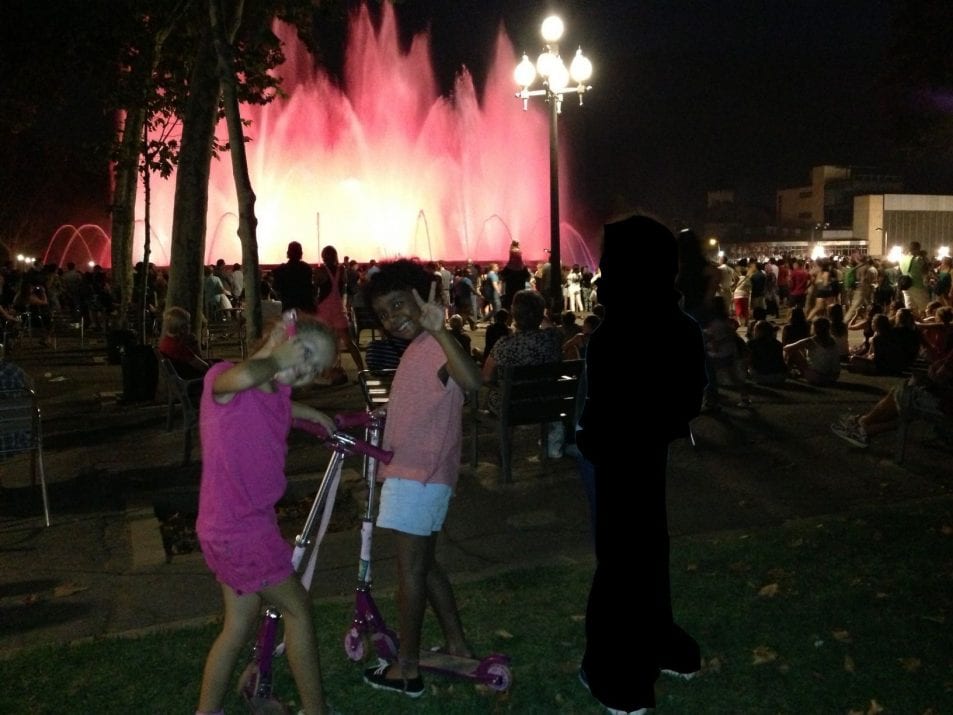 The people visiting the fountains is also equally varied: you can see people of all ages and conditions. Mostly foreigners and tourists, but also many people, like us,  who come to enjoy the show once a year.
At the end of this post I leave you the schedules for the year 2013.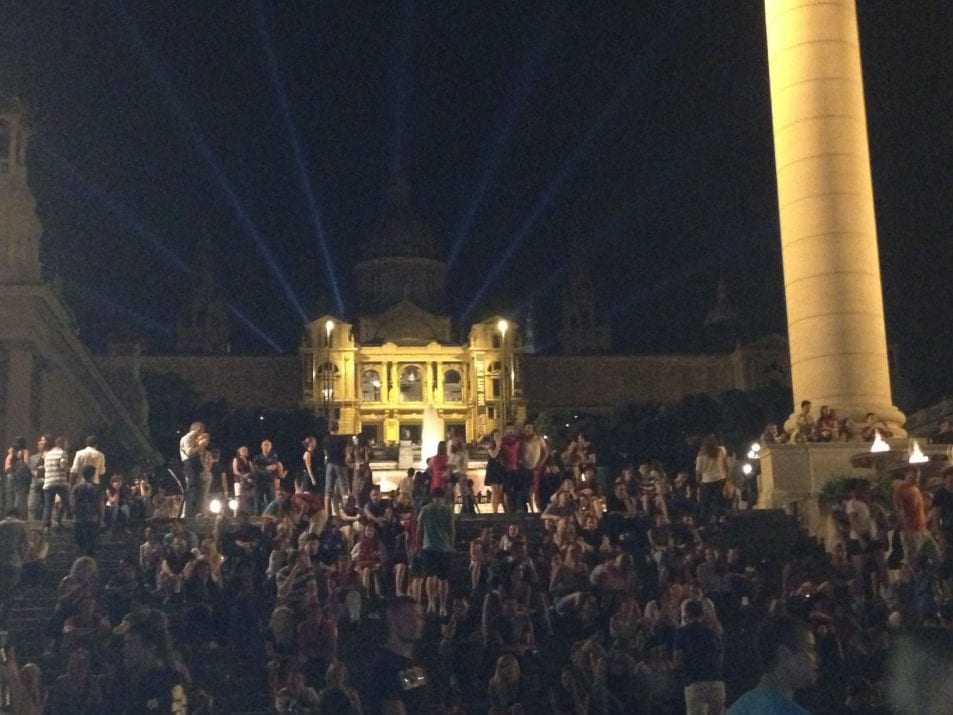 And one video of the fountains 2013 that I found in the Youtube channel of Heinz Engels
http://www.youtube.com/watch?v=ik6IcxLSdrU
MAGIG FOUNTAINS – FOUNTAINS OF MONTJUÏC
Pl. Carles Buïgas, 1, 28080 Barcelona
How to arrive: metro (Plaça Espanya)
Schedule: From May, 1st to September, 30th: from Tuesday to Sunday from 21h to 23:30h. Shows with music and colour: 21:00h / 21:30h / 22:00h/ 22:30h / 23:00h
From October, 1st to January, 6th 2014: Fridays and Saturdays from 19:00h to 21:00h. Shows with music and colour: 19:00h / 19:30h / 20:00h / 20:30h