Located in the heart of St Gervasi, Peak A Boo is an outstanding international nursery and daycare. Open to children ages 1-4 years, Peak A Boo offers small groups with bilingual culture.  The layout of the centre has been designed to offer a unique and innovative educational program to the children.
NURSERY INTERNACIONAL EN SARRIÁ- SANT GERVASI
Peak A Boo focuses primarily on the child's emotional intelligence and uses their themed spaces, music, dance, arts and crafts to help activate, stimulate and develop specific growth characteristics.  Their values are based on teaching with care, understanding and love.
BILINGUAL AND INTERNATIONAL TEACHERS
A unique aspect is their bilingual and international teachers. Currently they have a teacher who speaks in English, another in Spanish, and another in French. Over time, the children learn in what language they can interact with each teacher. Also important to Peak A Boo is being able to provide personalized attention to each child. Within their small groups, the ratios are 1:5 and 1:6.
A DAY IN THE LIFE
As the nursery is open from 9:00 until 16:00, the children are kept busy with various activities throughout the day. For example, each day includes 3 different themed classes; fine motor skills, costumes/symbolic games and songs/storytelling.
Each day the children have a morning snack, lunch (an organic catering option by Nabibi Vital Cooking is provided at an extra cost) and afternoon snack. Of course with so much activity comes the need for rest, hence afternoon nap time for 2 hours.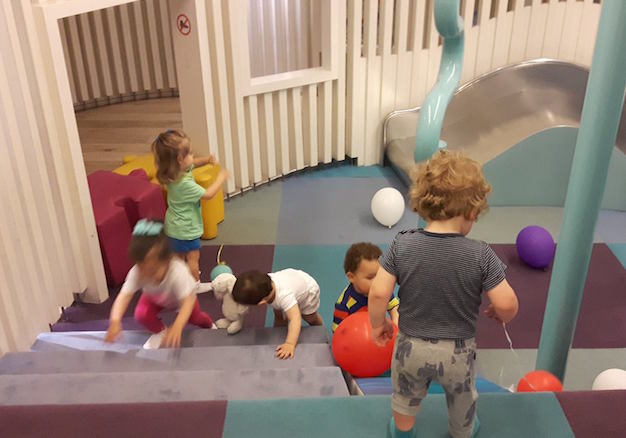 At the back of the nursery there is a small patio that allows for the children to enjoy the fresh air and outdoor play. On warm days, the teachers carefully accompany the children to a nearby park for more outdoor recreation.
For families who work or have different schedules, the nursery offers flexible timings for both drop off (9:00-9:30) and pick up (15:20-16:00).
PEEK A BOO PLAY AREAS
Suitable for children from 0 to 6 years old, Peek a Boo offers several "themed" areas with different games and toys.
Peek and Build: An area with legos to build thousands of shapes and figures. They also have several wooden toys for the little ones.
Peek and Read: The area of ​​books and painting. This area also opens onto a small terrace to enjoy the outdoors and play with the big car!
Peek and Cook: For the mini chefs, an area with everything you need to play house or run your own restaurant.
Peek and Move:  The largest and most attractive area with its padded floor, the giant slide (you can slide down with them), "climbing" area, Tetris cushions, and much more to have a great time!
VISIT THE NURSERY FOR A TOUR OR AFTERNOON PLAY
We recommend this nursery to any family looking for a bilingual and international experience. The staff and nursery are well equipped for all ages and are all very kind. If you are interested in visiting the nursery you can contact them at 934 613 045.
Peak A Boo is also open to the public from 16:30-19:00 for free play time. (6 euros per child) *They also offer a wonderful café area for adults and children to enjoy a coffee or snack.
MORE INFO PEEK- A- BOO
Web: Peek-a-Boo Barcelona
Email: Peakabooplay@gmail.com
Phone: 934 613 045
Address:  Calle Santaló 126, puedes llegar con el bus V13 (tiene la parada en la puerta: Santaló-Plató) o con el ferrocarril (parada: Muntaner; líneas de tren ES, S1, S2, S5, S6 y de metro L6 y S7).