A few months ago has opened its doors Plom Gallery, the first contemporary art gallery for kids in Barcelona
This small gallery designed by Marta Zimmermann has as main idea that art is a source of development for children and therefore after the birth of her son, Marta bet for this innovative way to bring art to the youngest.
As well described in its small walls "Plom Gallery defends the power of art as a tool for learning and human development for the children, which encourages creativity, imagination, effort and self-esteem".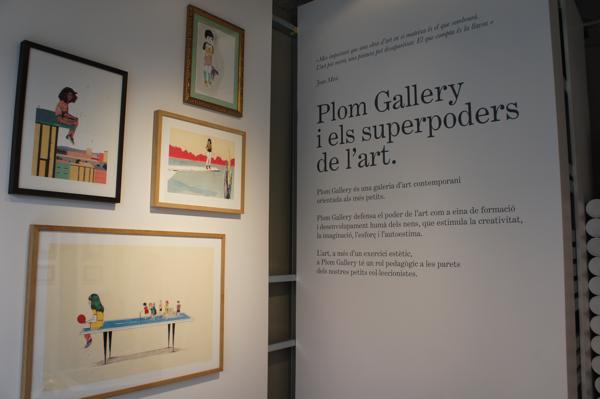 A few months ago I went with Inés to  visit this gallery. I had heard a lot about it and I was curious. I confess I understand very little of art, much to my dismay, so I went to see what it could offer to my children.
Just entering the color of the paintings that are hung on the walls attracts you. There are not paintings made for children but works made for everyone but they have selected those ones knowing that they could catch childrens´ attention.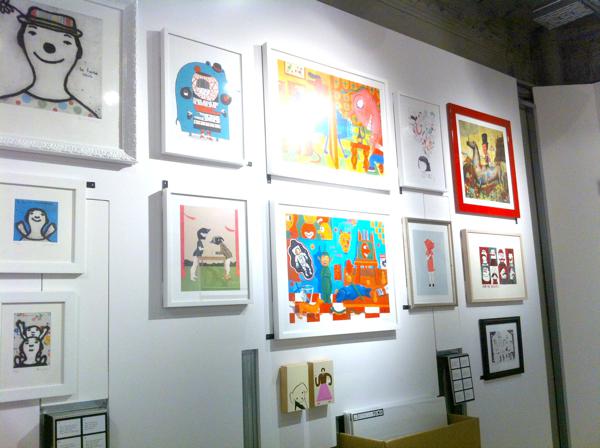 Marta was explaining to us that the idea is that a little kid learns to value art by having his own paintings. For parents and family it is another idea for a possible gift. Children have everything and sometimes we struggle to find the right gift. With this idea and with just accompanying our child to the gallery, leaving him observe and choose his painting we are giving something more. Besides, obviously, the gallery has a "kids room" where Inés was glancing some art books, for kids, and playing.
Currently there is the exhibition "Plom Gallery and the superpowers of Art" with works by artists such as Miju Lee, Sergio Mora, Amaia Arrazola, Mr. Ed and Ibie and many more. All the artists expose their creations related with characters with superpowers. We loved this one.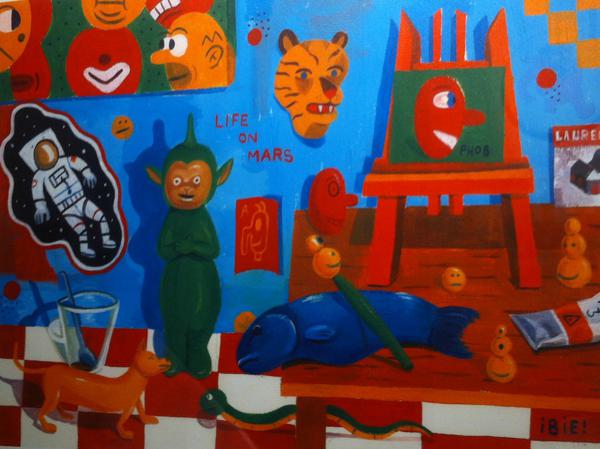 I suppose you are wondering what it costs to buy art for children, right?. In Plom Gallery you can buy original works ranging from 125 -. € to 2,000-. € big painting) but there are also limited series, that depending on size, can cost from 100 -. € to 250 -. €. All works are signed by the artist, are numbered and we can only find them here because they have the exclusivity, but in addition to these it is given to the child a certificate of authenticity.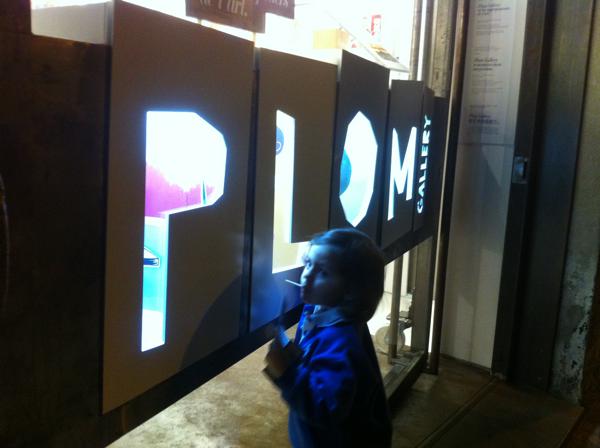 It worths going to see the gallery and let your kids play around with the art. Also soon they are going to organize exhibitions, workshops and courses for children and for the adults who accompany them so as to be also able to enjoy art.
Plom Gallery
Address:
Web: www.plomgallery.com
Opening Time: M-F: from 10h to 14h and from 16h30 to 20h30 and S: from 11h to 14h and from 17h to 20h30
Parking: They offer 1 hour of free parking in Parking Windsor (Via Augusta 2 bis) for purchases of  20€ or more.