Today I want to tell you about a very successful author among children: Roald Dahl. His books are some of the best children's books. He has made his mark on several generations. In fact, the very author of Harry Potter, J.K. Rowling, is a fan of this author, who is considered one of the best authors of children's literature of the 20th century.
ROALD DAHL'S BEST BOOKS, FROM BOOKS TO SCREENS
Today I will tell you about children's novels (and a book in verse) of which film adaptations have been made. There are numerous books by Roald Dahl that have later become successful movies, some that we already recommend in the best movies to watch with children. The perfect for children is to read the book first and then the movie, in that way they can compare and see that, for example, James y el melocotón gigante do not suffer the same fate in the novel and in the movie.
The children's books that I will mention can be read and understood from about 9-10 years old. And the films are aimed at a family audience.
JAMES AND THE GIANT PEACH
From 1961, James and the Gian Peach which tells the story of an orphan boy who lives with two very cruel aunts who make life impossible for him. By the way, it is not unusual for orphans and lonely children to appear in Roald Dahl's novels. Critical gaze towards the world of adults is also very frequent. Obviously, the fact that Roald Dahl himself was left without a father at the age of four and shortly after without a mother, had to mark him for life. 
One day, an old man offers James a bag containing some magic balls, which when they fall into the peach tree in the garden, make a peach grow excessively. James will enter the peach and meet some very cute little bugs. Together they will embark on a trip to New York stuck in the peach. Thanks to these insects, James will know what friendship and family are.
The film version of this novel is from 1996 and was directed by Henry Selick and produced by Tim Burton. Selick had previously directed Pesadilla antes de Navidad and the technique he uses here is the same: the stop-motion technique, although in James and the Giant Peach he combines this with scenes in which real actors appear (in the first 20 minutes we see actors).
You can buy the book here: James and the Giant Peach
CHARLIE Y LA FÁBRICA DE CHOCOLATE
Charlie y la fábrica de chocolate was published in 1964, the story of which you are likely to know from the film directed by Tim Burton.
It is explained to us that Willy Wonka, owner of the Wonka chocolate factory, decides to hide five golden bills in chocolate bars. Whoever finds these notes will be able to access the factory, which has been closed for years. A very poor and kind-hearted boy named Charlie will be one of the lucky ones and his life will be radically changed.
There are two film versions of this novel. The first, titled Un mundo de fantasía (the original title is Willy Wonka and the Chocolate Factory), is from 1971 and was directed by Mel Stuart and starring Gene Wilder (the actor from Young Frankenstein). It was Roald Dahl himself who wrote the script.
The second, Charlie y la fábrica de chocolate, is from 2005. Directed by Tim Burton and starring Johnny Deep. We love this movie (maybe it is because we are very fans of Tim Burton). She is colorful, funny, and the five children follow what he says about them in the book.
You can buy the book here: Charlie y la fábrica de chocolate
EL SUPERZORRO
In 1970 Roald Dahl published a novel starring a cunning and educated fox who lives happily and peacefully with his wife and son until he decides to rob the farms of three evil farmers, who will try to kill him.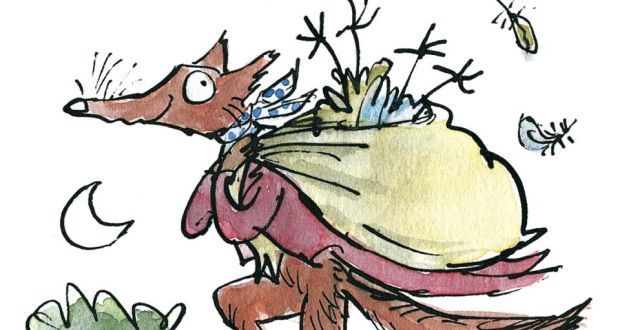 The film version is titled Fantastic Mr. Fox (2009), directed by Wes Anderson. It is an animated film that uses the stop-motion technique (like James and the Giant Peach) and it received very good reviews. We were pleasantly surprised, it seemed very original and with very funny dialogues. And our favorite character, the opossum!
You can buy the book here: El Superzorro
DANNY EL CAMPEÓN DEL MUNDO
This novel, from 1975, talks about the close relationship between Danny and his father, who has been taking care of him since his mother died. Danny is very proud of his father and thinks he is the best father in the world. One night he will discover something about the father with which he does not totally agree, but will still be by his side helping him.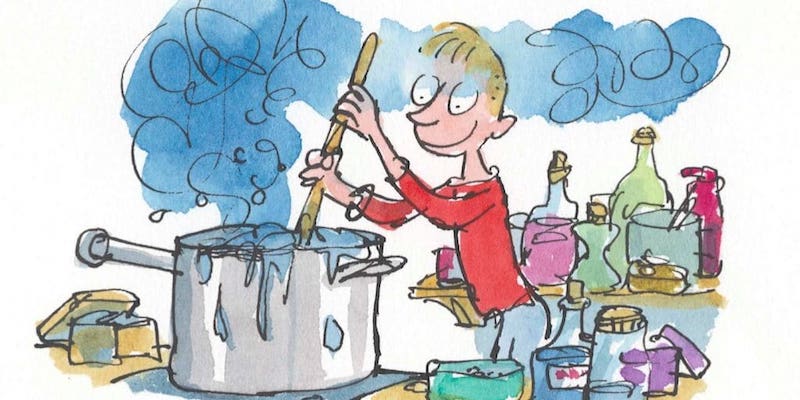 The movie based on this book is from 1989 and is played by Jeremy Irons, among others. From what I've read, it's not a great movie and it's a shame because I did read the book many years ago and it seemed like a very moving story with many possibilities.
You can buy the book here: Danny the world champion
EL GRAN GIGANTE BONACHÓN
El Great gigante bonachón, from 1982, is again a very tender story that tells of the beautiful friendship between Sofía and a giant. Sofia is a girl who lives in a London orphanage where girls are subjected to cruel treatment by the director. One night he sees a giant through the window. He, seeing himself surprised, kidnaps her and takes her to his distant country, but not with the intention of eating her, but to protect her since the El Gran gigante bonachón is affectionate, good and eager to share beautiful dreams.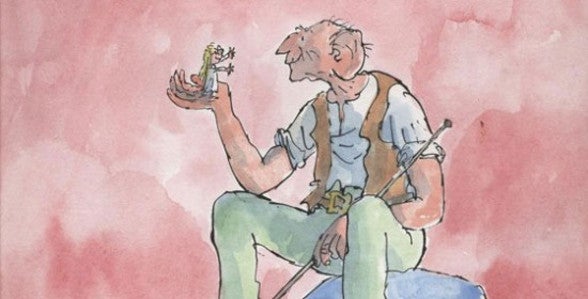 The film adaptation is from 2016 and is directed by none other than Steven Spielberg and the screenwriter is Melissa Mathison, who was also the screenwriter for E.T. The alien. As a curiosity I will tell you that the same year that Roald Dahl published El Gran gigante bonachón, ET was released, will the choice of the screenwriter be a coincidence?
You can buy it here: The Great Good-natured Giant
BOOKS IN VERSE FOR PERVERSE CHILDREN
In 1982 Roald Dahl published Cuentos en verso para niños perversos (its original title is Revolting Rhymes), a book in verse that is a humorous review of six classic stories. Now we will see a Little Red Riding Hood who collects fur coats or a Snow White who hitchhikes to return to the capital and work as a housekeeper at the home of seven little men.
The film version, from 2018, is titled La Rebellión de los Cuentos and comes from the producers of Grúfalo. The adaptation respects Roald Dahl's transgressive spirit and humor.
LAS BRUJAS
From 1983 is the novel Las Brujas, starring witches who, as is well known, do not go with brooms or dress strangely, no. Real witches dress like any woman and that is why they are so difficult to spot. Well, these normal-looking witches will decide at their annual convention to get rid of all the children and turn them into mice with their Delayed Action Mouser.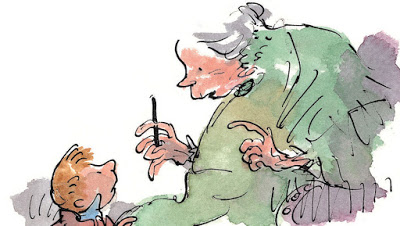 In 1990 The Curse of the Witches, a film based on the book and with Anjelica Huston as one of the protagonists, was released. The characterization of the witches and some other sinister detail means that it may not fully fit with the little ones.
You can buy it here: Las Brujas
MATILDA
From 1988 is this novel, starring a very special girl who before the age of five has already read many books and who also has telekinetic powers. Her parents, far from encouraging her, consider her a weirdo and leave her for hours and hours alone in front of the television. She takes advantage of those lonely hours to sneak out to the public library and read, so when she gets to school, Matilda knows so much that she leaves her teacher, Miss Hooney, stunned. As you can see, the lonely girl appears again. She is not an orphan like James or Sofía, but she is a misunderstood girl who is alone. In this case, she has the support of Miss Hooney, but a woman also appears, Director Trunchbull, who will make life impossible for her.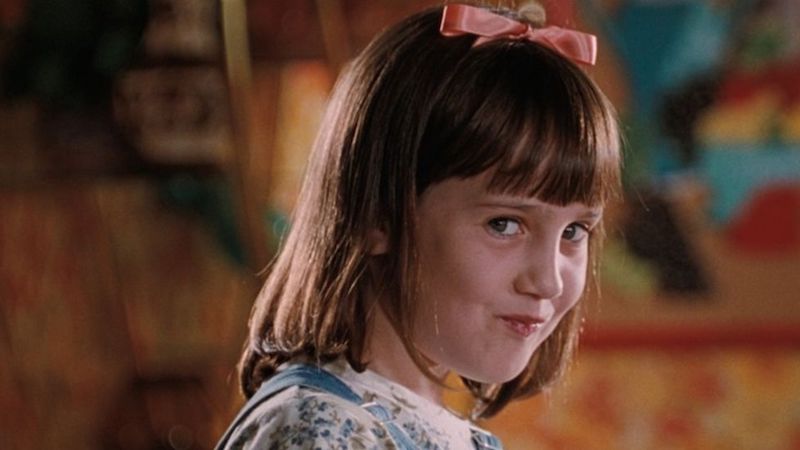 The film adaptation is from 1996 and was directed by Danny DeVito, who also stars in it. It is a very funny movie. We love it!
You can buy it here: Matilda
AND AS A CURIOSITY …
Did you know that Roald Dahl wrote in a story called The Gremlings? It is about mysterious creatures responsible for the damage of the Royal Air Force (RAF) planes. Roald Dahl had an accident in 1940 while flying one of those planes and was unable to fight in the war. He was sent to Washington and there he began to write stories about the war, including that of The Gremlings. Today it is almost impossible to get this account and as for the 1984 film that has the same title, it has nothing to do with the history of Roald Dahl.
Of all these novels, which one is your favorite?