This week is one of the most beautiful days in Barcelona, Sant Jordi. This day, roses, flowers and books are the protagonists. Despite this year's circumstances, more than ever we encourage you all to give a rose as a gift and buy them at your neighborhood florists. This way, we will make this day a little more joyful and festive, at the same time we show our affection your loved ones.
THE BEST FLORISTS IN BARCELONA
Therefore, taking advantage of San Jordi, here we recommend you our selection of the best florists in Barcelona that you must know to buy flowers:
ALBLANC ATELIER
Strolling through Poblenou, in Badajoz 90 street, we can visit Alblanc Atelier. It is a small shop that wants to approach the nature to our daily life, its beauty and elegance makes of it more than a florist. Indeed, it is considered a floral design studio.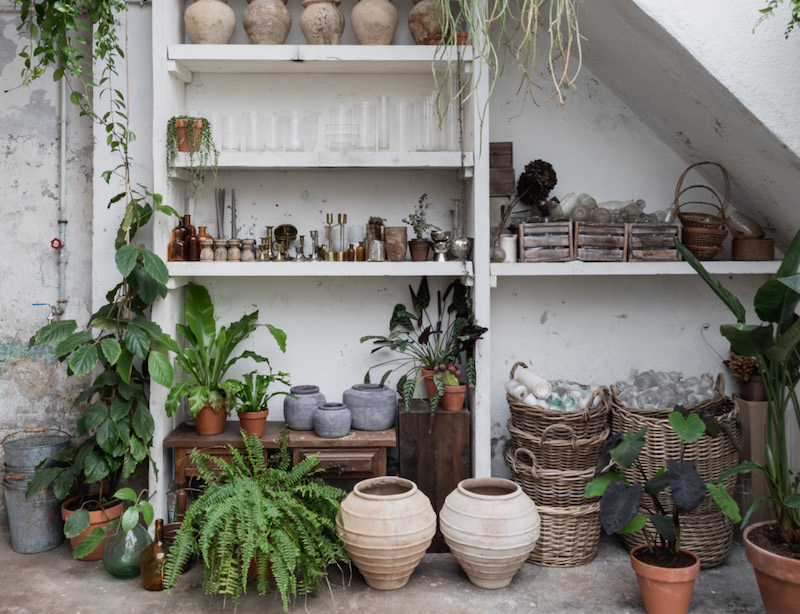 If you have the opportunity to go, you will see that it is a place where nature and space are in perfect harmony, transmitting a feeling of incredible peace and well-being. In fact, apart from selling flowers and plants online, Alblanc also makes different workshops that attempt to make people get closer to nature. At the same time, they also work distributing furniture from the Danish minimalist brand Frama, whose philosophy matches Alblanc love for nature and minimalism.
They open to the public on special dates, such as Christmas and Sant Jordi, so don't miss the opportunity and visit it this Friday!
More information: Floristería Alblanc
AU NOM DE LA ROSE
In Valencia street number 203, we find the French florist Au nom de la Rose. With more than 85 stores around the world and based in Paris, this French group has more than 17 years of experience in the world of flowers. Concretely, they are specialized in one of the world best-selling flowers: the rose.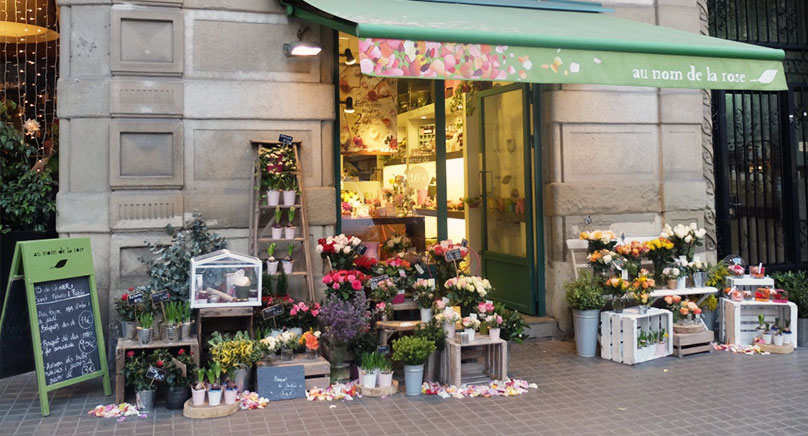 In Au nom de la Rose you will find your perfect rose; you can buy from the classic red rose, to the most original ones with golden petals. In addition, they also do floral workshops, where you can learn how to make a flower crown, perfect as present or just to have a good time doing it with friends! The rose matching your expectations is, for sure, here!
More information: Floristería Au Nom de la Rose
OLIMPIA FLORISTRY
Founded in 1939, the Olimpia Florist is one of those lifelong florists that are known for their quality and passion for flowers.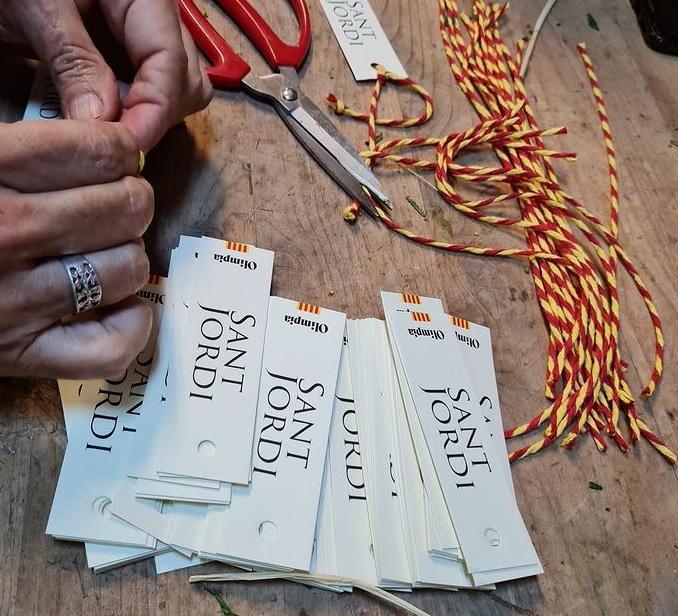 Located in Ronda Santa Pau 17-19, this florist offers many services related to both flowers and plants; from bouquets, flower crowns and artificial plants, to centerpieces and floral accessories to decorate any space. If you are in the area, do not miss the opportunity to visit them, you will love it as much as we do.
More information: Floristería Olimpia
THE BOJ  
The Boj is a small family florist located on Bigai Street number 5. Created in 2011, this florist collects the best local flowers, specifically from the Maresme zone, and combines them with flowers coming from The Netherlands. One of the unique things about this florist is that, in addition to bouquets, baskets and candles, we can also find what is known as preserved flowers, dehydrated flowers that maintain their appearance waterless. Quite a hit for any gift!
Besides, if you live in the metropolitan area of Barcelona, they send your flowers home, but we really encourage you to go and take a look to their flowers personally!
More information: Floristería The Boj
TIËSTO
On Balmes Street number 435 is TIËSTO, the florist that wants you to find any flower you are looking for. With a simple and rustic design, it combines cement walls with a wooden decor that will really catch your eye from the street, as it highlights the colourful flowers there are in it. In this place, everything is carefully thought to give importance to the flowers.
In Tiësto you will find everything, from bouquets of flowers and plants, to special and personalized compositions to make your events and gifts something unique and special. All the variety of plants and flowers you can imagine, you will find it here!
More information: Floristería Tiësto
MAREA VERDE
In Ronda Sant Pere number 40, we find a very special florist, Marea Verde. From the street you will be impressed by its facade, which has maintained elements of the old business, an old pharmacy, which left a whole mosaic where you read "Pharmacy Laboratory". Indeed, they identify themselves as a botanical laboratory, a place where you can find all variety of plants, flowers and botanical accessories.
They are specialized in terrariums and kokedamas, a typical Japanese technique where the plant is unpotted, but you can also find all kinds of wonderful plants that will be perfect for decorating and give as a present to your loved ones.
Visiting them is an experience that we recommend to everyone!
More informationn: Floristería Marea Verde