A couple of weeks ago opened in Eixample district of Barcelona Travel and Cake, a café restaurant of the group Cup & Cake Barcelona. We will talk about our experience and, of course, we recommend it, because it is perfect for breakfast, lunch or an evening snack with children.
TRAVEL AND CAKE RESTAURANT IN BARCELONA
The owner of this place was traveling through North America for 40 days in order to choose the best handmade products and bring them to Travel and Cake.
We´ve been there for lunch so we chose a salad, Benedict eggs and a salmon bagel. Needless to say that the presentation is very neat though the eggs were desmounted before we could take the photo :)!
And for dessert … hmm … we ordered a carrot cake and a donut covered with chocolate and strawberries … even though we wanted to order it all. The desserts, donuts and cakes, are their specialty.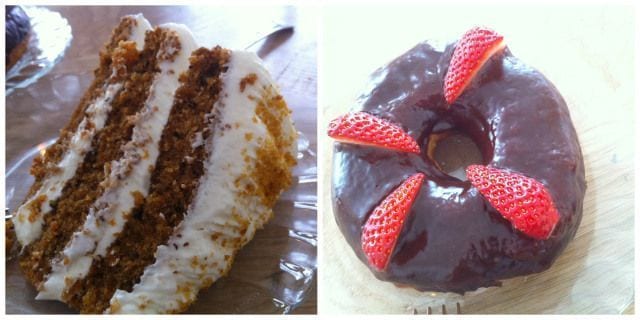 The decoration is very elegant. With the lights, white and pastel colors achives a very relaxed and quiet atmosphere. The place is big and therefore perfectly comfortable to go with kids and strollers, although they dont have high chairs … There are different tables, one high for six persons (very entertaining if you go in a group with several children), normal tables and an area adjacent to the kitchen that, if it is free, it is also ideal for being peaceful.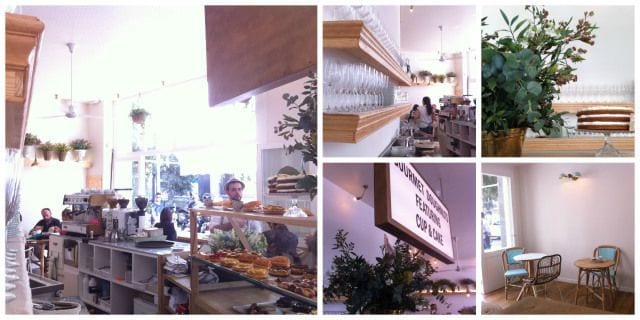 And the staff … lovely, friendly, pleasant … as the owner, that happened to pass by to say hello, told us … "if we fail at something, that it may happen, at least be friendly and kind" … and although we found no fault, they were all lovely with us.
We leave you the data, and we are waiting to explain to us your experience!
Travel and Cake Barcelona
Address: C/ Rosellón 189, corner with Aribau.
Opening time: from 9:30 to 21:30h, continuous kitchen service
Web: cupcakesbarcelona.com