The Motorcycle Museum is one of the most original and less known museums in Barcelona. Located at 2 minutes walk from the Plaça de la Catedral, is an ideal visit for children who are passionate about the motor and the two wheels.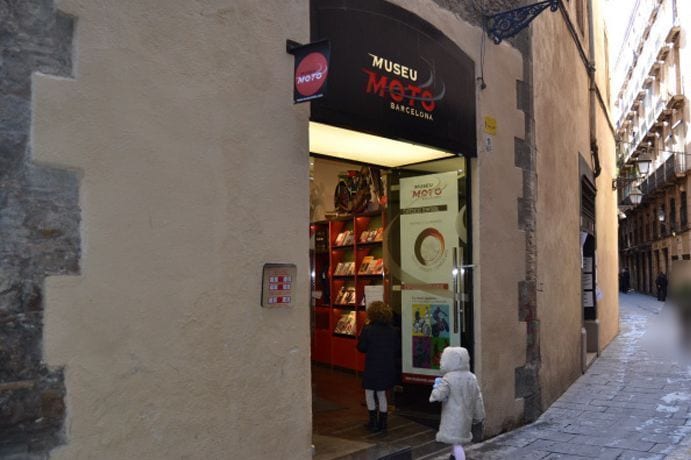 WHAT YOU CAN SEE IN THE MOTORCYCLE MUSEUM
In this museum you will see more than 300 motorcycles of brands as mythical as Montesa, Bultaco, Ossa, Derbi, Squirrel, Gas Gas, Reddis, Moto Guzzi … etc.
CHILDREN AGED UNDER 8 YEARS FREE. ADULTS WITH DISCOUNT.
For children aged under 8 years old, entrance is free. Adult admission is 6 euros, but you can get a discounted admission to the Museum with various cards: Master RACC, Tr3xC Club, Circuit de Catalunya, subscribers of El Punt and el Avui, etc.
EARLY YEARS OF MOTORCYCLING IN CATALONIA
The exhibition begins with some spectacular pioneer motorcycles of our country. Watch this Montesa A45 of 98 cc, manufactured in 1945.
Or this model of Ossa
MOTORCYCLES FOR CHILDREN
The motorcycle that  younger kids will love for sure is this lovely child bike with sidecar, manufactured in 1950 in Barcelona by JYMB.
Or this Montesa, manufactured in 1976 by ​​Pere Pi for his son Ot Pi, who by this time was  6 years old and over the years became 12 times world champion in biketrial.
THE FACTORIES OF MOTORCYCLES OF CATALONIA: MONTESA, DERBI, OSSA, RIEJU, BULTACO.
In Catalonia, from 1905 to 2010, you could count over 150 motorcycle factories, some of which have achieved an international reputation such as Montesa, Derbi, Rieju or Ossa. At the Museum you can see a selection of the most representative models of the history of the Catalan motorcycle.
And some spectacular models where you can see the motorcycle in its unrestored and restored version. What a difference!.
IMPALA, THIS LEGENDARY MOTORCYCLE
Impala was one of the most successful models of Montesa. Manufactured ​​for the first time in 1962 by Leopoldo Mila, is a robust, reliable, and with legendary sports skills motorcycle. There are still many impalas moving through the streets of Barcelona. It is also legendary the annual "impalada" that the members of motoclub impala are celebrating. 🙂
TWO WHEELS SPORT
One of the things that most has impacted us in our visit to the museum is the amount of competitions that you can practice in "two wheels": we have seen football-motorcycles, ice motorcycles, grass motorcycles, cycling after motorcycle, Dirt-track ,
as well as motorcycles for traditional competitions in racing circuits, such as the famous Bultaco "cazarecords" of 1960.
PROTOTYPES AREA
The museum is changing the temporary exhibitions area. On our visit we could see an original exhibition of two wheels prototypes. Stands out, for example, this amazing motorcycle-wheel of Michelin with 2.3 meters of diameter, manufactured to highlight the importance of driving with safe tires. 
URBAN MOTORCYCLES
In the museum you can see original two-seat models which were unsuccessful, such as the Montesa Fura (1958), or the Centaur Scooter (1967).
BARCELONA, THE CITY WITH MORE MOTORCYCLES PER INHABITANT IN EUROPE 
The Motorcycle Museum of Barcelona, ​​is heir of the passion with which the city lives the two wheels motor vehicles. No wonder, Barcelona is the city of Europe with more motorcycles per inhabitant -a total of 290 341, which means 173 motorcycles per thousand inhabitants.
Did you know the Motorcycle Museum in Barcelona? I leave the data in case you want to visit it, it worths!
MOTORCYCLE MUSEUM OF BARCELONA
Carrer Palla, 10, 08002 Barcelona
Tel 933 18 65 84

Ver mapa más grande
Web