Autumn is an ideal time for you to take your backpack and hike the trails. We have spent some time looking for routes that are not of great difficulty and that also have some added incentive that makes my youngest son forget how tired walking can be and become an intrepid explorer.
SOME CHARMING ROUTES NEAR BARCELONA
On other occasions we have already been recommending some of the fun and easy routes to go with children. Among our favorite excursions to do as a family with young children are the following:
EXCURSION TO THE BOSC ENCANTAT DE GURB.
A perfect excursion. When we went to the Bosc Encantat de Gurb, all my son's desire was to look for the wooden figures that were there and there.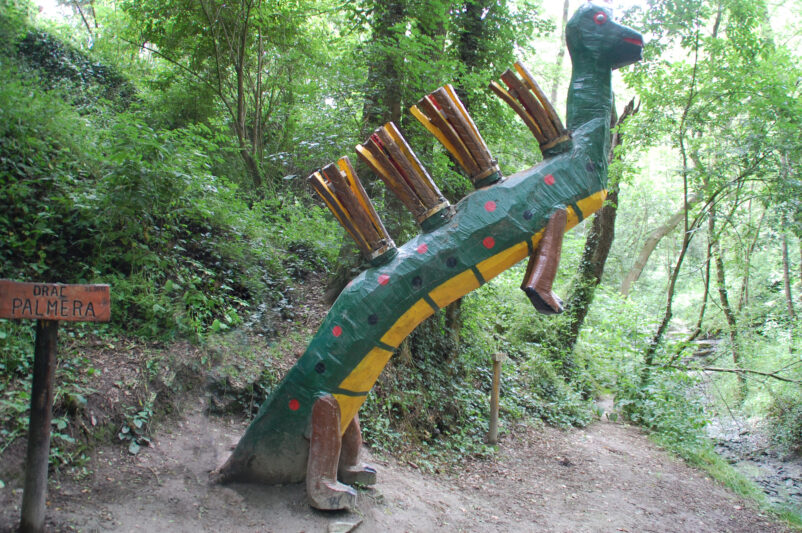 It is a very short tour, which can be done between half an hour and an hour, although logically everything will depend on the time one wants to invest in observing the wood carvings, in reading the phrases that are on posters or in stopping to look for animals hidden in Trees or undergrowth is great fun for children due to the number of figures that are scattered in it, from a Roman temple for birds to fairies, dragons and animals of all kinds.
Here you have all the info: Excursion to the Bosc Encantat de Gurb
EXCURSION TO THE BOSC PINTAT DE POBLET
The same happened in the Bosc Pintat de Poblet, there we enjoyed a lot looking for the painted mushrooms in the trees. The mural paintings of the trees, the work of Genís Colell, are perhaps what most attracts children, eager to discover those painted trees scattered throughout the forest.
We turn this route almost into a detective game, but it can also be given a more pedagogical approach, since next to each wall painting there is a panel that explains the characteristics of the painted mushroom.
In one case as in another, some artists have transformed the natural environment in some way and the result has been, from my point of view, fantastic. If, in addition, this allows people to connect with nature and forget so much asphalt, pollution and so much screen, then all the better.
Here you have all the info: Excursion to the bosc pintat de Poblet
PREHISTORIC ROUTE OF THE VALLÉS
Another forest where man has intervened to, in this case, make sculptures is the Bosc Encantat de Òrrius, which I told you about in an article dedicated to the Valllès Prehistoric Route.
In the Bosc Encantat de Òrrius you will find sculptures of an Indian, a Moai and an elephant and also curiously shaped stones. If you also like esoteric themes, you are in the perfect place because there are those who associate the forest with covens and strange events. In fact, it was talked about it in the Fourth Millennium program and Lorenzo Fernández Bueno seems to be talking about this forest in his book "La España Maldita".
Here you have all the info: Vallés prehistoric route
ROUTES OF LEGENDS AND TALES OF THE COUNCIL OF BARCELONA
Apart from looking for forests with sculptures or paintings (by the way, we also love forests with only vegetation and animals), lately we have been looking for corners associated with legends or stories that allow our children to let their imaginations fly. In this sense, a guide published some time ago by the Diputació de Barcelona under the title "Rutes de llegendes i Rondalles. Xarxa de Parcs Naturals de la Diputació de Barcelona ".
The "Rutes de Llegendes i Rondalles" guide proposes twenty-two itineraries through the twelve spaces that make up the Network of Natural Parks. This guide takes us through territories populated by mermaids, witches, bandits Serrallonga and Capablanca, a sleeping giant and we will even visit a cave inhabited by a dragon, among many other things. We have already visited some of these corners, such as, for example, the hideout of the bandit Nyacapà.
CATALUNYA LEGENDS FESTIVAL
And if you don't have enough with the guide, I encourage you to put the Festival de Llegendes de Catalunya on your agenda, which has been held in Sant Martí de Tous at the beginning of July since 2010. If you don't want to wait until then and you are eager for legends, near the town there is a waterfall, La Fou, very close to the Devil's Cave, but I will explain this to you in another article.
More information: Festival of Legends of Catalonia
ENJOY THE EXCURSIONS WITH THE FAMILY …

AND OF THE LEGENDS!