Today we are going to talk about the restaurant Muy Mío Plaza. We were there a few weekends ago and we loved it.
As the name implies, the restaurant is located in a quiet square in the Sant Gervasi neighborhood, close to Santaló area, where there is also a playground for children to play before and after the meal.
The decoration is very elegant and they have managed with simple materials to give a cozy look.
The menu is varied. We decided to get some tapas so as to try different dishes. We ordered croquettes, fried eggs, tartar, the goat cheese salad with avocado and anchovy … (super recommended), battered chicken with spices, cheese rolls … They really take care of the presentation of the dishes and the quality of the food is warrantied.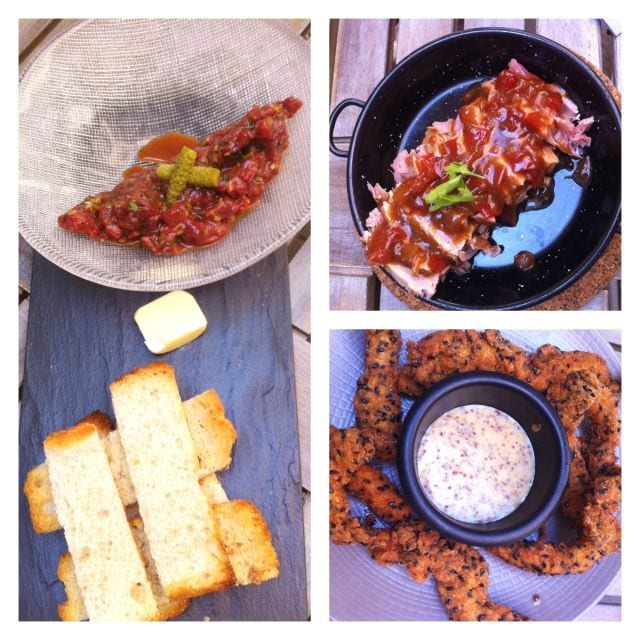 And for dessert we tried one of their fabulous cakes. The selection they have is very tempting…
For the children it is also a good place. The menu has dishes very suitable for them, the terrace is quiet and the waiters are very friendly with them. The fact that it is located in a square is extremely comfortable because they have the freedom to run, ride a bike or skate. And, as I said earlier, there is a playground in the square. Maybe what there is missing is highchairs, because even though the chairs are high and children can reach the the table, for the smallest ones would not be very comfortable.
They also enjoyed the food …
On Saturday and Sunday mornings they offer Brunch so we have to come back to try it! 🙂
Muy Mío Plaza Restaurante
Address: Plaça Cardona nº4, 08006 Barcelona