Rocambolesc is the ice-cream parlour of the Roca brothers, of the famous restaurant Celler de Can Roca. The original opened in Girona last year inspired by the "dessert trolley" restaurant.
ROCAMBOLESC IN GIRONA
The Roca brothers would have liked to sell their desserts in a itinerant way on the way to Girona, but municipal regulations were blocking their project, so they decided to open a shop where you can taste them.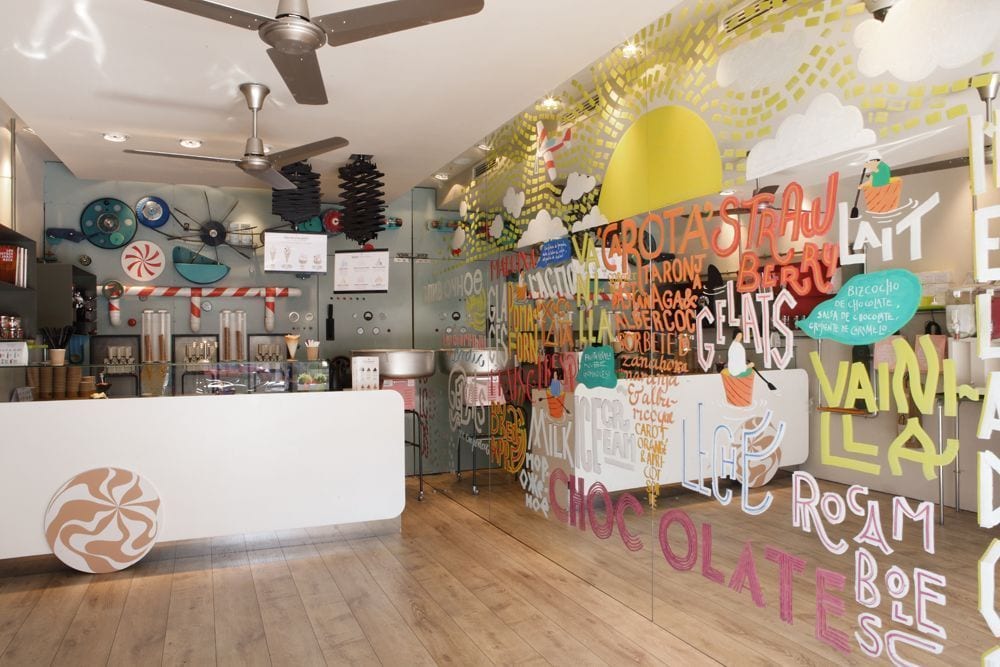 A few months ago, they opened the second in Playa de Aro. The place is tiny but with a lot of charm and there is also a small terrace. The mirror walls are painted with bright colours the menu and the seasonal flavors. Decorations is inspired from Charlie and the chocolate factory giving a vintage touch. Geronas local is something bigger and has more products than in Rocambolesc Playa de Aro where the offer is limited to terrines, cucuruchos, ice cream cups and its famous dessert "Lactic" to take it and prepare it at home.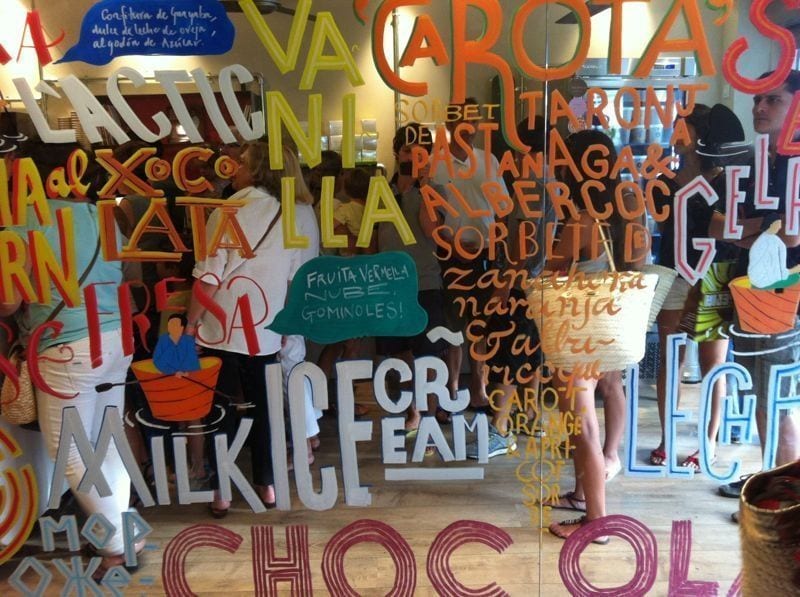 There are only 6 varieties of ice cream and they are 100% natural, made with products and toppings of the season. You can combine them as you wish but we asked one of each (we were six adults and four children! i didn't eat them all alone) exactly as they present them in the catalogue. I attached it because you will see that they are pretty similar to what you receive later.
BEST ICE CREAM EVER
The lactic ice cream, of sheep milk with jam of guaiaba, caramelized milk of sheep and sugar cotton. I loved it! It was the very tasty with a spectacular presentation…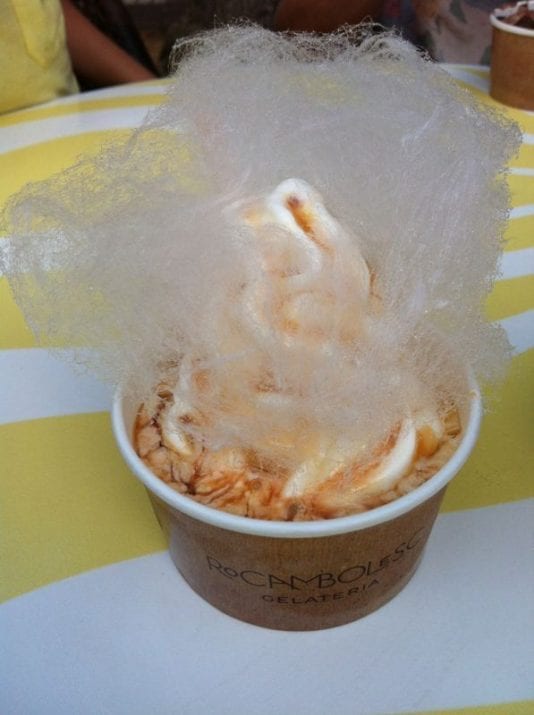 The other ice creams, the one with the baked apple at the oven we put a topping of butter cookie, caramelized apple and fresh apple; the chocolate one triumphed because of the 'petazeta' that they put, and the vanilla ice cream of Tahiti and brown sugar with topping of "pa pessic" of chocolate without flour, chocolate sauce and crunchy caramel. ¡ ¡Goodbye to the traditional vanilla ice cream!
Fascinating to see how they prepare them with so much love and care. And the best thing: how they combine them!! You can see video of how they do it here here.
INNOVATION IN ROCAMBOLESC
We recommend  you to try it, the innovation, the fondness, the "art" is in everything they do. Not only you will enjoy a few homemade ice creams, but it's a completely advisable experience: Ah! and at a similar price to other homemade ice creams (and less homemade). A clear 10!!
From here we send a message to the Roca brothers: we want a Rocambolesc in Barcelona!, if you want we can help you make it :).
Ubication: Avinguda de S'Agaró 59. Platja d'Aro – Girona
Web: Rocambolesc