This year more than ever, families are going to need help, so from Barcelona Colours we want to make a solidarity Christmas guide in which we recommend games from companies that want to collaborate with us by donating products to offer to the Fundació Pare Manel in Barcelona, and to other entities of the city.
CHRISTMAS GIFTS SOLIDARITY GUIDE
This guide wants to be a help for you when looking for that toy, book or experience for your little ones and at the same time a thank you to these companies that, altruistically have done their bit by donating toys and products to distribute to families with needy children.
ORIGINAL AND FUNNY GIFTS
In our selection of toys for the little ones we highlight the products of the Oli and Carol brand, funny teethers for babies and a novelty for older children such as their craft packs. Educational toys that you can find in the Gracia Bateau Lune toy store, other games, teepees and more ideal products for the youngest members of the family from Vertbaudet.
For those over 6 years old we bring you original gifts from JUGUETECNIC, one of the best electronic toy stores, robots …, the Auadragons game, great for learning how animals live in the marine world, spectacular! And the Futur Genius card games perfect to play as a family, with different themes, etc.
GIFTS FOR CREATIVES AND CRAFTS LOVERS 
The Krevia Box Creative Kits for children from 3 to 8 years old, inspired by "STEAM projects". Small educational projects based on introducing science, technology, engineering, art or mathematics to the little ones. Pintapum's creative games and painting kits are also perfect for kids and many are ideal to carry in your bag and be able to use them when you go out to eat, travel … And for those of you who love crafts, do not hesitate to consult the Material Escolar where you will find all kinds of products for crafts and games at very interesting prices.
And for those who like to cook… the creative kitchen kits from Bake Kit, a new company that sends you boxes with all the materials to make the recipe you want. A great gift for boys and girls that can also be a great plan for families later.
SURPRISE WITH FUN AND ORIGINAL GIFTS
And if you are looking for an original, fun and different gift, we recommend Lacesup shoelaces with great designs for children. Perfect for varying and adding a touch of color to children's shoes and sneakers. In the Rock01baby online store you can find clothes, games and accessories for modern families and kids. Take a look at their entire selection. And as an ideal complement … why not give some fun masks? In Maskforall you have a lot of masks ideal for children.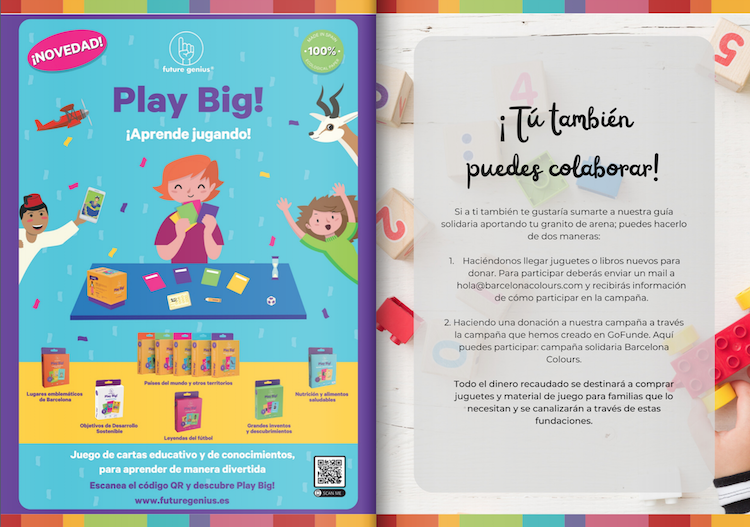 GIVE AWAY ACTIVITIES TO ENJOY WITH THE FAMILY
From Barcelona Colours we have always been very fans of giving experiences. There is nothing better than making plans with families. That is why our letter to the Kings never lacks plans to make together. In our guide we remind you of some plans that never fail: spend a day at Granja Aventura Park with animals, zip lines and many activities for all ages. A family cooking workshop never fails, at Cookiteca you can find different proposals: complete master Kids course or master Kids Sweets, voucher for a children's cooking workshop or a voucher for a family cooking workshop (1 adult and 2 children)
Other plans that never fail are: organizing a family escape room like those offered by Aventurico, going to see a puppet show for children at the La Puntual Theater, spending the day practicing adventure sports in Green Indoor Park or setting up a session of private cinema in Instan Video.
SPECIAL GIFTS FOR THIS CHRISTMAS
We leave you a series of gifts and experiences that will make this Christmas more special than ever. From the hand of TRIPHOOT, give a Christmas Diary to explore the traditions, emotions and values of Christmas as a family, in a fun and entertaining way through experiences and activities. To enjoy Christmas with all five senses and create an unforgettable memory. With WONDERSTORY you can give a Christmas photo and / or video session as a family.
Esther Bosch gives you the possibility that Santa Claus or their Majesties the Kings visit your house and surprise your little ones and un trocito de Laponia organizes visits to Santa's house and much more.
GIVE CHILDREN'S BOOKS AT CHRISTMAS
From the hand of different publishers we bring you a selection of books that will surely please your little ones and us so little. The publishers that help in our solidarity campaign have been Editorial Mediterrania, Patio Editorial, Editorial Litera y Edebé Editorial. Take a look at the selection of children's books for this Christmas.
DO YOU JOIN OUR SOLIDARITY CAMPAIGN?
But we want to go further and we encourage you to join this solidarity campaign to ensure that many families with children can have a gift or surprise this Christmas. We put at your disposal two ways to collaborate with our SOLIDARITY CHRISTMAS campaign:
Bringing us new toys or books to donate. To participate you must send an email to hola@barcelonacolours.com and you will receive information on how to participate in the campaign.
Making a donation in our campaign through the campaign that we have created in GoFunde. Here you can start: Barcelona Colours solidarity campaign.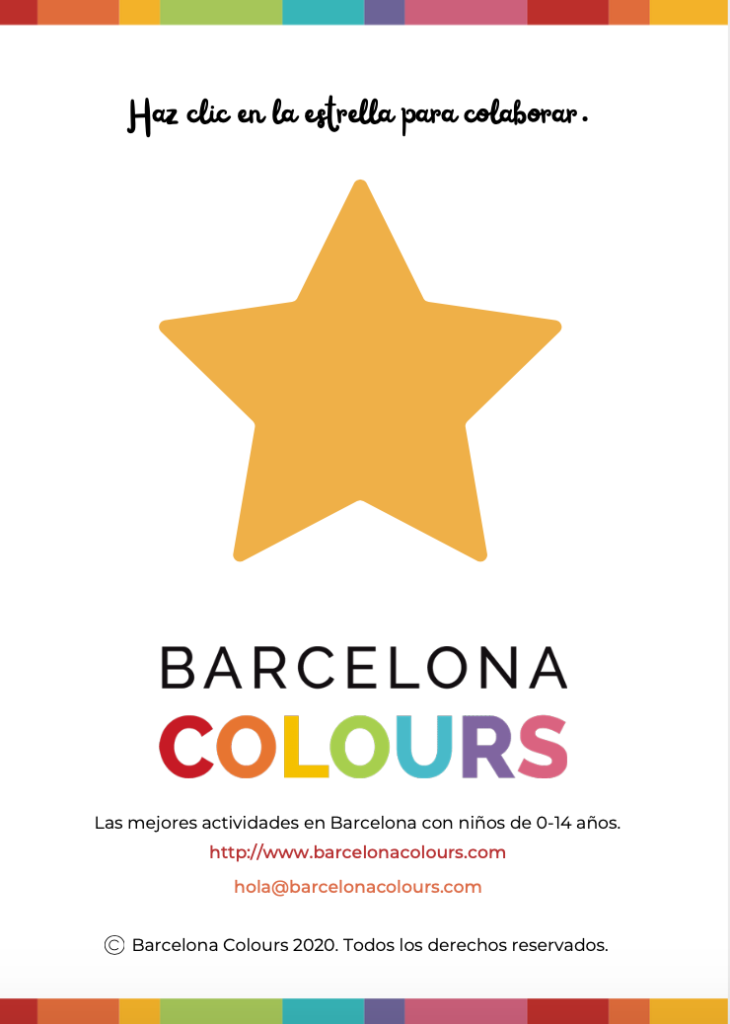 All the money raised will be used to buy toys and play materials for families that need them and will be channelled through different associations and foundations in the city.
SMALL CONTRIBUTIONS CAN BECOME

IN VERY LARGE ACTIONS!
May this Christmas be a different Christmas for everyone.